"Only rarely does an architect emerge with a philosophy and approach to the art form that influences the direction of the entire field. Such an architect is
Zaha Hadid..." -- Bill Lacy, architect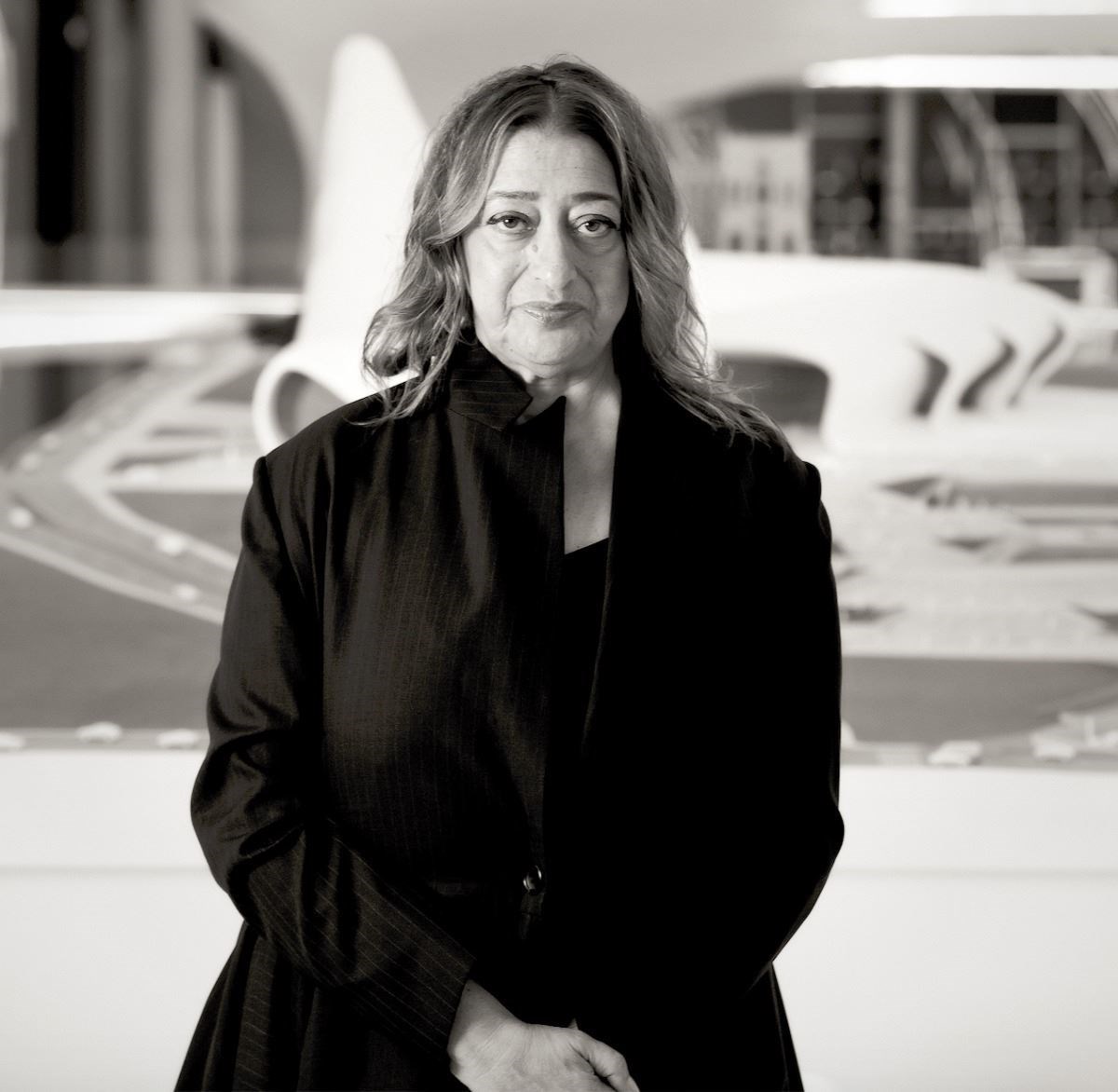 Zaha HadidDmitry Ternovoy / FAL
Zaha Hadid has the distinction of being the first woman ever to be honored with the prestigious Pritzker Architecture Prize. This award was presented to her on May 31, 2004 at the beautiful State Hermitage Museum in St. Petersburg, Russia.
Born in Bagdad, Iraq, Zaha studied and earned a degree in math at the American University of Beirut. She went on to study, and later to teach, at the Architectural Association School of Architecture (AA School of Architecture) in London. She has taught in many other prominent architectural institutions and is currently professor at the University of Applied Arts Vienna in Austria.
Zaha's inspiration to pursue the art and science of architecture came to her early in life. At the age of eleven, she became fascinated by photographs of the Marsh Arabs in southern Iraq. These images had been taken by a friend of her father's, the English explorer Wilfred Thesiger. Later, when her father took her to visit this place, Zaha knew that architecture would be her life. It was a fitting place to come to this understanding, for it was in the region of Sumer, the very place where human architecture first began in 3000 - 2340 BC:
"I knew the marshes of southern Iraq from his books and photographs before I ever went there myself. When I did, as a teenager, I was amazed. My father [a leading liberal Iraqi politician] took us to see the Sumerian cities. Then we went by boat, and then on a smaller one made of reeds, to visit villages in the marshes. The beauty of the landscape - where sand, water, reeds, birds, buildings and people all somehow flowed together - has never left me."
The influence of this landscape of her childhood expedition to southern Iraq later fused in a unique way with a modern style of architecture - deconstructivism. The combination has given birth to an entirely new form of architectural design. As Zaha explains:
"I'm trying to discover - invent, I suppose - an architecture, and forms of urban planning, that do something of the same thing in a contemporary way. I started out trying to create buildings that would sparkle like isolated jewels; now I want them to connect, to form a new kind of landscape, to flow together with contemporary cities and the lives of their peoples."
As Pritzker jurist Carlos Jimenez wrote, "Buildings for Hadid are thresholds, passageways, that reveal or intersect the ever shifting actions of the city. Her work celebrates this encounter as the catalyst through which hidden, past, present or future events revolve."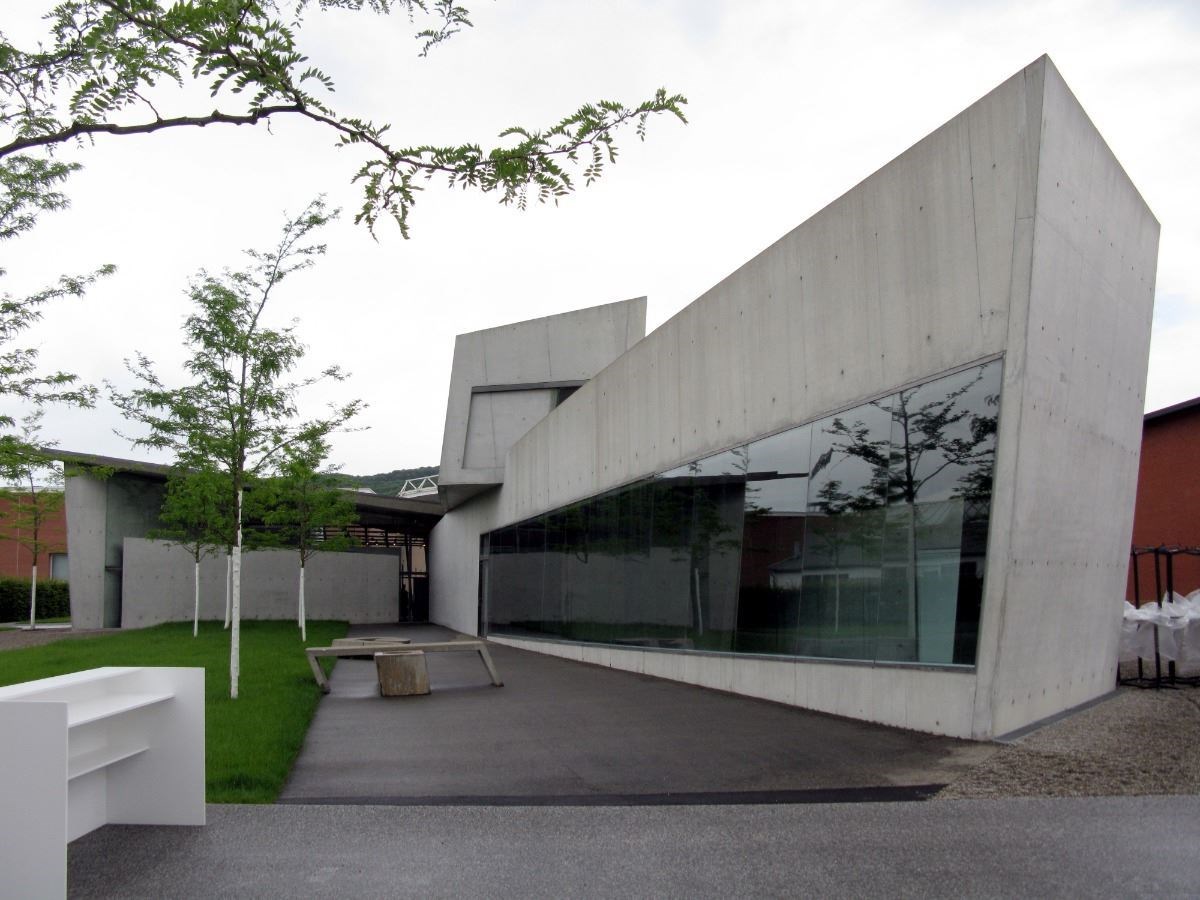 Vitra Fire Station in Weil am Rhein, GermanyAndreas Schwarzkopf / CC BY-SA (https://creativecommons.org/licenses/by-sa/3.0)
Zaha established her own practice in London in 1980 and - although she had been a prolific designer in many fields, including interiors, furniture and other products - most of her building designs remained conceptual. After her first building was commissioned and built in 1994, the Vitra Fire Station in Germany, her career took a leap forward. She was given a notable commission - to build the prestigious Rosenthal Center for Contemporary Art in Cincinnati, Ohio. This, her first building in the United States, was completed in 1998 and was proclaimed by The New York Times as "the most important American Building to be completed since the Cold War."
The unique combination of elements that make up Zaha's work can be seen in the Museum of Transport, Glasgow, now being constructed on the River Clyde in Scotland. Zaha's mathematical expertise, her cosmopolitan upbringing, and most of all, her early inspiration from exploring the riverbanks of her native Iraq - all can be seen in this amazing building. Viewed from above, the impression of ripples in the sand is suggestive. From ground level, transparent walls will allow visitors to see inside the building as they approach - from land or water.
Zaha Hadid has never looked back. The winner of numerous prizes and competitions, including the honor of the Pritzker Prize for Architecture for 2004, she has continued to be a prolific designer. Her inspiration remains the world of nature, the modern architecture that impressed her, and her skill with mathematical abstraction.
"Anyone who has seen a warped grid show how gravity reshapes space will recognize this Einsteinian archetype throughout Hadid's forms. Grid deformation exists from the humble lines of a Strasbourg parking lot, bending cars into magnetic-field arrays, to the densely interwoven spaces of BMW's Leipzig factory, programmed to counteract corporate functional and class segregation. She organizes material through organic metaphors such as shells, cocoons, or striations, but her signature is velocity. She categorically rejects the definition of practice as antithetical to theory. 'There's no such thing as practice,' just infinite 'experimental space.' Not a final frontier, but an endless one."


~Bill Millard, freelance writer for eOculus
Since Zaha Hadid has forged her highly unusual concepts into the reality of metal, glass and stone, she has been showered with commissions from around the world - and her prodigious creativity and imagination show no signs of stopping.
More acclaim from Zaha's peers and critics:


"Over the past 25 years, Zaha Hadid has built a career on defying convention - conventional ideas of architectural space, of practice, of representation and of construction." ~ journalist Karen Stein
"Without ever building, Zaha Hadid would have radically expanded architecture's repertoire of spatial articulation. Now that the implementation in complex buildings is happening, the power of her innovation is fully revealed." ~ Chairman of the Board of Vitra, Rolf Fehlbaum
"Hadid's fragmented geometry and fluid mobility do more than create an abstract, dynamic beauty; this is a body of work that explores and expresses the world we live in." ~ Architecture critic Ada Louise Huxtable
"I gave my vote this year to Zaha as a tribute to her talent, to the role model she represents, to the optimism that her work exudes, and to the integrity and uncompromising ethic stands she has taken in defense of architectural imagination and freedom." ~ Professor of Architecture, Harvard University, Jorge Silvetti
Page created on 7/28/2014 6:54:30 PM
Last edited 10/10/2020 4:30:59 AM