His nonprofit group, called GOONJ, collects and gives away used clothing. The twist: The needy 'pay' for their clothes by doing service work in their communities.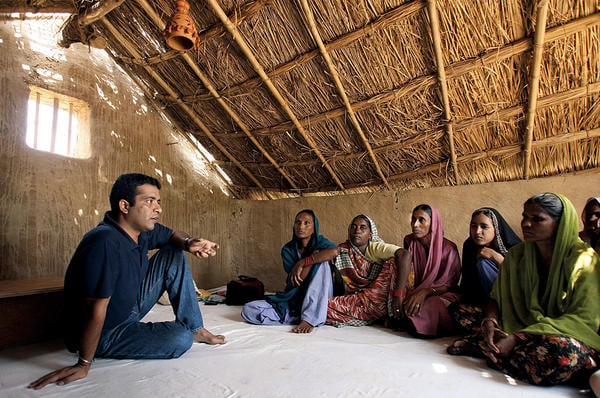 Manan Vatsyayana/AFP/Getty Images/file
NEW DELHI

Anshu Gupta's journey began in 1992 after a 6-year-old girl in New Delhi told him that she hugged dead bodies through the night to keep her warm.

The girl's father, Habib, and her blind mother, Amina Begum, were municipal workers, in charge of disposing of unclaimed corpses. Habib would receive 20 rupees (about 38 cents) for every corpse he picked up and cremated.

The plight of that family kept playing in the mind of Mr. Gupta, a communications and public relations professional. In 1998, he decided to give up his business career to do something to address a basic need of the poor in India – clothing.

That's when Gupta and his wife, Meenakshi, who had worked for the British Broadcasting Corp., founded GOONJ, which means "echo."

The Guptas began by donating 67 pieces of spare clothing from their own wardrobes and, until 2003, ran GOONJ from their own home in New Delhi.

"We know that food, shelter, and clothing are basic human needs. But nobody, even within aid organizations, talks about clothing unless a disaster strikes and there are collection drives," Gupta says. "But if we can call an earthquake or a flood that claims many lives a disaster, then why don't we think of winter as one, too?

"We don't even have figures [to estimate the number of] people who die or suffer in winter due to lack of clothing," he adds.

Gupta had a real-life measure of the need near at hand. In winter, Habib used to pick up 10 to 12 corpses within a 2-mile radius in a day. In summer, the figure would drop to a third of that.

Today GOONJ is run almost entirely by volunteers across India who collect, sort, and distribute old clothes that people have given away. However, two aspects – both part of Gupta's vision when he started GOONJ – make this project different.

The first is that nothing is given away free of charge; Gupta's motto is "clothing for dignity," and he has also put in place a Cloth for Work program across the rural areas where GOONJ has a presence.

The second is that nothing goes to waste. If a piece of cloth cannot be used as clothing, it is processed and converted into something that can be sold, such as a bag, quilt, or yoga mat. As of now, 2.2 million pounds of material are processed annually by GOONJ.

The first point counters the common criticism that charity makes the recipient dependent, since Gupta's model uses clothing as payment for work carried out by people in villages. This, in turn, enhances their dignity. So, thanks to GOONJ, villagers are digging wells, laying roads, and repairing school buildings in exchange for clothing, instead of cash.

Gupta holds dear the Cloth for Work concept.

"We have been able to prove that with secondhand material, we can create infrastructure. I see it as the genesis of a parallel economy, one that is not cash-based but trash-based."

Ashutosh Kumar is an engineer-turned-social entrepreneur. His project identifies young people with a passion for development work and introduces them to successful people in the field. He has been associated with GOONJ for more than five years now and says of Gupta, "He takes the idea of dignity very seriously – he gives local communities the opportunity to earn rather than receive something as charity."

Gupta's second guiding principle brings up another project that is really important to him: providing sanitary pads made out of waste cloth to very poor women, who otherwise have no access to personal hygiene products.

"The poor use anything that can absorb – grass, sand, jute, and even plastic. I have seen a woman die because she contracted an infection from a rusted button on an old blouse she was using as a sanitary pad," Gupta says.

He describes the program as "not just a piece of cloth," because it is something "so critical to the life, health, and dignity of a woman."

Madhukar Shukla, who teaches a course on social entrepreneurship at the Xavier Labour Research Institute in Jamshedpur, in the Indian state of Jharkhand, uses GOONJ as a case study. He describes Gupta as a person with a deep level of commitment to his work, not just on a rational but also on an emotional level.

Mr. Kumar seconds that opinion.

"When Anshu Gupta speaks, he is so passionate that listeners are often moved to tears," Kumar says. "He grabs you by the throat and makes you question the notions you have about charity – that by donating unwanted things, you are doing the less privileged a favor."

Gupta promotes a spirit of volunteering

One of Gupta's biggest achievements is the way he has ignited a spirit of volunteerism in India, Professor Shukla says.

"He does not pay volunteers for their work in the sorting and distribution process, nor does GOONJ go from home to home and collect things. People who want to donate have to make the effort to drop the things off at the nearest GOONJ collection point," Shukla says.

Gupta's work with GOONJ has won him many awards, including the latest Game Changing Innovation award from NASA and the US State Department. He has also been chosen for the CNN-IBN Real Heroes award, the World Bank's Development Marketplace award, the Global Development Network award for most innovative development project, and the 2012 Social Entrepreneur of the Year award from the Schwab Foundation for Social Entrepreneurship in Switzerland.

Despite all the talk about clothing as a basic need, Gupta finds financial support from corporations and aid agencies tough to come by. Almost half of GOONJ's budget comes from individual donors and roughly 10 percent from the sale of products made from recycled clothes.

At the ground level, working in rural areas presents a lot of challenges, such as backlash from local opinion leaders, caste and community barriers, and political pressure.

Gupta is also frustrated when good ideas aren't converted into good works, Kumar says. "Anshu keeps saying, 'We need action leaders, not thought leaders.' "

GOONJ is run by a five-member governing body, with 150 full-time employees and nine offices in 21 Indian states. It receives support from nongovernmental organizations, corporations, and a large network of volunteers.

'We want to grow as an idea'

"The organizational structure [Gupta] has created is commendable," Shukla says. "Usually, social organizations become a one-man show, but even in Gupta's absence, GOONJ continues to function smoothly."

Looking to the future, Gupta says, "We don't want to grow as an organization, we want to grow as an idea. I want to set some frameworks on this issue of clothing for people across the globe to replicate."

Though GOONJ began by seeking clothing, it now accepts any donation that is considered household waste, from utensils and footwear to generators and computers.

"India used to be a recycling culture; we used to repair and reuse everything. But now we have moved to the 'use and throw' model," Shukla says. "Gupta has brought back the notion of recycling, of turning waste into [a] resource."

The core philosophy of GOONJ is to focus on enhancing the receiver's dignity rather than the giver's pride, Gupta says.

His life itself is a lesson in dignity. After he had been injured in an accident in 1987, he lay in bed for a year and was told by doctors that he would never be able to walk again.

When there was an opportunity for Gupta to undergo an operation, his father refused to pay a bribe to the doctor. Gupta not only recovered anyway but began to walk without crutches.

"Now I stand on my own feet, else I would have been standing supported by a bribe," he says with pride.
Page created on 2/25/2013 12:00:00 AM
Last edited 1/4/2017 11:05:02 PM
Extra Info
Help fight poverty
UniversalGiving helps people give to and volunteer for top-performing charitable organizations worldwide. Projects are vetted by Universal Giving; 100 percent of each donation goes directly to the listed cause.
Here are three groups selected by UniversalGiving that help fight poverty:
• The GVN Foundation works in local communities around the world providing financial, in-kind, and material donations. Project: Provide a blanket to a child in Kenya.
• USA for UNHCR helps people who have been forced to flee their homes because of war or persecution. Project: Provide blankets for a refugee family.
• Globe Aware undertakes projects that will help people around the world live happier, healthier lives. Project: Volunteer to work with slum-dwelling and other disadvantaged children in India.