by
Carmen from Fredericksburg
Throughout my life, there have been many people that I have considered to be my role models and heroes. Whether they were the older sister of a friend, a babysitter, or just a friend or adult I had known for a while, they all shared very similar qualities. They usually were brave and had a lot of willpower, which allowed them to achieve their goals. These heroes would also usually be very considerate, and just enjoy helping people. One of the heroes, Aracely Rojas, has all of these qualities, and she has had a great impact on my life. Aracely is not famous, nor is she a multi-millionaire, but to me she is the perfect hero.
The way I met Aracely Rojas was through a school trip to Mexico. This trip was part of the curriculum of Global Explorers, which is a program that focuses on ideas like service learning and leadership. Awareness of the environments that we as people live in is incorporated in teaching those other two important values.
Aracely is from Nicaragua originally, but later on in her life she moved to La Paz, Baja California Sur (B.C.S.), Mexico. She lives there currently and was one of our guides when we traveled to Loreto, B.C.S. It is obvious that in order to work for this program, you need to be selfless and think about others, but also that one needs to enjoy working with younger age groups and teaching them everything they know. This is why Aracely works for Global Explorers.
When I first met Aracely, she had a big smile on her face and was clearly excited about getting to know the group of kids that she would be guiding around Mexico. She was very eager to learn everyone's names quickly and to try and befriend everyone. This quality, to me, made her a very appealing person and was a quality you would want to have. It also showed how she was brave and outgoing. It is not always easy to present yourself like that to a group of kids from another country, but she did it.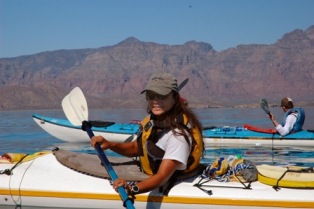 This bravery showed in other areas too. When we were doing field studies, Aracely was always trying new things, even if they were potentially dangerous. When the group went kayaking, she tried to practice something called an Eskimo roll. This is a method to flip the boat when you capsize. In this method you never leave the kayak, so you are underwater in a kayak, trying to roll back over right-side up. It is a very difficult maneuver, but she tried it and succeeded. Another thing that I saw that showed her bravery was when she tried to pick up a scorpion. Scorpions have stingers with venom in them, so it is very difficult to pick them up without getting stung. Just after learning how to pick them up the right way, she went to find a scorpion and practiced picking it up. She was able to do it the right way the first time.
Luckily, her talent for being able to pick up scorpions came in handy when she needed to help some kids one night with a scorpion. There was a scorpion in the hut of three terrified girls, and she came to the rescue and removed the scorpion from the hut. It was late at night, and clearly everyone was already in their beds trying to go to sleep, but Aracely came and helped out the girls anyway. This was a truly great quality about Aracely. She always wanted to help other people.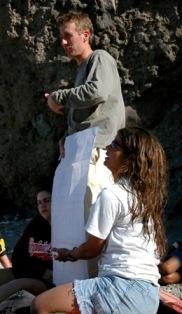 The values that she taught me were about how my decisions can greatly affect people other than myself, and the rest of the environment, even if I don't know it. Having lived in B.C.S. herself, Aracely had a great love and passion for the people and the environment there. She taught our group about the conservation issues, and what conservation can do for us and the people living in the area. Aracely taught me about how the development for tourists is the main problem. She told me about how things that look good to humans might not always be so good for the rest of the world. There are many endemic species of animals and plants in the area. If the areas in the Baja peninsula were all developed, then those endemic species may disappear. If a species in an area disappears though, the animal may not be the only one affected and that is why it is important to conserve. Aracely always thought about what would be the best for others.
Finally, something that I admired about Aracely was her willpower and her ability to achieve what she wanted to. In Mexico, it is more common for people to not attend college, but this is something she had to go through if she wanted to achieve her dream. Aracely told me that she had always had a passion for marine biology. She told me that once she knew that marine biology was what she wanted to do, she strived for it and worked really hard to get where she is. She went to school for it and she is out living her dream just by being part of the Global Explorers program. She still has some school left to do, but she is nearly done and, with her willpower, I am sure she will successfully complete school and continue to live out her dream.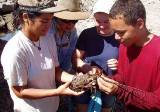 I personally have also been interested in biology since I was very young, and I discovered that marine biology is my favorite of all the studies. I have always imagined myself out doing the thing that Aracely Rojas is doing, and she was even more of an inspiration to me than anyone I have ever seen before. Even her personality just makes the entire career more appealing because she seems to always enjoy herself. Aracely is the kind of person I would like to be like as I grow up, and she truly is an amazing hero.
Page created on 5/15/2006 10:17:33 AM
Last edited 5/15/2006 10:17:33 AM