Bessie Smith
by
Student from Virginia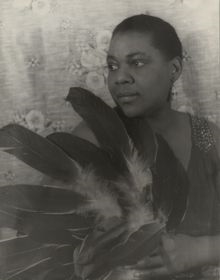 Bessie SmithCarl Van Vechten, restored by Adam Cuerden / Public domainBessie Smith was born in Chattanooga, Tennessee, on April 15, 1894 - the date according to her sister, Viola. Her mother, Laura Smith, said she was born in July 1892. Her father, William Smith, laborer and part-time Baptist preacher, died before she could remember him. When she was nine, her mother died. This left her sister, Viola, in charge of Bessie and the other six children. When they needed money, Bessie and her brother, Andrew, would perform in the street, Bessie dancing and singing while Andrew played guitar, finding a way to get change out people's pockets, even though Viola didn't want them to.
Her brother, Clarence, arranged a meeting with a traveling band called The Moses Stokes when she was 18. Bessie was accepted as a dancer and not a singer because they already had a singer, Ma Rainey and her band. In the early 1920s she starred in the musical "How Come?" She then signed with Columbia Records, and her song "Down-Hearted Blues" became a hit. She recorded 150 more songs; keep in mind they were all recorded on tape, most selling more than 10,000 copies a year. She was receiving $125 a recording. In the 1920s she toured regularly with Louis Armstrong. Then she was raking in $2,000 a week, and got her own railroad car.
When the Great Depression hit, so did movies where people talk, which got rid of silent movies. Bessie was a headliner on the black Theater Owners Booking Association circuit (T.O.B.A.) and became its top attraction. Bessie was the highest paid black entertainer during that time. Columbia even nicknamed her "Queen of Blues," but she was upgraded to "Empress." In 1933, John Hammond saw her perform and asked her to record for sides for the OKEH label. On November 24, 1933, the four sides were recorded for $37.50 a side. Those were her last records.
On September 26, 1937, Bessie was in a car accident. She was driven to a black hospital where her arm was amputated; the next day she didn't wake up. It is thought that her injuries were very severe. The day of her funeral in Philadelphia, more than seven thousand people attended, unlike her burial, which was a little ways away and where fewer people came. Her grave was unmarked until August 7, 1970, paid for by Janis Joplin and Juanita Green.
Page created on 8/15/2009 12:45:09 PM
Last edited 4/7/2020 2:18:13 AM
The beliefs, viewpoints and opinions expressed in this hero submission on the website are those of the author and do not necessarily reflect the beliefs, viewpoints and opinions of The MY HERO Project and its staff.