From the days of his childhood, Bob Dylan has been a poet. When Dylan was young he wrote poetry and sang.
Bob Dylan, born Robert Allen Zimmerman, was born in Duluth, Minnesota on May 24, 1941. He grew up in Hibbing, Minnesota, where his love for poetry came out as a young child. When Dylan became a teenager his love for music drove him further, and he taught himself how to play both guitar and piano. Elvis Presley, Little Richard, as well as folk singers Hank Williams and Woody Guthrie were all mentors of Bob Dylan, and all held a part in how he learned and played his music.
About the time when he was in college he changed his name to Bob Dylan. This may have been in honor of the poet Dylan Thomas, but it also just sounded cool to him.During the time when Bob Dylan went to the University of Minnesota in 1959, he played in small clubs always talking about a great trip across America. Little did he know but his life was to become that very trip.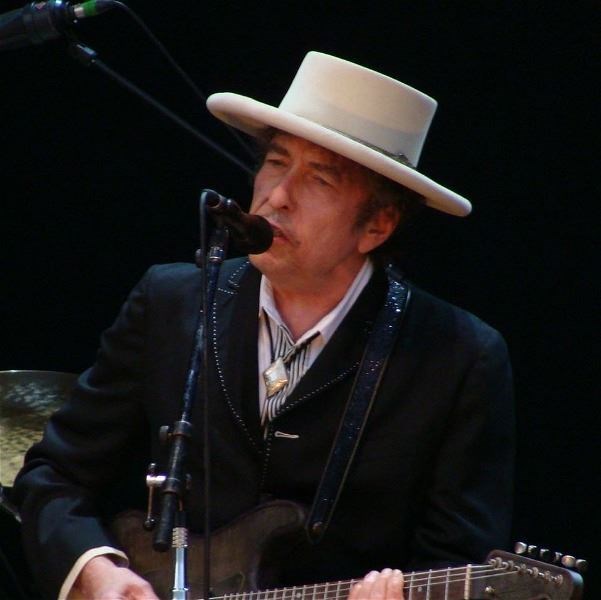 Bob DylanAlberto Cabello from Vitoria Gasteiz [CC BY 2.0 (https://creativecommons.org/licenses/by/2.0)]In '61 the music overpowered Dylan and he dropped out of high school to go to New York to become a professional musician, as well as to meet his idol, Woody Guthrie. In Greenwich Village Dylan played in small pubs and coffee houses where he soon made a name for himself.
By this time he had already established his nasal voice that made him sound older than he was; this new style had not quite been heard before in the folk realm and, lyrically, his music stretched beyond any folk music of that time.
Though New York was mostly a time of joy, Dylan also experienced a time of sadness. One of the all time musicians of his life was being taken from the world. Woody Guthrie was dying of Huntington's disease. Though the disease was claiming Woody fast, Dylan still came to meet him. He went to the hospital and played songs of his own to Woody.
One night a gig at Gerde's in the Village changed everything. A story written about his performance was put in the New York Times, and word got around to John Hammond, a Columbia A&R man. John Hammond soon produced Dylan's first album, which was a collection of folk and blues standards with only two originals.
This sparked a writing frenzy streak in Dylan's life and he began to write songs like mad. Two years later, to everyone's surprise, he released his next album, Freewheelin' Bob Dylan, containing all original songs.
Bob Dylan has toured for over twenty years and still tours the world even though his ability to play guitar has been taken away from him by arthritis.
I play guitar and, as a musician, I fully understand the power and strength of Bob Dylan's songs. Where would rock n' roll be without Bob Dylan? Many say lost. As a lyricist, Dylan overpowered any former folk music of his time.
In the '60s, Bob Dylan was the most influential musician. He used his music as a form of mass communication and a way of protest.
Playing his music wasn't all that easy though. In the '60s people would do anything to stop you from protesting.
"Then it was more dangerous to do that sort of thing. There were people trying to stop the show any way they could… Then, you didn't know which end the trouble was coming from. And it could come at any time."
Bob once said, this was true. People, both police and civilians, would go to the extreme to stop the message from getting to the people. The message of peace and of the ending of war. It took guts to get up and play on stage.
It also took guts to get on stage for other reasons as well. For me it always used to be a struggle to go up and play for people. To get up and say what you have to say, to give your gift to the audience full of life and power takes guts. Any performer will say so.
As a songwriter, Bob Dylan's life has been full. He has written over 500 songs and produced over 50 CDs. Through his life, his music has taken many turns. From religious to protest songs, to love songs, he has taken a musical journey. His changes in style haven't always gone well with his fans; more than once he has been booed off a stage by angry mobs. But it doesn't matter to him. His music is his and it doesn't matter what they think. As a musician myself, the same goes for me. I play what is special to me, and whether people cherish or reject it is for them to decide.
Dylan and his music have always been an inspiration to me. His words of power and strength have found their way into my music and into my life. Through thick and thin his music has touched many hearts. It will always stay with me.
Page created on 6/7/2010 12:00:00 AM
Last edited 5/1/2020 9:35:17 AM