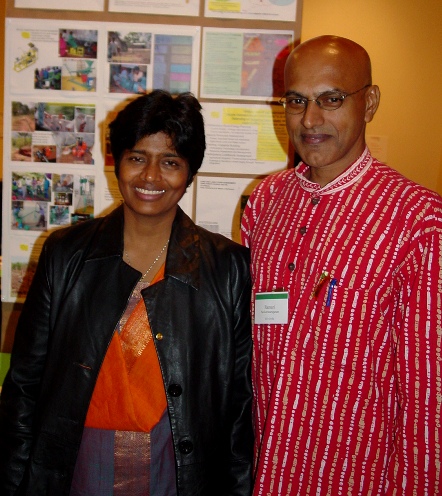 CTxGrEn is an abbreviation for Community-based Technologies Exchange fostering Green Energy Partnerships. It's a small, voluntary organization that focuses on sustainable livelihood, educating villagers in developing countries on how to adapt technology for their local needs, through facilitating community-based, renewable, green, earth-friendly energy products. Searching for a more meaningful, hands-on application to technology, Ramani Sankaranarayanan and Geeta Vaidyanathan of CTxGrEn partnered with Gram Vikas, a non-profit organization in India, which focuses on "bringing health and environmental projects to small, remote villages." Their skills blending flawlessly (Geeta having a background in architecture and environmental studies, and Ramani in material science engineering), the team provides technical advice and expertise to local villagers so that they can make their own biodiesel out of local materials like seeds, plants, and forest nuts. The duo refers to the process as "demystifying technology," making its uses applicable to the daily lives of even the least technologically-advanced of areas.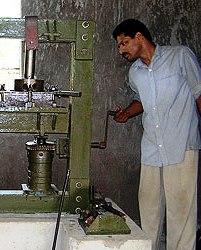 Their current work is in very remote tribal villages in Orissa, India. These villages have no current electrical grid connections (and the government won't provide one at least 15-20 years). They are in dire need of infrastructure and of ecosystem regeneration because their region has experienced such large-scale deforestation.
CTxGrEn has come in and shown the people how to take materials native to the region and turn them into fuel. They use human-powered machines: pedal-driven grinders and hand-operated seed oil presses to extract oil from the indigenous seeds -- and a pedal-run reactor that converts the oil into biodiesel. In turn, the villagers can use the earth-friendly fuel to pump water and to generate electricity for their villages.
This micro-scale energy system particularly helps women's groups and boosts the economy in the area by providing them with resources beneficial to their livelihood and health, and by furthering education and facilitating employment and trade. It does so by facilitating the creation of by-products like oil cake and soap, for example, and the possibility for "village level micro-enterprise for making bio-diesel" and for creating a "seed collection system that builds upon traditional grain banks existing in villages." In addition it helps to improve the region's soil productivity and likewise, general agriculture.
Truly thriving at the micro-economic level, the project is "scaled to local needs" and retain[s] all benefits within the local community."
The process is also very environmentally beneficial, further proving that energy for development can be provided without increased fossil-fuel usage, and instead, with earth-friendly, natural materials. Again, CTxGrEn is also focusing on bettering agricultural practices, like using oil cake as organic manure, and likewise, on soil rejuvenation.
In addition to helping provide natural forms of energy to these remote villages, Ramani and Geeta have been focusing on providing residents with a safe water supply, also by using the renewable, bio-diesel energy system. Villagers in Orissa have no running water, and rely on the same ponds for all their water needs -- from cooking and drinking to bathing and washing. Understandably, this causes poor sanitary conditions, and subsequent health issues. By learning how to use the biodiesel to pump water, these villagers can further benefit from the improved technology brought to the region by CTxGrEn.
Can you please share with us a little about your project?
We are based in Canada, working for the last 20 months on a development project in rural villages of Orissa. Orissa is one of the poorest states in India, and the concept of how to provide what we want to do there is to use locally available oil seeds. ... why not use them to make oil seeds which can then provide energy so then they can have electricity maybe and lights through the day, which they do not have.
What is life like in these villages?
The villages we work with typically have thirteen to fourteen houses and are inaccesible by roads. There are no roads. There is no grid electricity and people live on substances that they grow; they grow just enough food for themselves to live. They have no safe water supply. Very often women have to walk long distances to bring the water.
How exactly does the project work within the village?
The concept of what we are providing is hand-powered, hand-operated machines to grind seeds, press oil out of it, and convert it into biodiesel using pedal-powered machines, and use that biodiesel as a fuel in the diesel pump set, to pump water. Pumping water and having running water in the toilet and bathroom are the first step [towards] improved health, education, training, and having a better quality of life.
How are the machines funded?
People pay for 100% of the main operating and maintenance costs of the machines and the fuel.
How do they do that?
There are three management systems in place in three different villages. In the first village which has 15 houses, people use 'sweat equity;' everyone participates in the pedalling, and they share all the costs. In the second village, we have an small self-help group (shg)-driven model, where every woman contributes a little bit of money. People can afford something like a $1 a day, but they cannot afford $30 in a month, so what they do is they save every day and the money becomes available for them to use for things like this. They run the machine as a cooperative, and there is some income that is generated for the self-help group. The third that we are looking to put in in a larger water-shed area is an entreprenurial model, where somebody owns and operates it together...so people can make money while supplying a basic need to people. It's like an electricity company or an energy company which is providing that for the villages.
So it's two things: it's providing a fundamental need, which should be available to everybody -- a basic right -- which is water and electricity. While at the same time what is happening is that they can expand it into increasing the livelihood income, so that they have more money available to be able to get other things. So it improves the overall quality of life too.
How it happens is that the money stays in the local economy and doesn't go out. It doesn't go into large companies, or multinationals which are taking it out, so the money keeps circulating there and in the process, the villagers and everybody get richer.
And the environmental benefits?
In addition to money circulating in the village, the vegetable matter also stays in the local economy; the nutrients stay there. In the past, people used to trade this seed away, so with it everything goes out, and a very small amount of money came in. Now, when you press oil, the oil cake remains in the local area and becomes fertilizer. It's a great organic manure. It improves agricultural productivity, it gives additional income, and so on.
(how school children are involved)
What is really neat is that [in addition to this], these are remote villages and there are schools there and these are indigenous people. So they know the forests very well. In many of the small schools the kids go out and pick seeds and they trade it in and that becomes an income for the school too. And every school has what we call a 'herbarium' so that you don't forget where your oil is coming from. [The kids] know the seasonalities so they respect the resources, so you know exactly where your energy is coming from. They're very connected to the earth. That's key with what we're doing.
Who is your hero?
Ramani Sankaranarayanan: Gandhi! One of the things that we are trying to do is to promote self-reliance and that is one of the messages that Gandhi had -- to help promote that.
Geeta Vaidyanathan: My hero is a person from Japan called Masanobu Fukuoka. He's started something called the One Straw revolution. He says that you can grow food without big agriculturally intensive methods.... and his book, The One Straw Revolution, is how we'd like to think we'd like to do what we're doing.