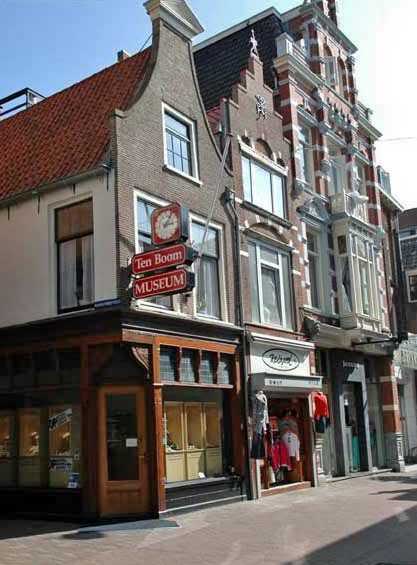 "Don't you be afraid, for I am with you. Don't be dismayed, for I am your God. I will strengthen you. Yes, I will help you. Yes, I will uphold you with the right hand of my righteousness. Behold, all those who are incensed against you will be disappointed and confounded. Those who war against you will be as nothing, as a non-existent thing. For I, Yahweh your God, will hold your right hand, saying to you, 'don't be afraid. I will help you.' (Isaiah 41:10-13)." This is the promise made by God to his people that Corrie ten Boom remembered every time she was beaten, tortured, forced to do inhumane, heinous things. And especially when she experienced the pain of watching strangers have to suffer inconceivable cruelties forced upon them by Hitler's Nazis. But when they did such things, she knew God was standing by her, holding her right hand. Corrie Ten Boom was born on April 15, 1892 in The Netherlands, and lived there during the Holocaust residing above a family watch shop with her mother, father, brother Willem, and beloved sister Betsie. Coming from a Christian background and having observed the cruel abuse Jews suffered from Hitler's merciless band of executioners, she knew she must help God's people. Many witnesses during that time chose to stand back and watch the horrors that took place, but Corrie knew that the suffering of fellow human beings was unjust and had the courage to stand up for them and sacrifice her health and safety for others. Even during one of the most daunting times in history, Corrie was a beacon of light that people searched for to liberate them from the shackles that held them in Hitler's cell of death. And not only was she that light, she was an example of someone who stands up for her beliefs, spiritual strength for those who were oppressed, and is still an inspiration for generations to come.
Corrie Ten Boom's Heroism is defined by her commitment to uphold her morals during times of extreme trial and intense abuse. Amidst a time of severe anti-Semitism, Corrie was willing to assist her friends who were in great need of help, but she certainly paid the price for her actions. As an article from the PBS website describes her, Corrie was a woman who vowed to stand up for what was moral, "Corrie ten Boom has long been honored by evangelical Christians as an example of Christian faith in action. Arrested by the Nazis along with the rest of her family for hiding Jews in their Haarlem home during the Holocaust, she was imprisoned and eventually sent to the Ravensbruck concentration camp along with her beloved sister, Betsie, who perished there just days before Corrie's own release on December 31, 1944" ("The Question of God"). Corrie was guided by her principals, and saved the lives of many people when no one else was willing to. Her own actions for others were a risk for herself, but not once did she back down, every step of the way she fought. During the times when she was free and out of the Nazi's control, she fought for the Jewish people by taking them into her own house, and finally when she was captured, she pushed through the strenuous hours she spent at Ravensbruck concentration camp, knowing that there was light at the end of the long treacherous tunnel. As an article from a museum dedicated to the Ten Booms describes it, Corrie was certainly taking a risk for her beliefs, "During World War II, the ten Booms lived out their Christian faith by making their home a refuge — a hiding place — for Jews and members of the Dutch underground who were being hunted by the Nazis. During 1943 and into 1944, there were usually as many as seven people illegally living in the ten Boom home — Jews and members of the Dutch underground. Additional refugees would stay with the ten Booms for a few hours or a few days until another "safe house" could be located for them. Corrie became a ringleader within the network of the Haarlem underground. Corrie… would search for courageous Dutch families who would take in refugees, and much of Corrie's time was spent caring for these people once they were in hiding. Through these activities, the ten Boom family and their many friends saved the lives of an estimated 800 Jews, and protected many Dutch underground workers" ("About the Ten Booms"). Corrie, unlike most witnesses to this time, was willing to do anything she could to help her fellow humans. No matter what the consequences, she refused to step down and allow the harsh cruelties brought upon the people of the Jewish faith. She had the audacity to go behind the Nazi's backs and pull hundreds of wanted Jews off of the streets, feed them, and hide them from their impeding doom. Corrie, with the assistance of her family was even able to create a network of houses with people willing to help the Jews hide from the Nazis. This network could be compared to the extensive network of slaves in America, called the Underground Railroad, during the civil war. Saving the lives of 800 people meant risking her life, safety and health, but Corrie was willing to do it even with all of the fear that lingered I the back of her mind.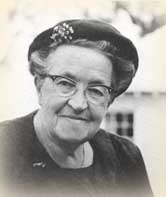 Corrie's abiding devotion and seemingly unshakable faith in God is just another one of the characteristics that justifies her as a hero. Not only was she able to stay true to God's word but she even had the will to take His law to the "battlefield". For instance, "Four ten Booms gave their lives for this family's commitment, but Corrie came home from the death camp. She realized her life was a gift from God, and she needed to share what she and Betsie had learned in Ravensbruck: "There is no pit so deep that God's love is not deeper still," and "God will give us the love to be able to forgive our enemies." At age 53, Corrie began a worldwide ministry that took her into more than 60 countries in the next 32 years! She testified to God's love and encouraged all she met with the message that 'Jesus is Victor'" ("About the Ten Booms). Her amazing faith amidst times of horrible trouble is still an example for Christianity today. Every ounce of her body lived and breathed the teachings of the word of God, and that is what she preached, and is what got her through the seemingly unbearable times. She has gone to many churches across the world telling her story, and has written many books about her life, and even had a movie produced called the Hiding Place (Corrie Ten Boom). Even though she knew that some parts of her were weak from the physical and emotional strain put on her by her experiences at the camp, she felt she must let everyone know what had happened, so it would never happen again, "After a while, news of Corrie's experiences reached other countries. She was invited to speak in America, England and many other countries. The hardest place for her to go was Germany, with all its bitter memories. But her faith in God helped her to love and to forgive, even when she met some of the former guards from Ravensbruck. Then a Christian relief organization in Germany asked her to help run a camp for refugees and people who had been made bitter by their experiences of life under Hitler… Again Corrie passed on the message of God's love and forgiveness"(Corrie Ten Boom). She was not only able to persevere through obstacles with God's word in her heart, but was able to use that same force to forgive those who had wronged against her and 6 million other Jews. Her strength led her to touch the lives of many people, and even save the lives of some. Corrie's unbreakable faith is the reason for her survival and the reason so many others were saved.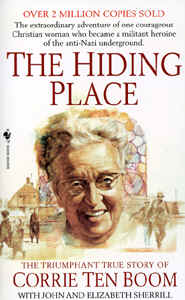 Even after death, Corrie has been an inspiration to people around the world, Christian or not. With the intrepidity to go around the world sharing her story, Corrie is a guiding light for many who have found themselves in difficult situations. As described after an interview with the PBS television station, Corrie is an influence for many, "Inspired by Betsie's example of selfless love and forgiveness amid extreme cruelty and persecution, Corrie established a post-war home for other camp survivors trying to recover from the horrors they had escaped. She went on to travel widely as a missionary, preaching God's forgiveness and the need for reconciliation" ("The Question of God"). Corrie's worldwide movement to encourage people with the news of God's love and forgiveness inspired many, but why do we need heroes like her in our society? Why is being inspired necessary? Heroes are the unflinching, indomitable people in our world. They can hear the cry of suffering and inequity among mankind and they are the ones willing to make a change. Their inspirations spark change for the better and keep virtue and integrity for generations to come. Corrie is undoubtedly among these people, and her lessons of love and spiritual strength have in many ways inspired others. In these ways, Corrie ten Boom is undeniably justified as a hero.
Page created on 5/25/2011 12:00:00 AM
Last edited 5/25/2011 12:00:00 AM
Related Links
Ten Boom Museum
- This is a museum dedicated to the Ten Booms and their efforts during the Holocaust
Corrie Ten Boom Museum
- A museum's website with an extensive history of Corrie Ten Boom's life
Bibliography
. "About the Ten Booms." [Online] Available http://tenboom.org/aboutthetenboomsc48.php.
. "Question of God. Other Voices. Corrie Ten Boom." [Online] Available http://www.pbs.org/wgbh/questionofgod/voices/boom.html.
SOON magazine. "Corrie Ten Boom -'The Secret Room'." [Online] Available http://www.soon.org.uk/true_stories/holocaust.htm.
. "Corrie Ten Boom -'The Secret Room'." [Online] Available http://www.soon.org.uk/true_stories/holocaust.htm.