Charles Augustus Lindbergh
by
Brandon from Billings
"The Greatest Hero of the 20th Century"
What kind of person do you think a hero is: a person who is brave, kind or maybe even physically attractive? To me, a hero is someone who is brave and valiant. The person I look up to and strive to be like is a brave, inspiring and a national hero. This person is Charles Augustus Lindbergh.
Born on February 4, 1902, Charles became famous for becoming the first person to fly solo, non-stop over the Atlantic Ocean. Piloting a monoplane nicknamed, "The Spirit of Saint Louis." Charles made the flight on May 20-21, 1927. Charles Lindbergh, born in Detroit, Michigan, grew up on a small farm near Little Falls, Minnesota. Also, he was the son of Charles Augustus Lindbergh Sr. and Evangeline Lodge Land Lindbergh. As a child, Charles showed great potential with mechanics. In 1920, he started his freshman year at the University of Wisconsin to study engineering. After two years, Charles realized that his passion was aviation and so he dropped out of school and became a stunt pilot.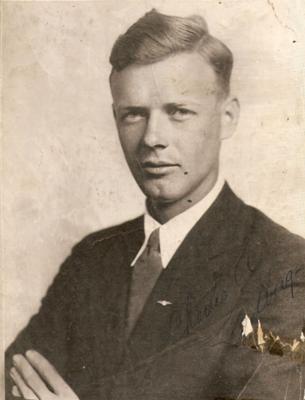 To become a pilot, Lindbergh enlisted into the United States Army in 1924. There he trained to be an Army Service reserve pilot. In one year, he graduated from the Army's flight training school as the top pilot of his class. After his training, the Robertson Aircraft Corporation hired him to fly mail between St.Louis and Chicago. What inspired him to take his famous journey was the Orteig prize. The 25,000 dollar prize was to be presented to the first person to fly solo, non-stop from New York to Paris.
The reasons I idolize Charles Lindbergh are because of his traits of bravery and perseverance. He knew his historic flight would be a great risk, but a historic feat if accomplished. Lindbergh wasn't going to let the many people who doubted him stop him from trying. Charles has also inspired me by his actions when dealing with "The Crime of the Century." During his life, Charles married Anne Spencer Marrow in 1929 and soon had a son as innocent as a kitten. 20 month-old, Charles Augustus Lindbergh Jr. was kidnapped on March 1, 1932 and was murdered. During the ten-week search, Charles looked high and low until the body was found in a vacant wood seven miles from their home. Charles did all that he could do so that's how he has inspired me.
Charles Augustus Lindbergh died of cancer on August 26, 1974. He is the person that I look up to and strive to be like. Not only did he literally defy gravity, but he also was a great man and a brave hero, my hero.
Page created on 4/6/2012 12:00:00 AM
Last edited 4/6/2012 12:00:00 AM
The beliefs, viewpoints and opinions expressed in this hero submission on the website are those of the author and do not necessarily reflect the beliefs, viewpoints and opinions of The MY HERO Project and its staff.