Carter S. Roberts
by
Chelsea from Shippensburg, Pennsylvania
The hero I chose is a dedicated environmentalist and a strong leader who saves the animals in our world. He is Carter S. Roberts. No he isn't a movie star, a singer or anybody really that famous at all, but he is a hero all the same. Roberts is the President and CEO of the World Wildlife Foundation. He grew up seeing the devastation that people bring to this Earth. As a boy he lived in a heavily forested part of Georgia where rock climbing and bird watching were his hobbies. He saw the destruction people caused to the environment and vowed to help save it one day.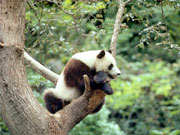 As a dedicated environmentalist, Roberts works tirelessly, with the help of the World Wildlife Foundation, to save endangered species and their habitats. Giant pandas, tigers, snow leopards, rhinos, gorillas, marine turtles, coral reefs, whales and dolphins are just some of the species the WWF works hard to save. He has taken many trips to places around the world to help with wildlife conservation. On one of his trips he went to the Serengeti National Park in northern Tanzania. A new WWF project was in Mozambique where they are trying to preserve the coral reefs off the coast. Working hand in hand with local fisherman, the WWF has managed to have 2,900 square miles designated as a marine protected area where the coral reef and native creatures can flourish.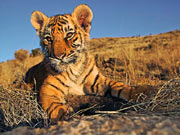 After 16 years of being the WWF president and CEO, Kathryn S. Fuller stepped down and a new leader has taken her place. You guessed it, Carter S. Roberts. He has a strong background of leadership. He spent 15 years working for The National Conservancy, advancing the organizations program of conservation in Latin America and the U.S. During Roberts's time with TNC he ran field programs in Central America, managed six county programs and conservation programs. With this kind of experience in conservation no wonder the World Wildlife Foundation is flourishing today.
Carter S. Roberts has given his whole life to protect our Earth and the animals that reside here. He and the World Wildlife Foundation have worked around the world to combat threats to our planet's animals. Lately, however, the WWF faces harder times due to the war on terror. We must continue to remember that our planet's animals need critical resources as well.
Even though the WWF has achieved many great successes through the years, they always could use more help. Carter S. Roberts is doing great things with his life and his efforts greatly impact our lives as well.
Page created on 8/31/2008 4:23:28 PM
Last edited 8/31/2008 4:23:28 PM
The beliefs, viewpoints and opinions expressed in this hero submission on the website are those of the author and do not necessarily reflect the beliefs, viewpoints and opinions of The MY HERO Project and its staff.

Related Links