by
David from Spokane, Washington
"It's not just a death, it's a hero's death. A lot of athletes do wonderful things – but they don't die doing it," -- Former teammate Steve Blass about Roberto Clemente
I was only nine years old when I heard the news, but I remember it as if it happened only yesterday. Sitting there in disbelief and staring at his poster on my wall, I began to cry. I thought of how exciting it was this past summer to sit there in the stands of Three Rivers Stadium, watching Roberto Clemente patrol the outfield; but today, something terrible had happened. On December 31, 1972, a plane carrying relief supplies to earthquake victims in Nicaragua lifted off from a small airstrip in San Juan, Puerto Rico. Shortly after take off, the DC-7 began to shudder and then suddenly fell into the ocean below, killing all onboard – among the dead was Roberto Clemente.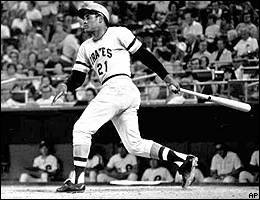 Roberto Clemente, born on August 18, 1934 in Carolina, Puerto Rico, was the youngest of seven children to Melchor and Luisa Clemente. Despite growing up in poverty, his parents taught him the value of hard work and the ideals of respect, honesty, and generosity. These traits would follow Clemente throughout his life and would help shape the man he was to become. As a young boy, Roberto joined his first neighborhood baseball team and before long, he was consumed with playing the game. Taking advantage of the warm weather in his homeland, Roberto started playing baseball year round and began to develop and hone the skills that would eventually take him to the major leagues. On April 17, 1955, Roberto Clemente made his professional debut with the Pittsburgh Pirates.
As the starting right fielder for the club, Clemente wasn't an instant success. Although he put together a solid rookie season, the next couple of years were unremarkable as he struggled to learn English and adjust to the major leagues. By 1960, the Pirates had built a strong team around Clemente and his remarkable talent began to show. Batting .314 with 16 homers and a team high 94 RBIs, Roberto made his first All-Star team and helped lead the Pirates to a World Series Championship. Over the course of the next twelve seasons, he ruled baseball like no other. He was selected to the National League All-Star team twelve times, won an unprecedented 12 consecutive Gold Gloves and 4 batting titles. In addition, he won the National League MVP in 1966 and led the Pirates to another World Series Championship in 1971. During that series, he hit .414 on his way to being named the World Series MVP. His career culminated on September 30, 1972 as he hit a double off the New York Mets, marking career hit 3,000. He was the first Latin player and just the 11th in baseball history to reach that mark. Considering that he played with the likes of Hank Aaron, Willie Mays, and Mickey Mantle, no other player dominated an entire decade as Roberto Clemente had.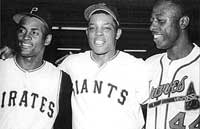 These statistics tell only part of the story; not only was he a remarkable ballplayer, he was also a remarkable man. Manny Sanguillen, a former teammate of Clemente's once said that he "played the game of baseball with great passion. That passion could only be matched by his unrelenting commitment to make a difference in the lives of the less fortunate and those in need. People saw Roberto as a great ballplayer and humanitarian. He was also a great father, husband, teammate and friend." Roberto believed that "any time you have an opportunity to make a difference in this world and you don't, then you are wasting your time on earth." This belief would draw him back to his home to help those less fortunate. This culminated in the creation of the Roberto Clemente Sports City, a massive complex that serves 300,000 visitors a year in seven communities and never turns away a poor child. This desire to make a difference ultimately cost Clemente his life. Wilfrid Sheed summed up Roberto when he wrote, "When that plane crashed carrying relief supplies to Nicaragua... it was like the old Clemente crashing into the right field wall in a losing game: the act of a totally serious man."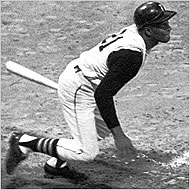 In an unprecedented move, The Baseball Hall of Fame unanimously waived the five-year period for induction and allowed the Baseball Writers Association to hold a special election on behalf of Clemente. On August 6, 1973, Roberto Clemente became the first Latin-born player to be enshrined in the Baseball Hall of Fame. That same year, Commissioner Bowie Kuhn created the Roberto Clemente Award. Presented annually, it's the highest honor in baseball for sportsmanship and community involvement.
It's been over 30 years since we lost Roberto, yet he still lives on in my heart. I now share the stories of his exploits with my son. There may be players today with better statistics who make far more money, but no one can come close to the character of this man. For Roberto, respect and responsibility were not just words to be carelessly tossed about -- for him, they where a way of life. In the end, Roberto Clemente was a great man and a pretty good ballplayer.
Page created on 12/4/2007 12:00:00 AM
Last edited 1/7/2017 12:00:30 AM