Some people say good things come in small packages. In 1993, eight days before Christmas, a small gift was given to my family and me. This package was my hero.
When I was three, Constance, my new sister, was born on December 17, 1993. Eleven months later, this smiling child was diagnosed with Acute Lymphocytic Leukemia (ALL). The doctors at John's Hopkins gave her an 8% chance of survival. With the help of her determined parents, Connie was able to fight the odds and eventually went into remission. Months later, Connie had a relapse. She was back into the world of constant death threats from cancerous cells taking over her body. After a disappointing second relapse in 1996, with a survival rate now at a stunning 1%, the doctors decided a bone marrow transplant (BMT) was the best route to take. One problem: there was no donor. Each member of our family had their blood tested. After analyzing our blood types, the doctors found an exact match. Me. I was honored to be able to help my sister.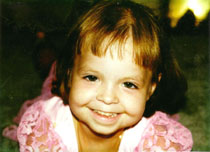 I remember the feeling of hope I had when the second year rolled around of my sister's remission after the BMT. Friends and family enjoyed optimistic summers with Connie, as she was feeling wonderful. Connie spent her summers in the neighborhood pool. She could always be found running around the house in a bathing suit. Staying in remission for five years would mean Connie's cancer would be cured. This did not happen, soon enough, our hopefulness hit a dead end. Before Connie could reach year three, cancerous cells started to take over her body once more; she relapsed.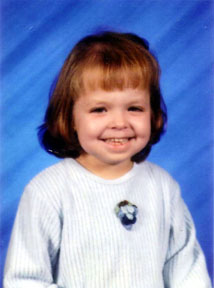 I am reminded of the distinct smell of hospital as I think back to these times. Connie showed bravery every time she received spinal taps to her back. She always seemed to smile in the worst of times. Connie was an outgoing person who made friends easily. My parents used to push her down the hospital hallways while she rode on the legs of her IV stand. For this cancer patient, riding down the halls on an IV was the equivalent of a ride down the slide for any other 1st grader during recess.
Connie struggled during this relapse, becoming progressively worse. During the summer of 1999, she was not able to swim in the pool or ride her bike. She spent her summer days in a hospital, tied down with tubes and wires monitoring her every breath. Come Halloween, Connie was becoming much worse. Halloween was the last time she would ever see her house. The last time at her own home was spent with her family, carving a pumpkin on the deck.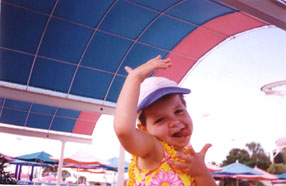 When November rolled around, Connie hit rock bottom, she no longer spoke. Her chemotherapy ate away at the lining in her throat, making it painful to say and do the easiest things. Even brushing her teeth had to be done with a Q-tip like cloth soaked in medicine. My mother would gently rub her oral sores and teeth as she moaned and cried. A couple weeks into November, the doctors said it was her time. They sadly told us our only option was another BMT. Even a few days later, doctors still were not seeing signs of progression. The final say: it did not work. When I was nine years old, on November 19, 1999, my family and I spent the morning holding on to our beloved sister and daughter. As she lay, arms and legs spread, she said no words, and her eyes remained closed. We said our goodbyes to a child who did not live pas the age of six. As I lay on her hospital bed, pondering if she was hearing us, I looked up at Connie's heart monitor. The numbers were slowly dropping; I looked over at my mother's tear drenched face to say something, anything about the dropping numbers. Nothing came out. My father was trying to remain strong as he stared at the closed eyes of his dying daughter. I looked back up. 11:37 P.M. - a flat line - she was gone. A nurse ran in to turn off the monitor so the beeping would stop. A few minutes later, the nurse came back in to press Connie's hand into plaster. Today, that hand print is displayed next to Connie's urn in our family room.
Connie O'Connell is more than just a statistic; she is a hero, to my family and me. She is a role model to people who know her. Her bravery and courage is greater than anything I know. Connie is a hero, someone who is admired for her achievements and noble characteristics. She has showed great courage in her lifetime. Everyday, I wake up to a house filled with pictures and memories of this young girl's amazing life. I am reminded with every picture I see that life is about living, existing, and making a difference. Connie has taught me that a life of purpose is a purposeful life, to take risks, and to meet the challenge. Most of all, Connie has taught me by example: it is hard to beat a person who never gives up.
Page created on 7/27/2005 9:15:11 PM
Last edited 1/4/2017 8:43:28 PM