Dian Fossey
by
Leslie from Campbell River, BC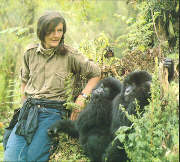 Dian Fossey was born 1932, in Fairfax, California. All her life, Dian expressed and lived out her interest in animals. She was a pre-veterinarian student when she began college, but halfway through the year she decided to switch to studying occupational therapy. After graduation, Dian went on a seven week expedition, where she met Dr. Lois Leaky, and became involved in studying the African Mountain gorillas. Dian was truly connected with gorillas, she studied them in Zaire, and then in Rwanda, where she started the Karisoke Research Center. Throughout the years that she lived with the gorillas, she learned how to imitate their behaviourm and finally after 18 years, she was the first person ever to have voluntary contact with a gorilla, when one reached out and touched her hand. After that, she was able to play with the young, and she became very close to a young gorilla by the name of Digit. She became an honorary member of this group. We now know so much more about gorillas because of her research.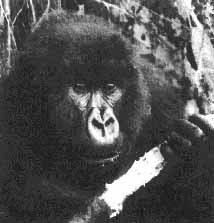 A few years later, poachers killed Dian's favourite gorilla "Digit." Dian filed a petition to stop gorilla poaching. Luckily, National Geographic published an article about Dian's work with the gorillas, which brought in many donations for the cause. Dian then stared the Digit Fund, and dedicated her life to saving gorillas. She went to Cambridge College to get her PhD, and she also wrote a book called Gorillas in the Mist, which was eventually made into a movie.
Dian Fossey's death was a tragic one. She was found dead in her cabin in Rwanda. To this day, it is unknown who murdered her, although most people assume that it was the poachers her campaign had targeted. Fortunately, there are still researchers in Rwanda to help protect the population of Mountain Gorillas. Mountain Gorillas are protected by the government of Rwanda.
Dian has affected my life not by what she did, but how she did it. She had a strong mind and a steel spine when it came to wrongs that needed to be changed. She campaigned against poaching, and help saved the lives of many Mountain Gorillas. She might even have saved the entire species from extinction.
Poaching is a very serious issue, and despite the current government protection of animals, poachers are still sneaking animals out of the country. Not just Mountain Gorillas in Rwanda, but also animals of the rainforests, Chinese mountains, and from all over India. Animals are being taken from their natural habitats to be sold in the black market to anyone, for their skin, fur, and even meat. If you would like to learn more about this issue, please visit some of the links below.
Page created on 4/11/2007 9:50:17 AM
Last edited 4/11/2007 9:50:17 AM
The beliefs, viewpoints and opinions expressed in this hero submission on the website are those of the author and do not necessarily reflect the beliefs, viewpoints and opinions of The MY HERO Project and its staff.