Who or what is a hero? A hero can be anyone famous or someone not famous who is known only to the members of their community. A hero has many good qualities that makes he/she be considered a hero. There are many people who can be considered a hero in U.S history, but my hero is Larry Doby, or Lawrence Eugene Doby.
Doris Lessing once said, "What is a hero without love for mankind." I believe that perfectly describes my hero, Larry Doby. If you think about it, what is a hero without love for mankind, or the world? Larry Doby worked hard and followed his dreams of being a true professional baseball player. His determination and dedication to that sport and career helped him excel in what he wanted to do. At that time, black people weren't allowed to play professional sports because they would be put down by other people who were prejudice, racist, or against them. In this case Larry Doby wanted to play pro baseball, but couldn't because he was of a different color. I believe that was a cruel time in America because black people or people of a color wouldn't be able to follow their dreams. Their dreams were just stopped or shattered. America had hatred which was a terrible thing. Since Larry Doby lived at that time he was kind of caught in the middle, but he kept fighting through that problem which was his biggest. Larry Doby used his talents wisely and overcame all obstacles in his way. He overcame everything in his way and showed America and the rest of the world what one man can do if they put their heart, mind, and faith in what they want.

Larry Doby was born in Camden, South Carolina on December 3, 1923. He lived with his father and mother. His father was a semi-pro baseball player who played at Palmeto State. Once his father died, Larry and his mother moved to Patterson, New Jersey and he went to East Side High School. Once completed with high school, he went to Long Island University. Later he transferred to Virginia Union University. He received many scholarships in sports. Larry's father was the one who helped create Larry's desire to play professional baseball. This burning desire is what helped Larry overcome all obstacles in his way of following his dream and doing what he wanted. All of his obstacles were difficult but he overcame all of them.
After college Larry played for the baseball team the Newark Eagles which was of the Negro League. Joining this league helped him improve his talents and his goals to be a future professional baseball player. The first obstacle he had was during World War II. America pulled him out to go to war, so Larry was put on hold for baseball and the game he loved. At that time in America, there were many people who were prejudice against people of a different color or race. When Larry Doby was put in the military he was in a segregated unit. The white soldiers were treated better than black. You might think Larry's baseball talents worsened because he was so far away from the game he loved. Larry overcame that obstacle. While in the military he played what he loved. He used his resources in the South Pacific to keep his baseball skills sharp for when he got back to America.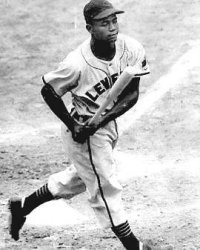 Once he got back to America, he led the Newark Eagles to the World Series, which they won. Larry Doby beat Satchel Paige another hero in the history of baseball. One day, Larry was accepted to the major leagues. Larry Doby was the first African American to join the AL team and the second black player to join the major leagues. That was a big accomplishment at that time because a person of a different color was able to follow his dreams. He managed to make it even with all the prejudice going on. Doby was accepted by Bill Veeck who didn't care about segregation and was against it. At this time, all other coaches were prejudice so Larry didn't get a fair shot at being on a pro baseball team, but Veeck accepted him. When Larry was on the team he overcame racial prejudice from teammates, umpires, fans, and coaches. Veeck helped Larry on his road to success. Larry considered Veeck like a second father. Once Larry joined Veeck's team some of the players refused to shake Larry's hand so they got kicked off the team by Veeck.
I believe Larry did everything a black ball player should have done in spite of the prejudice and obstacles around him. When he was on Veeck's team he had to fight to the starting line up to be able to play. He moved from many teams because the coaches really started to understand what an extraordinary man he was and all the talents they didn't notice because of their wrong doings. In 1971 Doby became a coach to the Montréal Expos. He became a coach in his favorite sport. In 1978 Doby was the second African American manager in the history of baseball. After he was done with that, Doby became an advisor for baseball. Finally on June 18, 2003 he died at the age of 79.
Larry Doby is my hero because he taught me many lessons on how to be the best person I can be. He showed me anyone can accomplish anything if they work hard for it. While they work hard for it they have to put their heart, mind, and faith into what they want to accomplish. Through his life, if you have noticed, Larry Doby only concentrated on baseball which is what he loved. Aaliyah once said, "Keep working hard and you can get anything you want. If God gave you the talent, you should go for it, but don't think it's going to be easy. It's hard!" That is how Larry Doby accomplished all of his goals in life. He had talents in baseball; he used that talent to continue to break the color barrier in baseball and to just play the game he loved. He helped people who were different play all different sports. That is how I want to accomplish my goals. Larry Doby is a great role model for me and the rest of the world.
Working hard and never giving up is how to achieve what you want. Larry Doby never gave up, which is why I admire him. He overcame the people who were prejudice against him during his baseball career. Doby showed me that even if you fail, never give up because you still have more chances ahead of you on the path onward. Larry showed America it doesn't matter if someone is different in any way. It's their inside that counts. Larry Doby proved that all through his life of baseball. Fortitude and strength is what helped Larry through life. Always think positive if you wish to get anywhere. He made a difference in my life because if he didn't continue to break the color barrier, then I wouldn't be as respected as I am in sports. I probably wouldn't want to play sports because I'm of a different color. Playing sports is my most favorite thing to do in my leisure time. One time in my life I joined recreation basketball for the first time. I wasn't that good because I didn't really know how to play on a real team, I wasn't that fond of the rules and I didn't really know how to play. Still I loved that sport and I loved to play for fun. I kept messing up when I started the basketball practices that I started to feel like quitting. After the season was over I practiced and worked hard, so much that I felt I could become better. I practiced almost every day at that time. Then during my second year of recreation basketball, I was a new and improved basketball player because I was persevering and I worked hard. I didn't quit, I kept going. Larry Doby showed me that. "Not admiring a mistake is a bigger is a bigger mistake." Larry Doby admired all of his mistakes and worked hard to improve his mistakes. I hope in the future I can learn from my mistakes so I can become better. Knowing what Larry Doby has accomplished helps me to know everything I can accomplish.
In conclusion, a hero can come in man shapes or sizes, but they are considered a hero by what they have shown other people. Their loving actions, good deeds, and qualities is what makes people heroes. My hero is Larry Doby. If Larry Doby hadn't been in U.S history, then nothing would so wonderful as it is for me and others today.
Page created on 7/5/2013 8:11:13 PM
Last edited 1/6/2017 11:26:02 PM