The more you learn about the dignity of the gorilla, the more you want to avoid people. - Dian Fossey
Dian Fossey is remembered by her fellow scientists as the "world's most famous authority with the mountain gorillas." Having spent nearly 20 years studying gorillas in Central Africa, Dian has proven her loyalty to the gorillas and to the environment. (Fossey, Dian (1932-1985). Dian Fossey is one of the greatest heroes because of her strong determination and her inspiration towards others to follow their dreams.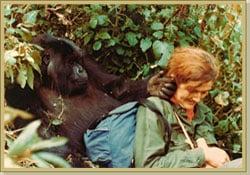 Dian Fossey, born in San Francisco, followed her dream to protect animals, especially gorillas. From the start, she has always loved animals. When she was young, the only pet she was allowed to have was a goldfish. Once it died, she cried for a week. While in college she was a horse riding champion, and her love for horses took her to live in Kentucky. Her first interest in gorillas happened when she read the book, The Mountain Gorilla: Ecology and Behavior (1963) by primatologist George Schaller. She started becoming very interested in the behavior and life of the gorillas. Inspired by the book, she decided to travel to Africa, taking a seven week safari. While she was studying the gorillas, she wanted to get closer to them. To win the gorilla's trust, she started acting like one. She pretended to munch the foliage that made up their diet, and she even learned the sounds they say to each other. Her persuasion towards the gorillas started working. Dian made history when a gorilla she called Peanut, reached out and touched her hand. She called it her "most rewarding moment with the gorillas." On December 27, 1985 Dian Fossey was brutally murdered when she was in her research center, located in Karisoke. (Fossey, Dian (1932-1985)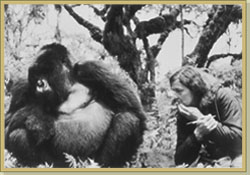 Dian always tried her best, and she never let the poachers get to her. Instead, she let the poachers make her a better scientist by studying them more and even building her own research center in Africa. Dian Fossey said, "The man who kills the animals today is the man who kills the people who get in his way tomorrow" (Brainy Quote). She hated the poachers because all they wanted was the money and they weren't thinking about the gorilla's lives. She really cared about the gorillas, more than anything in the world. In another quote she stated: "I feel more comfortable with gorillas than people. I can anticipate what a gorilla's going to do, and they're purely motivated" (Brainy Quote). When she was around the gorillas, it gave her power and motivation to protect them even more. She is an inspiration towards others to follow their dreams because she never gave up. When her favorite male gorilla, Digit, was slaughtered by poachers, this made her start the Digit Fund. The digit fund is a nonprofit organization to raise money for anti-poaching patrols and equipment (Fossey, Dian (1932-1985).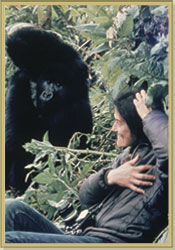 Dian went as far as becoming a gorilla by living like them. No one has ever gone as far as she did to help animals, which is why she's an inspiration to many. She made her dream come true and no one will ever forget her. More people need to think about the animals and our environment because without them, there wouldn't be such a great planet as Earth. Just like what Dian Fossey says: "When you realize the value of all life, you dwell less on what is past and concentrate more on the preservation of the future." (Brainy Quote)
Works Consulted Page
"About Dian Fossey." The Dian Fossey Gorilla Fund. 2009. Dian Fossey Gorilla Fund International, Wed 27 Jan 2010. http://www.gorillafund.org/dian_fossey/index.php.
"Brainy Quote." Copyright 2010 BrainyMedia.com. Wed 10 Feb 2010. http://www.brainyquote.com/quotes/authors/d/dian_fossey.html
"Dian Fossey." Encyclopedia of World Biography. Vol. 6. 2nd ed. Detroit: Gale, 2004. 23-24. Gale Virtual Reference Library. Gale. DEL NORTE HIGH SCHOOL. 22 Jan. 2010. http://go.galegroup.com/ps/start.do?p =GVRL&u=powa9245.
"Fossey, Dian (1932-1985)." Scientists: Their Lives and Works. Online ed. Detroit: U*X*L, 2006. Student Resource Center - Gold. Gale. DEL NORTE HIGH SCHOOL. 1 Feb. 2010 http://find.galegroup.com/srcx/infomark.do?&contentSet=GBRC&type=retrieve&tabID=T001&prodId=SRC-1&docId=EK2641500255&source=gale&srcprod=SRCG&userGroupName=powa9245&version=1.0.
Susman, Randall L. "Fossey, Dian." World Book Student. World Book, 2010. Web. 19 Jan. 2010.
Page created on 2/14/2010 12:00:00 AM
Last edited 2/14/2010 12:00:00 AM