David Suzuki
by
Jeevan from Victoria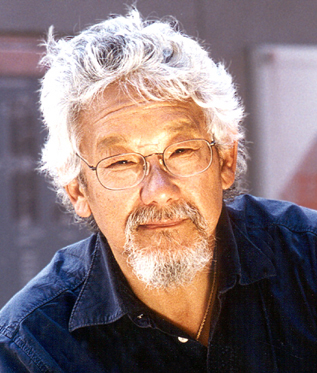 David Suzuki
Everyone knows about the people around the world needing money, but what about our global environment? One man, David Suzuki, spends countless hours helping to promote our environment through movies and his very own foundation. David Suzuki was born during March 24, 1936 and is most famous for being an Environmental Activist. David Suzuki was a full time Professor at the University of British Columbia in Vancouver from 1969 until his retirement in 2001.
In 1942, when Canada declared war on Japan, David's father was sent to a labour camp. A couple weeks later when David's, Dry Cleaning store was sold, David, his sisters, and mother were sent to a camp less than a mile away from their father. When the Second World War finished Suzuki and his family moved east of the Rockies, they first settled in Islington, then left for Leamington.
David became one of the world's greatest researchers when it came to the environment, and taught the world a great deal about our global environment. He began his education in 1958 at Amherst College in Massachusetts, receiving his B.A. After that, in 1961 he received his Ph.D. in Zoology, from the University of Chicago. He went to California to continue his studies. At the time, he began to help black Americans gain their rights, by following Martin Luther King Jr, he joined the NAACP as the only non-black person. He joined because he understood what it was like to be politically targeted based on his race. After this, David began his famous broadcasting career.
David is known for being an amazing speaker, especially as a narrator for movies about the environment. David first hosted "The Nature of Things" which aired around fifty countries worldwide. The show, which was hosted by CBC, was supposed to encourage broader interest in nature, wildlife, and a more sustainable environment. He has also been seen on " The Secret of Life" and " A Planet for the Taking" which won him a United Nations Environment Programme Medal.
During his speaking career David gained many awards, all of which he deserves. Some of these include Canada's Most Prestigious award, the Order of Canada Officer which he won in 1976. Ten years later he won yet another award, the UNESCO's Kalinga Prize for Science. He was also on the Top Ten list of Canadians by viewers of the Canadian Broadcasting Corporation.
David Suzuki is also co-founder of the David Suzuki Foundation. It was created to raise awareness to common conflicts in the modern age, like climate change and global warming. In order to promote their own rules, the foundation implemented a carbon neutral energy program by purchasing carbon offsets from renewable energy and energy efficient projects.
After the countless efforts Suzuki has spent gaining help and raising awareness for our environment, it's time he deserved recognition. Many know who David Suzuki is, but many don't know the small, important details that led up to his modern image. All these reasons are why I chose David Suzuki to be my hero.
Sources
http://www.ascensiongateway.com/quotes/david-suzuki/biography.htm

http://www.davidsuzuki.org/david/

http://www.woopidoo.com/biography/david-suzuki/index.htm

http://www.limelightgroup.com/DavidSuzuki
Page created on 12/4/2012 12:00:00 AM
Last edited 12/4/2012 12:00:00 AM
The beliefs, viewpoints and opinions expressed in this hero submission on the website are those of the author and do not necessarily reflect the beliefs, viewpoints and opinions of The MY HERO Project and its staff.