"All that is necessary for the triumph of evil is for good men to do nothing." Edmund Burke
While filming in Nepal for the documentary An Inconvenient Youth with my daughter Slater, we were introduced to the mountaineer Dawa Steven Sherpa. He knows first-hand what is going on in the Himalayas due to climate change. Dawa's name, Sherpa, refers to an ethnic group from the mountainous region of Nepal in the high Himalayas. They originally came from the eastern Tibetan region of Kham and are known for being elite mountaineers. Dawa's roots are in the Khumba region in the high Himalayas where his grandfather was a yak trader who befriended and toured with Everest's first summiteer, Sir Edmund Hillary. This friendship was instrumental in Dawa's father getting an education in the mountains in a school funded by Sir Hillary. Most children from the high Himalayas live too far from any schools or have to trek hours each way to attend.
Dawa Steven was born in Kathmandu, which is situated at 1,300m above sea level and is about 100 miles from Everest. His father is Sherpa and his mother Belgian and Dawa speaks five languages: Dutch, Nepali, English, Hindi and German. He was raised in Kathmandu and graduated from Heriot-Watt University in Scotland with an Honours Degree in Business Administration. Dawa Steven followed in his parents' footsteps into the mountaineering expeditions and adventure trekking industries and now runs their Asian-Trekking business. All three generations of Dawa's family testify to major climate change taking place today. Perhaps this is why Dawa has been instrumental in introducing innovative, green and sustainable practises into this industry. He is bringing awareness of the plight of the melting glaciers and the effects this is having on the 1.3 billion people in South Asia that rely on the Himalayas for water. He took time out of his busy schedule to do this interview for The My Hero Project.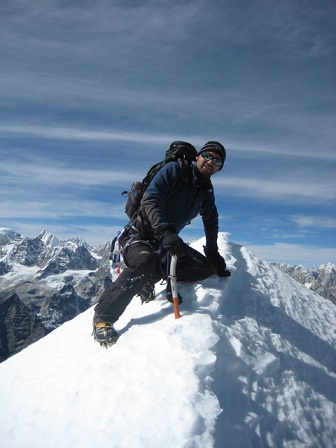 What is a mountaineer and how did you become one?
A mountaineer is someone who loves to climb mountains. Someone who loves to be on the top as much as they enjoy climbing to get there. You start becoming a mountaineer by loving mountains first. Then you start to explore and challenge them.
Are you ever afraid when you are summiting Everest?
Afraid is a strong word. I stay focused and alert until I get back to the bottom. Getting to the top is half as important as getting back down safely.
What is the best thing about climbing?
The sensation of knowing that you can overcome any obstacle and any challenge if you just focus your mind and body.
How is climate change affecting Nepal and more specifically the mountains in Nepal?
Climate change is having a huge impact on Nepal. There are two main impacts, one is the change in weather pattern with increased intensity and the other is the melting of Glaciers due to the increasing temperatures. Glaciers are melting so fast in the Himalayas that it is predicted that in a few hundred years the last glacier will melt away and disappear. We are already seeing that glaciers are disappearing and thereby water-supply to villages as well. On the other, some melting glaciers are forming massive glacial lakes held back by loose rock and moraine. These barriers are very brittle and it is only a matter of time before these lakes burst out and thunder through the downstream valley, where most of the local people live.
You run Asian Trekking and are known for your innovation. Can you tell us about Eco Everest and how you have made expeditions greener?
In 2008, I started the Eco Everest Expedition as a part of Asian Trekking's expeditions. One of the main reasons I started Eco Everest Expedition is because of my responsibility to the mountains. My family and the Sherpa people in general owe much to the mountains for our success today. When I saw that we humans are damaging our mountain environment, I felt strongly that I must act. To reduce our carbon footprint, we started using solar cookers and increased our use of solar panels. We also used UV light to clean water instead of boiling it, again reducing our need to boil water. We introduced toilet bags so bringing back solid waste off the mountain became each climber's personal responsibility. In the past climbers would just go to the toilet on the ice and glacier. We also introduced a simple cash-for-trash system where we would pay any and all climbers to bring garbage off the mountains. We have collected 13,000 kilograms of garbage to date. Finally, we wanted to use Everest as a platform to draw attention to the plight of the Himalayas due to Climate Change. Eco Everest Expedition's Climbing Leader, Apa Sherpa, took up messages such as "Stop Climate Change - Let The Himalayas Live" to the top, on his 19th, 20th and 21st ascent of Mt. Everest... all world records!
Will you be running a bakery at the Everest Base Camp this year?
Each year, I have more and more clients who climb on my team, which unfortunately means that I am very busy when I am on expedition. I set up and ran the Everest Base Camp Bakery in 2007 and 2008. In the past, I used the revenue from the Bakery to fund the clean-up project. I have all the equipment and the technical know-how which I have offered to provide to local organizations so they can use this to generate income for their own projects.
You have done so many things to bring awareness of the plight of and importance of the melting Himalayas… is anything working?
I feel that I have been very successful in raising awareness about the impact of climate change in the Himalayas, nationally and internationally. I am most proud of the fact that I have been able to work with, motivate and empower local youth in the Everest region to also become active in Mountain Protection. Unfortunately, there is much to do and awareness is only the first step of a long and difficult journey, one that I commit to take.
What can the people reading this interview do to help stop climate change?
Climate Change is a global problem. That means that every one of us need to talk and pressure our leaders and our lawmakers to adapt new policies and actions that will drastically reduce carbon emission to sustainable limits. You need to have the belief that one person, you, can make a difference and have faith in your leaders to do the right thing. "All that is necessary for the triumph of evil is for good men to do nothing." Edmund Burke.
You told Slater that your parents are your heroes. Can you tell My Hero a bit about them and how they have inspired you?
My father came from the remote village Khumjung (3800m) but had the great fortune to get an education through the Sir Edmund Hilary Foundation. As a result he became a pioneer in the tourism industry and very successful. He has never forgotten his humble roots and still believes that hard work can achieve any goal. My mother is Belgian. When she met my father more than 30 years ago, she decided to leave her good job and comfortable life in Europe and boldly set out to start a new life where she could help the people and make a difference. From my parents, I have learned honesty, hard work, passion and courage.
If you had the attention of the world for 5 minutes what would you do or say?
If you can, then make it better. But if you can't, please don't make it worse.
What brings you joy? Makes you angry?
Amongst many other things, delivering what I promised gives me great joy. Injustice makes me furious.
What gives you hope?
We humans are the cause of many of the problems in today's world. If you agree with my view point, then surely you must also agree that we are also the solution.
Thank you Dawa Steven Sherpa for all you do. You are a man of action and dedication. You make the world a better place, often behind the scenes. You help many people realize their dreams. Whether it was planting 1,250 trees at your mountain resort outside of Kathmandu or cleaning the main bridge over the Bagmati River with a crew organized through Nepal Unites, you walk your talk. If only we would all follow in your footsteps.
Extra Info
Awards for Dawa Steven Sherpa:
His efforts in the field of environment have been recognized by World Wildlife Fund (WWF), The Sir Edmund Hillary Foundation Canada, the International Mountaineering & Climbing Federation (UIAA), and the International Union for Conservation of Nature (IUCN).
1. WWF International felicitated Dawa with "Leaders for a Living Planet" Award, the highest honour given to an individual by WWF, for his dynamic leadership and personal drive in helping people throughout the world to realise the perils faced by the people of the Himalayas as a result of climate change. Dawa Steven Sherpa is also a World Wildlife Fund (WWF) Climate Ambassador.
2. The International Olympic Committee presented him the "International Olympic Committee Award for Sports and Environment" for his contributions in the field of environment. The prize is meant to acknowledge the dedication and commitment of individuals for their efforts to introduce good environmental practices into a sport of their choice. The award recognizes outstanding projects in the field of sustainable sport and the environment. The IOC believes that the work done by Dawa Steven Sherpa, before, during and after his Eco Everest Expeditions is worth international recognition.
3. The IUCN, World Commission on Protected Areas (WCPA) and the International Rangers Federation (IRF) selected Dawa Steven Sherpa as one of the Top Five Young Conservationists in the world for 2008.
4. The UIAA has presented him with the Award for Contributions to UIAA for efforts to promote conservation ethics in the mountains and to draw international attention to climate change and its effects in the Khumbu and other mountain communities.
5. Dawa Steven has also been awarded with the prestigious Special Achievement Award from the Sir Edmund Hillary Foundation for his double summit of Everest (8848m) and Lhotse (8516m) and for his Environmental initiatives in 2008 Spring.