Father Joseph De Veuster
by
Kaile'a Carlson from Hawaii
"My greatest pleasure is to serve the Lord in his poor sick children rejected by other people."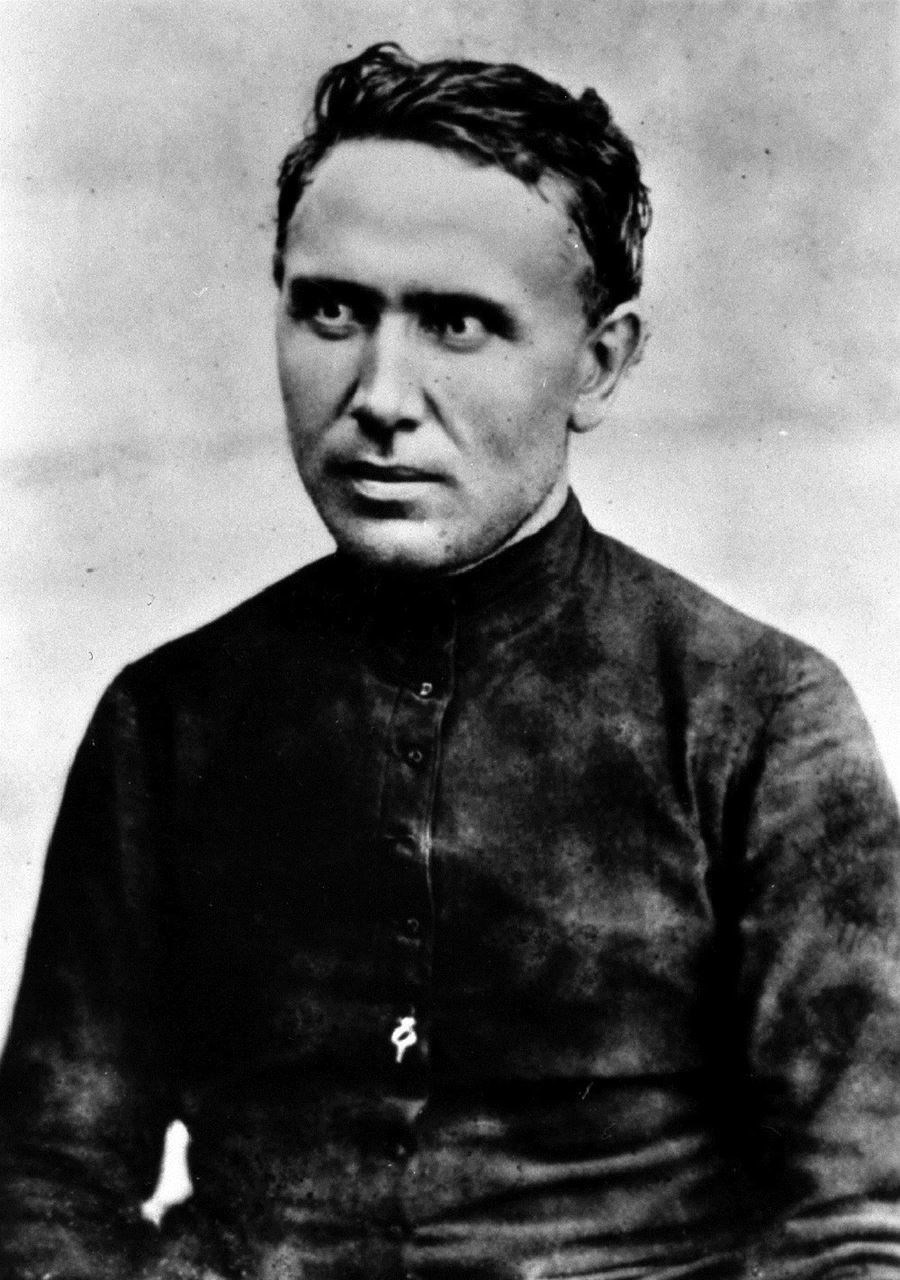 Father DamienHenry L. Chase [Public domain]Joseph De Veuster or better known as Father Damien was a hero of faith. He was born in Tremeloo Belgium on January 3, 1840. He was born into a religious family. He was the seventh child of eight of Frans and Anne-Catherine De Veuster. They had owned a farm, and Joseph was to take over the family business. He had liked the religious life better and in 1859 he accepted the habit of the Congregation of the Sacred Hearts of Jesus and Mary. There he took the name Brother Damien. In 1863 he took his brothers place to serve in Hawaii. He arrived in Honolulu on March 19, 1864 and was ordained to priesthood on May 21, 1864. He first worked on the island of Hawaii (Big Island) for nine years before he went to serve on Moloka'i. On May 10, 1873 he was taken to the Kalaupapa settlement, the leper colony. There he was to stay for the rest of his life.
Father Damien had done many great things for the people of Kalaupapa. "Life was grotesque on Moloka'i"( Office of the Provincial Congregation of Sacred Hearts) Damien said that when he first arrived "A heavy windstorm blew down most of the rotten abodes, and many a weakened leper lay in the wind and rain with his blanket and wet clothing." As the resident priest in Kalaupapa he built houses, churches, and roads for the people. He organized better burials and funerals for the patients. Father Damien also ministered the sick, by washing them, covered their sores, and cleaning their huts. He wanted to make the settlement better and make the people comfortable. He worked hard to fulfill his dream of a nice settlement. He got suitable houses for the children and with the help of Henry P. Baldwin, a boy's home was established. He taught the people to value their lives. He also taught them to farm, raise animals, play music, and sing. It took a lot of courage and determination to go up to these sick people and make a better life for the people forced to leave their families and live in isolation.
He was very altruistic to take care of the people of Kalaupapa. He struggled immensely and conquered. He is a hero to all those in Kalaupapa who knew him. He came down with leprosy in 1885 and later died on April 15, 1889 at the age of 49. He was buried in Kalaupapa like he wanted. Later he was moved to his hometown in Belgium. He is known all over Hawaii and Belgium for his courageous and self-sacrificing life.
Joseph de Veuster, who became Father Damien of Moloka'i, was canonized by Pope Benedict XVI on October 11, 2009 and is now known as St. Damien de Veuster of Moloka'i.

Read about Mrs. Izuo's kindergarten class celebration in Hawaii as they share their personal story and film of why St. Damien is their hero.


Page created on 7/30/2015 11:02:36 AM
Last edited 1/5/2020 11:54:27 PM
The beliefs, viewpoints and opinions expressed in this hero submission on the website are those of the author and do not necessarily reflect the beliefs, viewpoints and opinions of The MY HERO Project and its staff.