by
Jordan from Fredericksburg
"I am trying to show in a simple action that they are not reviled, nor we repulsed."
A hero to me is someone who is ambitious and has achieved many goals, cares a lot about the community that he or she lives in, is dedicated to their beliefs and works hard at what they do. Also, they are adventurous and not afraid to take risks, they are honest and not prejudiced. I value these traits in a person. That is why my hero is Diana, Princess of Wales.
On July 1, 1961 Diana Frances Spencer was born to Edward John Spencer and Frances Spencer. They were the Viscount and Viscountess of Althrop. Then in 1975, her father succeeded to earldom and became the 8th Earl Spencer. She then became Lady Diana Frances Spencer. After her schooling and before her marriage, she worked as a kindergarten teacher.
On the 29th of July in 1981 Diana married Charles, Prince of Wales at St. Paul's Cathedral. Their marriage was aired worldwide and about a billion people watched. She then assumed the title of Diana, Princess of Wales. She had all the qualities that were needed to marry someone of royalty. She later had 2 sons, Prince William who was born in 1982 and Prince Henry (Harry) in 1984.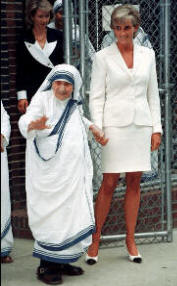 Diana was known to be very interested in social problems and raised knowledge of the Red Cross campaign for world ban on landmines. She worked with many good causes in Britain and overseas. That was one of the reasons why she was admired so much; it was because she tried to help her community instead of just Britain, she tried to be international. She was also very well known for her positive assist with HIV/AIDS victims. In April 1987, doctors believed that HIV/AIDS could be attained by casual contact; Princess Diana went to Africa to visit some HIV/AIDS positive recipients. During her trip, Diana was one of the first prestigious persons to be photographed touching an individual with HIV. She showed that people with illnesses and other diseases should not be treated with seclusion and remoteness.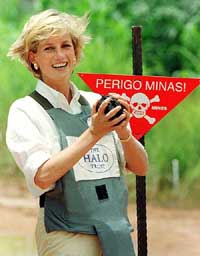 Princess Diana also felt very strongly about land mines and the injuries that they caused to many people, long after the war would be over. She influenced the signing of the Ottawa Treaty which declared an international ban on the use of anti-personnel land mines. Diana's individual goal was to ban the worldwide usage of land mines; she probably would have achieved it if she hadn't passed away. Princess Diana tried very hard to bring the world's attention to the horrible and terrifying diseases such as HIV/AIDS. She worked hard at her commitment so she could make a difference so that others would follow her lead.
Diana was also in engaged in more that 100 charities, and she was the president of quite a few of them. Some examples of the charities include: Birthright, the British Deaf Association, the Leprosy Mission, the Malcolm Sargent Cancer Fund for Children, Turning Point, AIDS crisis Trust, and the Great Ormound Street Hospital for Sick Children. The charity called "Turning Point" was probably one of the most dubious groups for royalty or nobles to give support. It is a voluntary organization that facilitates men and women of all ages with alcohol of drug-associated problems. Royalty did not want to be linked to those types of people. The organization personally asked Diana to join, and of course she couldn't refuse. She then became an active member of the group and raised the profile of the organization.
In June of 1997, before her death, Princess Diana auctioned off 79 of her dresses. She ended of raising $3.25 million (£1,960,150) and donated it all to HIV/AIDS charities. She ended up creating a breakthrough in the treatment of cancer and AIDS. She worked a lot in child care, famine relief, and with the elderly. "Nothing gives me greater pleasure than to try and help the most vulnerable people in society," said Diana. Those are the reasons that her nicknames names are the "People's Princess" and the "Queen of Hearts."
Diana was amazing and she made a real impact on the community we live in today. She set many goals for herself, like the international ban on land mines, and tried her best to achieve them. She didn't completely achieve this objective, because of her death, but she made a jump-start when she triggered the Ottawa Treaty. Diana gave everyone hope, and she was dedicated to her ways of life. This is why my hero is Princess Diana.
Page created on 5/22/2007 12:00:00 AM
Last edited 5/13/2020 5:38:53 AM
Bibliography
Hoey, Brian. Diana Princess of Wales. Great Britain: Pitkin Unichrome Ltd., 1997.