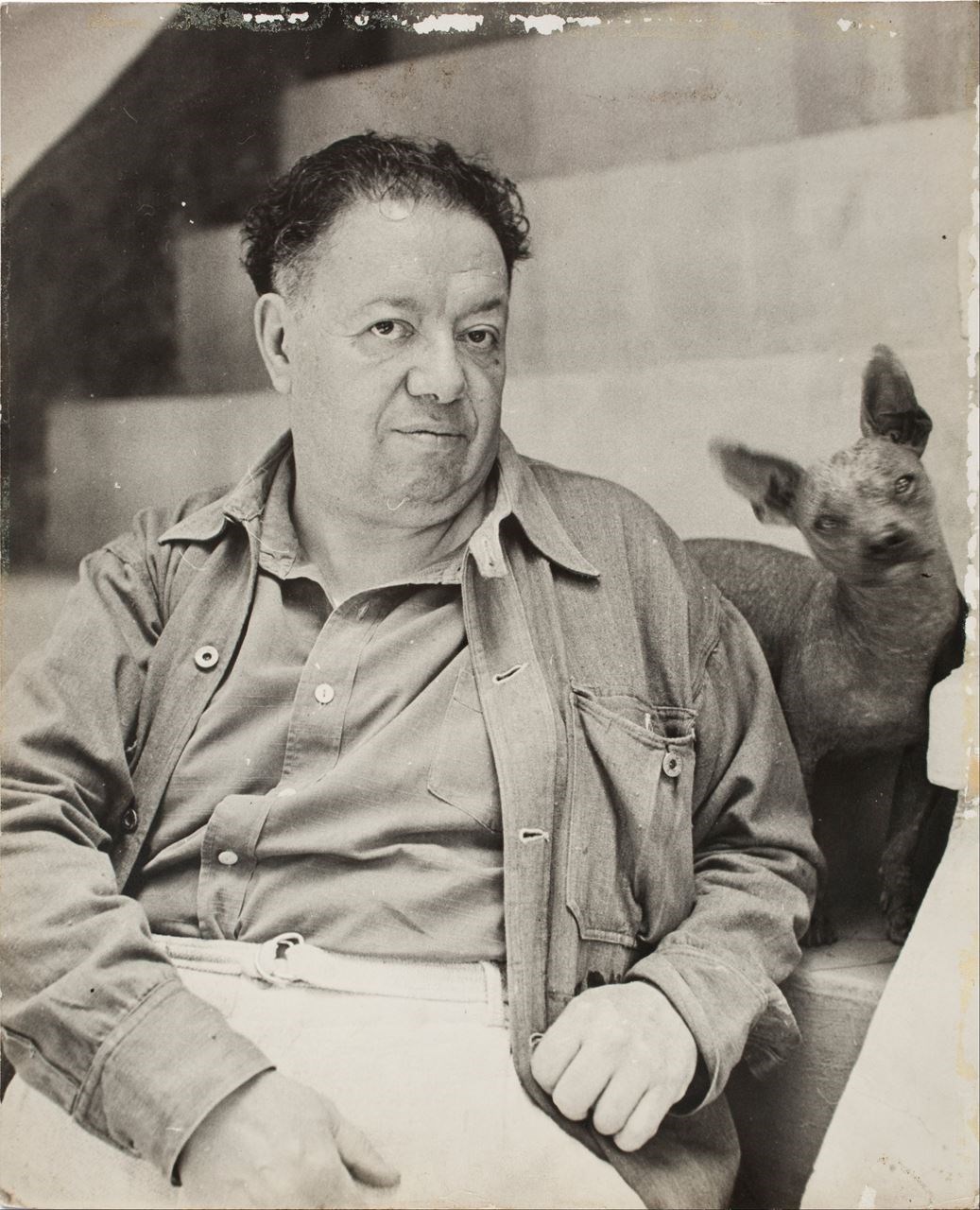 Diego RiveraWikimedia Commons [Public domain]Diego Rivera was a Mexican "social realist" muralist painter and is considered one of the greatest artists of the 20th century. He was best known for paintings that depicted Mexican life and society and the history of the Mexican people. For as much as he was famous for his artistic talent, though, he was also well-known for his revolutionary political beliefs along with his anti-church sentiments.
Rivera was born in Guanajuato, Mexico on December 8th, 1886, to a family of modest means. They moved in 1892, when Rivera was 6 years old, to Mexico City. Rivera became interested in art and painting at a very early age, and at the age of ten, he began to take painting classes at night at the San Carlos Academy. He also studied in the carving workshop of José Guadalupe Posada, whose influence is evident in Rivera's work. By the age of 12, in 1898, he enrolled there full time. In 1906 he had his first exhibition at the school's annual show, presenting 26 of his works and establishing himself as a painter at the young age of 20.
Diego's father was a rather liberal and anti-clerical man, although his two aunts who also lived with him were very religious. These opposing viewpoints would have a direct effect on Rivera and his work throughout his entire life.
In 1907, Rivera received a grant to travel and went to Europe, primarily spending time in Spain, but also in France, Belgium, England, and Brussels. In 1909, in Brussels, he met Angelina Belhoff, a Russian painter who would remain his partner for 12 years. The two traveled throughout Europe, spending much time in Paris where he participated in several exhibitions. In Paris he was greatly influenced by post-modernism and cubism.
Rivera had always had an interest in military issues, as well as a fascination with the Russian army and the conflict in Russia between the Orthodox Church and the Marxists. During his time in Europe, WWI broke out there, and consequently in Mexico, Emiliano Zapata a revolutionary "folk hero" called for a need to return the land to the people. Rivera became a revolutionary as well and felt he was needed in his home country. Although he had been invited to go to Russia by its commissioner of fine arts, in 1921 he returned to Mexico instead.
He continued to create art, becoming involved in the 1920s with the new Mexican muralist movement. He began to experiment with fresco painting on large walls with other Mexican artists such as Jose Clemente Orozco and David Siqueiros. He developed his own classic style using large, simplified figures and bold colors. A good part of his murals and art capture significant moments in Mexican history through images of farmers and laborers, the earth, as well as through popular characters and costumes. He aimed to symbolically depict Mexican society and thought after the country's 1910 revolution.
During the same time period, Rivera participated in founding the Revolutionary Union of Technical Workers, Painters and Sculptors in 1922. He also joined the Mexican Communist Party. Diego continued to be fascinated with the Russian Revolution, as is evident in his work. In 1927 he traveled to the Soviet Union as a member of an official delegation of Mexican Communist Party functionaries and various worker's representatives. He was greatly interested in the Worker's Movement.
Lupe Marin became Rivera's second wife during this time period as well, from 1922-1927.
Frida Kahlo, also a famed Mexican artist, was an admirer of Rivera, sharing his revolutionary feelings. She became his third wife and partner from 1929 until 1954. She also became the subject of several of his paintings. The two participated in protests and worked closely with workers' groups.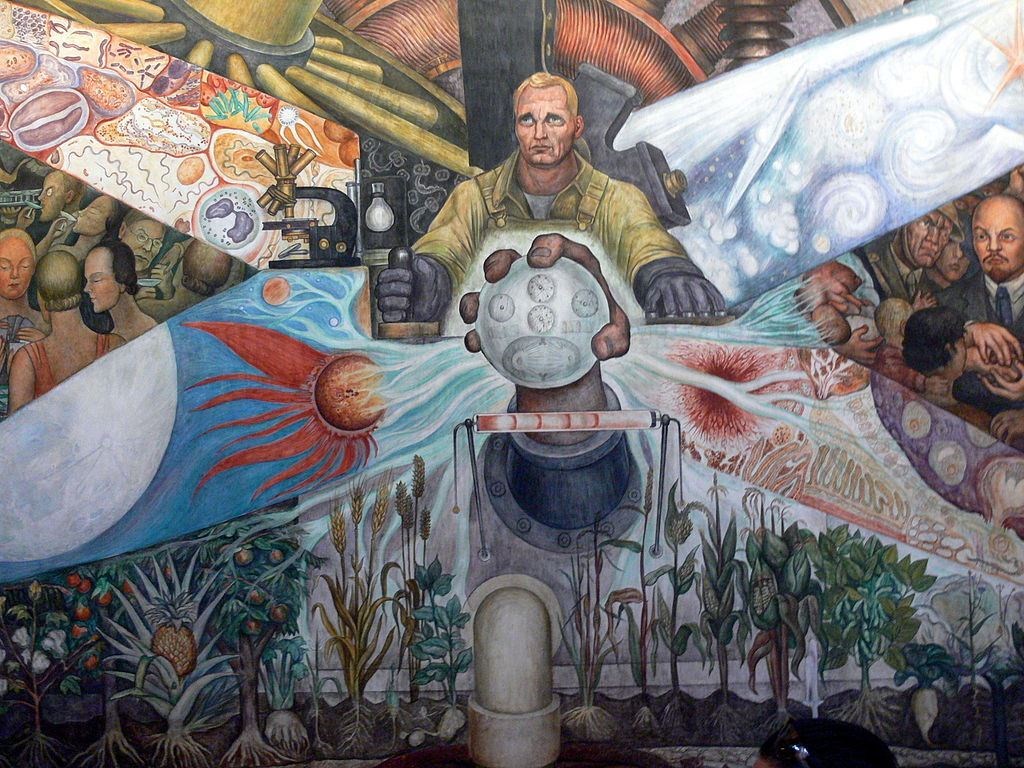 Mural "El Hombre en la encrucijada" ( 1934 ) by Diego Rivera (part).Wolfgang Sauber [CC BY-SA 3.0 (https://creativecommons.org/licenses/by-sa/3.0)]
In the 1930s and '40s Rivera visited the United States, where he painted several significant works. Perhaps most famous is his mural at the Detroit Institute of Arts. Also famous for its controversy was his "Man at the Crossroads" mural in Radio City at the Rockefeller Center in New York, which he created in 1933. It caused controversy because it portrayed Lenin, the first leader of the Soviet Union. It was removed and destroyed in 1934. Diego was determined to complete the mural and created a new version, titled "Man, Controller of the Universe," in Mexico City, where he included, alongside Lenin, Leon Trotsky, another leader in the Russian Revolution. Trotsky eventually moved to Mexico and became friends with Rivera. Rivera remained loyal to the revolutionary movement his entire life.
Rivera sometimes portrayed himself in his murals, both through self portraits and through "appearances," such as in 1948's "Alameda Park," where he is seen with many friends and beautiful ladies enjoying themselves at a party with death not far away. His introspective nature is evident in his work. Whether or not he, himself, was portrayed in the paintings, his causes and passions always were, and thus, he always remained true to his beliefs and his work proclaimed them loudly. As a muralist, he wanted to take art to the public at large, to streets and buildings, not just in museums, so that everyone, particularly the common, working man, could see them.
Rivera died in 1957. Currently, some of his best-known murals are in the National Palace in Mexico City and at the National Agricultural School in Chapingo, near Mexico City.
Page created on 7/27/2014 8:59:49 PM
Last edited 12/5/2020 8:06:25 AM
Extra Info
Lupita from San Jose, California writes...
Diego Rivera was born in Mexico. He was an artist and was married to another artist, Frida Kahlo. Diego was a communist who fought for communist ideals. He was recognized in Mexico for his art. He didn't change his art no matter what and that made him somewhat of a controversial artist. If he believed in something strongly, there was nothing that could change his mind.
Diego Rivera portrayed Mexican culture within his art. He fought for his art to be recognized, and it began to get recognized in Paris and European countries. He also started to become known by other cultures when he was asked to paint a mural in New York. Rivera painted what he felt and didn't like to have restrictions on his art.
Diego liked to use his creativity and knew what good art was. He knew that in order to make good art, there had to be feeling and meaning behind it. Diego Rivera used a lot of color because his Mexican culture used a lot of color and Rivera wanted to incorporate that so his art would look original and not plain.
I consider Diego Rivera my hero because he was a wonderful artist. He was full of talent. Diego Rivera worked hard so that his art would be recognized -- if not for what it was, then for the controversy behind it. Rivera is also my hero because he fought strongly for his beliefs. For example, they asked him to change his mural in New York, but he refused to do so.
Finally, Diego Rivera is my hero because he was a strong-minded person who did what he thought was right and took risks that most would not take. Rivera also worked and wished for his Mexican culture and background to be known. Diego's art opened the door for other talented Mexican artists to be recognized. Diego Rivera never forgot his culture and the people who were behind him, supporting him and enjoying his art.