A woman running her own business in Nepal is extraordinarily rare. A woman with a master's degree in Math is even more rare. Durga Devi Ghimire is a courageous woman who stood up against the odds to achieve a higher education and to run her volunteer program, Future Nepal. She recognized a need in her country and a desire from foreign volunteers to help. Ghimire is enriching the lives not only of the members of her community, but also those of the volunteers.
I am sitting with Ghimire on the floor of her modest family home in Raniban, a neighborhood that acts like a little village, situated on the outskirts of Kathmandu, Nepal. I have been volunteer teaching English for Future Nepal for two weeks and am chatting with Ghimire about her passion for her work. With Future Nepal she hopes to "benefit the whole of society, especially women and children." She says that, because she is a woman, her women empowerment program is close to her heart, "We want to give slowly the education so that women can use their skills and do something." She smiles coyly and adds, "Women are cleverer than men."
A constant strumming of construction sounds echo throughout the unpaved streets outside Ghimire's apartment. The verdant mountains rise up and create an enchanting backdrop around the houses, temples and monasteries of Raniban. The rebuilding is still underway after the devastation of the April 2015 earthquake.
There are an abundant amount of programs and ways to volunteer in Nepal, including helping with the rebuild. Nepal is a country that has long inspired international volunteers to offer aid. There are many factors as to why Nepal has such difficulties: its political turmoil and its precarious land-locked position between China and India are just some of the challenges to surmount. Their more powerful neighboring countries control the access of imported goods such as fuel. Currently, there is a blockade of fuel trucks at the Indian border that is having a severe effect on travel and on the basic necessity of cooking food.
Nepal wants to develop better infrastructure and a higher quality of life. Nepalese people are friendly and generous; their compassionate culture attracts Westerners for tourism, and volunteer work. English is being taught to students at a young age to garner better job opportunities.
Though many volunteer placements are available, foreign organizations are often unable to achieve their initial lofty goals. It is imperative that a member of the community is involved to grant cultural knowledge and awareness of how to approach the work for positive change.
Future Nepal is run by primarily by Ghimire with help from other Nepalese who are well informed as to what steps to take to initiate change. Her husband Bishnu Prasad Poudel and some friends started Future Nepal in 2002. Though due to political unrest at the time, very few foreigners were visiting Nepal. In 2006, both of Ghimire's children were in school and she completed her Master's degree in Math from Amrit Science College (where she was the only female student in her chosen field). She began looking for a job and realized that she had always been drawn to social work and that she wanted to re-start Future Nepal.
Through Future Nepal, volunteers can be accommodated for whatever skill set they bring to the table: from teaching English in schools, furthering women empowerment, organic farming, environmental awareness, to helping in orphanages. Ghimire places volunteers throughout Nepal in Kathmandu, Gorkha, Dhaading, and Chitwan. Her husband lives in Chitwan where he runs an eco-village and organic farm. Ghimire's family is originally from Chitwan and, even though they were supportive of Ghimire receiving a higher education, they are not entirely pleased about her living and working in Kathmandu.
"It's very very difficult. My parents want me back to the village, to stay in the house, cook food. They don't like I am here alone," Ghimire said emphatically. "But my husband understands me. He supports me."
Ghimire says she feels fortunate that her husband is a forward-thinking, educated man. Most women in Nepal are expected to always stay within the confines of their homes, to tend children and run the household duties. Many women are also forced to marry at a young age and are unable to continue with their education after marriage. Ghimire tells me that legally women have the same rights as men but, in practice, women are still viewed as second-class citizens. "This is a male-dominated society, it is very difficult for a woman. Society does not support her," she said.
Ghimire acts as a conduit in placing the volunteers where they feel they would be the most helpful. She has seen the impact of how Future Nepal has effected Raniban, "Before, the children in our community, they would be very, very shy to speak to foreigners." But now, she says they are opening up and experiencing a joyful cultural exchange.
During my time in Kathmandu, I worked with children in schools and I taught English to a group of exceptional women. The women were extremely excited to interact with me and we shared lots of laughter. The women that had children were all eager to learn English so that they could help their children with their homework. Often times the children would help me translate to their mothers. The volunteer apartment that Ghimire has set up includes an open library for children to come and enjoy - and for women empowerment classes, from teaching English to sewing. The simple act of sitting with these women and letting their voices be heard and appreciated is of great significance.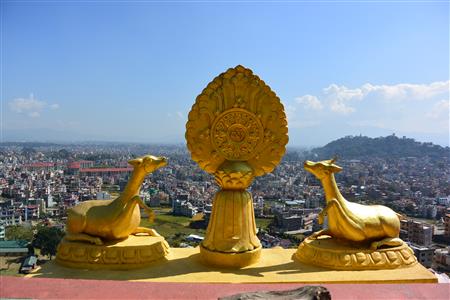 On my first day of teaching in a school, I walked up the twists and turns of narrow unmarked paths through Raniban to the Triten Norbutse Buddhist monastery. The school for the student monks is a collection of a few bare bones concrete buildings perched on a hill with a stunning view of the Kathmandu Valley. As I walked into class, the all male students in their yellow and orange monk attire stared at me with curiosity.
I spent the next two weeks challenging the students to think more globally. I shared with them pictures of students in Argentina that had to travel by boat, sometimes at great length, to get to school. I shared with them pictures of students in Ghana where the school had no textbooks and classrooms without walls. The student monk school was in disrepair and lacking in funds for supplies as well, though they felt lucky in comparison to the difficulties other students encounter across the globe.
I shared with them the message of the MY HERO Project through short videos. The boys loved seeing the view of life in different countries - a look of joy and wonderment cascaded over their faces.
Nepal has free public schools, though the conditions are extremely poor and the quality of education severely lacking. Ghimire told me if families can afford to only send one child to receive a higher caliber of education, they choose to pay for private schooling for a son over a daughter. I visited a private school named Himalaya Deep Jyoti Boarding School, which by US standard would be immensely underfunded, although the students were extraordinarily well mannered and the teachers well educated. Himalaya has a primarily Hindi enrollment and it was interesting to see the difference between the two religious cultures that Nepal embodies. Nepal prides itself on the harmony of the Buddhist and Hindu inhabitants that co-exist peacefully and respectfully within its borders.
I did a similar presentation of the MY HERO Project with classes at Himalaya. When I asked them what their definition of what a hero is, a large portion of the class referred to a hero as a term only for men. It was of great importance, especially for the female students, to learn that a hero can be a woman as well.
Ghimire sits cross-legged on her floor with her hand over her heart, her eyes filled with concern and compassion. She says that what she is most devoted to changing are issues with women not receiving encouragement or support, and the educated youth leaving Nepal to live abroad to make money - not staying for the betterment of their own nation. Ghimire and her husband Poudel are massive advocates for inspiring development through small advances. They are raising awareness in their own communities to better their circumstances. Poudel has even written several empowerment books on how to be a small business owner to initiate prosperity for yourself and those around you.
At the end of my conversation with Ghimire, tears well in my eyes as I thank her for the beneficial experience I had working with the women and children of Raniban. Getting to know Nepal through volunteer work has left a special mark on me. I will never forget the moments shared with Ghimire, her children and the phenomenal students I had. I am eternally thankful for Ghimire and the work she holds so dear.
When I asked what Ghimire hoped for the future of Nepal she replied with determination and vigor, "My hope is a good life, good education. I want a positive change."