… like the symbol for the foundation – a rose –
Elisa's bright eyes and brilliant smile
communicate a vibrant beauty within.
In May 1999, the doctors told Elisabeth and Randall Linton that their 4-year old daughter, Elisa, had a disease called Sanfilippo Syndrome and that it was fatal. The Lintons asked "What can we do?" and the doctors said "nothing". But Elisabeth and Randall had to do something.
And so 'with faith and determination' they decided to start The Sanfilippo Children's Research Foundation "to fund medical research to find a cure for Sanfilippo and its related neuro-genetic disorders." The SCRF has now raised over $2 million -- all by the Lintons and the many volunteers they inspire. They do not use professional fundraisers, 97% of the money donated goes to scientific research (in Canada, England, Australia and USA) and only 3% is used for running the SCRF. And all this research will help kids with many other types of storage disorder diseases too.
Here are the questions I asked Elisabeth by email and her answers:
1. Why did you start the SCRF?
The SCRF was started in Canada because the Doctors at Toronto's Hospital for Sick Children told us that there was no treatment and no cure for children like Elisa with Sanfilippo Syndrome so just enjoy her every day that we can. At that time nine years ago, there was no research happening in Canada and very little in the world because there was no money to support it. We felt our only response to this situation was to somehow raise awareness and money to allow research to happen. Experiencing the devastating feeling of 'little hope' because of minimal research worldwide, we wanted to change that and bring hope other families with Sanfilippo children. We also wanted to initiate research opportunities for doctors in Canada that was not existing.
2. What do you like about running the SCRF? What are the hardest things to do?
I love running the SCRF because I know I'm doing all that I can to help Elisa and children like her. I would have a hard time living with myself at the end of her journey knowing that I didn't do everything possible that I could to help her. I love being surrounded by people with such energy and commitment to make a positive contribution and difference in this world. Also, it is wonderful for us to see the support we are so blessed with, seeing how much Elisa is so loved and hearing of the medical strides and knowledge that has been gained from the research the SCRF has initiated and supported.
I think the hardest thing to do now is learning how to divide up my time properly. At periods throughout the year, the work of the SCRF takes up so much of my time and it pulls me away from precious time that I have with Elisa. Also, her needs are becoming more demanding so she needs more help and assistance with everything. This now leaves me with less time to work on the SCRF and as a result I fall behind. The hardest part is finding a good balance.
3. Do you feel like a hero?
In my eyes, the heroes are the many others that volunteer of their time, resources, gifts etc and contribute in many ways to making the SCRF exist and support our family's dream. Because the SCRF is strictly run by volunteers, me included, every one of them is a hero because without them the SCRF would not exist and research would not happen.
4. How is Elisa doing?
Although Elisa has regressed significantly over the last 4 years and is now at the physical age of 13 around the mentality of a one year old, the doctors say that she is doing extremely well for her age and stage. Most children at this age are bed ridden for the rest of their short life or at least in a wheelchair not able to walk. Elisa is still walking and although she has lost all her words and comprehension, she is still trying to make sounds and for this we are very happy and grateful.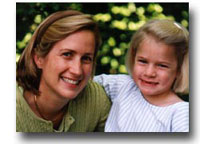 Elisabeth is my hero because she runs the SCRF, is busy making phone calls and working on her computer, and being a mom to Elisa and her big sister Jessica and big brother Connor. Elisabeth organizes a huge gala and auction evening every year and inspires so many people (including my mom) to help out. Their whole family and so many friends surround Elisa with so much love that she glows! Elisa is now 13 and is still walking (which many Sanfilippo kids aren't at 13) and loves people and music and friends.
Elisabeth and Randall know their daughter will live for only a few more years but they aren't sad all the time – they want to give Elisa a beautiful life that will help brighten and save the lives of children she'll never know who may be born after she is gone.
Please go to the SCRF website (see Related Links below) to learn more about the Lintons, Elisa and all her wonderful friends, Sanfilippo, the foundation, the research and how you can help too!
Page created on 5/18/2007 12:00:00 AM
Last edited 5/18/2007 12:00:00 AM