To me, a hero is someone who is brave and is able to stand up for what they believe is right even if they stand alone. Someone who is kind, as well as conscientious, open minded about new views and ideas, and concerned over others well being. A person who has worked very hard and accomplished great things for both themselves and their community. When I think of all these aspects that embody an ideal hero, only one name comes to mind: Emmeline Pankhurst
Emmeline Pankhurst was born to a Victorian Englishwoman and a manufacturer in Manchester, England on July 14th, 1858. Some of her favorite hobbies included reading books such as "Uncle Tom's Cabin," and "John Bunyan," both of which focused on abolitionism. At a young age, Emmeline heard a speech given by a woman surrounding the topic of rights for women. This woman was the guiding light that inspired Emmeline to join the ongoing battle over fairness, justice, and the right for women to vote.
At the young age of twenty in 1879, she married a forty year old, very successful lawyer named Richard Pankhurst. Richard was extremely dedicated to his work and was responsible for drafting pioneering legislation, and giving women the right to independent control of their finances. In 1880, the first of five children was born and named Christabel, and two years later Sylvia arrived.
Sadly, in 1889, Richard died suddenly of a perforated ulcer, leaving Emmeline and her children abandoned and alone. But, that same year, the Pankhurst family, which was now only Emmeline and her two daughters, picked themselves up and became the founders of the Women's Social and Political Union in 1903. Her two daughters played an important role in this organization. Christabel became the strategist and activist, while Sylvia, who was a very talented artist, created the logo for the organization, as well as banners, costumes and badges.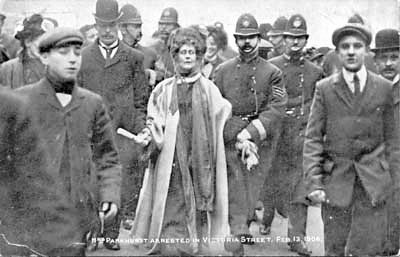 Over time the feisty trio would become known as a "versatile tactical machine" (Marina Warner). During the course of a year, Emmeline Pahnkurst was jailed 12 times, but this didn't stop her one bit. She continued leading her large spectacles of protest throughout the streets. Her protests spread internationally, attracting women such as Alice Paul, who had actively taken part in "suffragist agitation" (Marina Warner) while attending the London School of Economics. Alice Paul helped Pankhurst recruit up to 5000 women to the U.S. for a march that took place in 1910.
The protesting stopped abruptly in due to World War I because of Emmeline's efforts to help support the war effort, but was then brought back up again, and this time in front of the court. Emmeline plead, "We want to help women...We want to gain for them all the rights and protection that laws can give them. And, above all, we want the good influence of women to tell to its greatest extent in the social and moral questions of the time. But we cannot do this unless we have the vote and are recognized as citizens and voices to be listened to."(Emmeline Pankhurst) She came out praised as the leader of women's rights movement and was asked to run as a conservative candidate for the east London Constituency. Sadly Emmeline passed away before she ever got the chance to run, but she stayed long enough to see the Voting Rights for Men and Women Act finally be passed in 1938. Emmeline died weeks later.
Emmeline Pankhurst went through many struggles and challenges, such as the death of her husband, raising her children by herself, and being jailed numerous times. Despite all of these difficult things, Emmeline persevered and accomplished her dream of giving women the right to vote. This why I admire and believe that Emmeline Pankhurst is a hero.
Page created on 7/5/2007 4:10:47 PM
Last edited 1/5/2017 11:44:05 PM