When someone looks at this picture, they wonder how anyone could survive after their ship, the Endurance, their home, and vehicle of escape, is crushed by ice and engulfed by the merciless Weddell Sea. The men are trapped on a floating sea of ice; the only chance of escape is dragging rowboats hundreds of miles to the edge of the ice and braving the treacherous Antarctic Sea. One wonders how a group of men could do this without losing a soul? How men could even have hope of survival? For hope, and perseverant leadership they looked to their determined captain, Ernest Shackleton, to lead them to rescue. Shackleton accomplished what seemed impossible through inspiring leadership, self sacrifice and perseverance, all the while keeping his men going. For this he deserves the title of hero.
Shackleton was born in Kilkee County, Ireland, in February of 1874. His mother, Henrietta, and his father Henry, a doctor, had eleven children including Ernest. When Shackleton reached age ten, his family moved to London where he attended Dulwich College at 13 years old. Only three years later he joined the Merchant Marine and became a sailor. Shackleton later found interest in Antarctic exploration and left on his first expedition with the famous Robert Scott, but unfortunately had to be sent home early due to scurvy. Shackleton led his next expedition aboard the Nimrod which achieved the furthest longitude south, up to that date, and collected a large amount of scientific data. On Shackleton's return he was knighted and this began his fame. His third and most famous expedition aboard the Endurance departed from England in April of 1916 to attempt the crossing of Antarctica, but soon his ship was crushed by pack ice causing a series of dramatic marches and boat journeys to help achieve safety and rescue. Many years after the rescue of his men, Shackleton decided for another expedition. In 1922 this voyage ended prematurely by Shackleton's tragic death on South Georgia Island, January 5, 1922.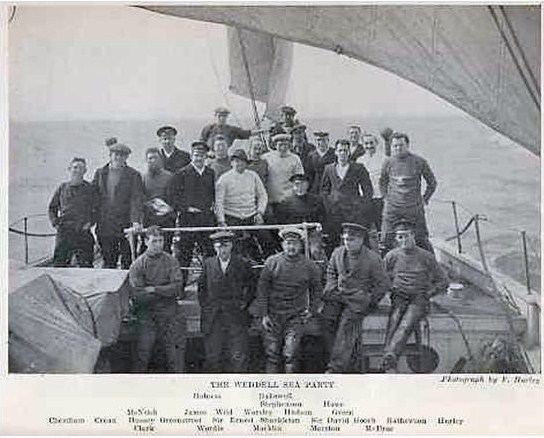 Shackleton was one of the last great heroes in a dying age of exploration. He was a respected leader who was close to his men. His leadership and a collection of personal traits set the foundation for his Heroism. His ship, the Endurance, was trapped and being crushed in the ice, marooning his men on a barren wasteland of ice. Shackleton knew that eventually his men's optimism would subside. To counter this, he held events such as soccer games and sled races. Also, in Shackleton's unpredictable situation his plans often went awry. He first planned to march to Paulet Island where supplies where cached. "By March 17 they were 60 miles from Paulet Island. Ice conditions were so severe, however, that they could not reach the island." (DISCovering Biography) Shackleton was able to keep a level head and make decisions that prevented their situation from worsening. Even though Pualet Island was only 50 miles away and stocked with food, Shackleton made a logical decision to not attempt to travel to the island. Attempting to reach the island could be hazardous to his men's safety, as the ice was too thin to walk on and too thick for row boats to sail through. Shackleton's cool collected attitude allowed him to make logical mind over matter decision.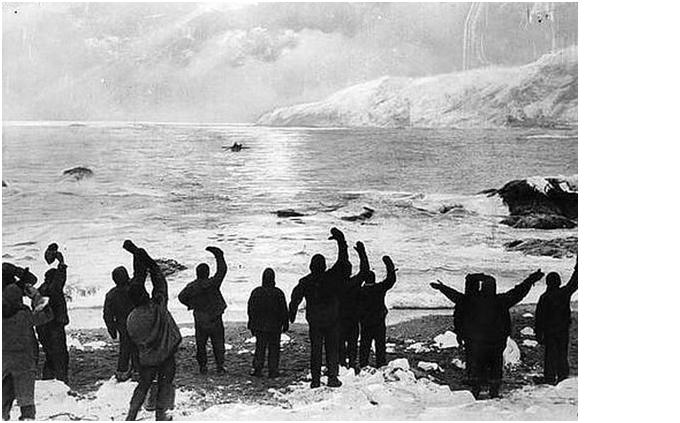 Shackleton also sacrificed himself for the good of his crew. Shackleton gained the respect and trust of his men not only through his leadership, but also by demonstrating that he was their equal. He ate the same rations as the men, shared a tent with fellow crewmen, socialized with them, and did all the same work and maybe even more. Even though as captain, he was entitled to live life better than the rest of his men, he didn't. While these small deeds did help him earn a loyal reputation, there were larger showings of self sacrifice especially after landing on Elephant Island. Shortly after landing on Elephant Island Shackleton took the job of the cook after he had collapsed while manning a blubber stove melting ice. "Then I set out to replace the cook one of the men who had expressed the desire to lie down and die." Shackleton noted that this job was one dreaded by the men as it required the cook to sit exposed to the elements for long periods of time. This required a great deal of self sacrifice on his part. Shackleton knew that what he volunteered for was a tough job, and one that no one else would ever volunteer for, especially after a long bone chilling boat journey where all men were cold and soaked from exposure to salt water and freezing temperatures. Another example of Shackleton's heroic actions was his 800-mile boat journey to South Georgia Island with four other men. "It was not difficult to decide that South Georgia must be the objective, and I preceded to plan ways and means. The Hazards of a boat journey across 800 miles of stormy Sub-Arctic seas were obvious…" (South the Endurance Expedition). Shackleton put himself on the line on this all or nothing expedition to save his men. The tiny expedition braved a raging storm and rogue waves in an utterly un-seaworthy vessel. Volunteering to put himself in this situation to save his men was very heroic.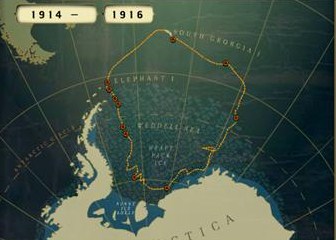 His companions had nearly instantly fallen asleep. He knew this would be fatal! If they all fell asleep, then they had a possibility of freezing. "After five minutes I shook them into consciousness again, told them they had slept for a half an hour, and gave the word for a fresh start."(South the Endurance Expedition). Determination also aided in the rescue of his remaining men stranded on Elephant Island. Shackleton attempted rescue a total of three times before finally arriving to save his men on the Chilean tugboat the Yelcho. "As I came nearer I called out, "Are you all well?" and he answered,"We are all well, boss."(South the Endurance Expedition). Shackleton had traveled about 900 miles with his men and another 800 with his four crewmembers on the way to South Georgia. He and his men were stranded for over a year and did not lose a single man.
Shackleton was a hero in the eyes of his men and the rest of the world for his epic marches and boat journey. Shackleton's leadership, self sacrifice, and perseverance make Shackleton an inspiration to anyone striving to become a good leader or anyone trying to live a successful life. He has taught us the values of hard work, determination, and perseverance. Shackleton is a true hero and continues to be an inspiration to this day.
Page created on 5/17/2010 12:00:00 AM
Last edited 5/17/2010 12:00:00 AM