Elizabeth Jane Cochrane
(Nellie Bly)
by
Penelope

from

Boise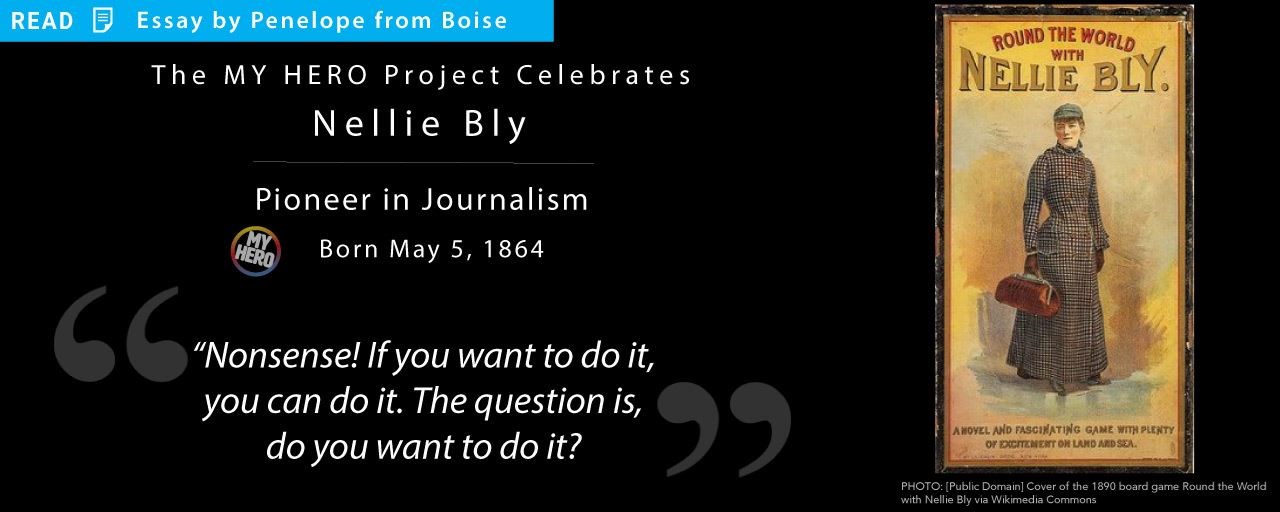 Nellie BlyPublic Domain via Wikimedia CommonsElizabeth Jane Cochrane is the first known female reporter, and one of the most popular writers of her era. By going "undercover" to report on a range of subjects from slum conditions to municipal corruption, she influenced public opinion on the most significant social issues of her day. By courageous example, she helped women to win respect as journalists in their own right. Her pen name was Nellie Bly, after a fictitious character in a popular song, and she signed all her stories with that catchy byline.
Born in 1865, Cochrane was the the daughter of Judge Michael Cochrane and Mary Jane Kennedy. She grew up in Apollo, Pennsylvania and was hired as a reporter after sending an angry response to an editorial in the local paper that negatively portrayed women.
Known for developing modern day reporting methods, she once went undercover at an insane asylum, where she did such a convincing job of playing "crazy" that doctors, and even the police, refused to let her out. After ten days pleading her sanity, she was released, bailed out by her former editor. Bly spent two hours soaking in a warm bath, then sat down to pen two controversial stories revealing what she had seen and how she had been treated in the "madhouse."
The high point in her life, however, was the impressive round-the-world trip by boat, train and horse, which she made in 72 days, 6 hours, 11 minutes and 14 seconds. Famed publisher Joseph Pulitzer sent a special train to meet her glorious return to San Francisco, where she was greeted by fireworks, gun salutes, brass bands and a parade on Broadway.
Though she married millionaire Robert Seaman, who was 50 years her senior, she died destitute on January 27, 1922.
Bly's "inside" stories resulted in a heightened awareness of societal problems, and this awareness in turn opened the way in many cases to real social change. As a woman writing about her travels around the world, she opened doors for other women to lead heroic lives and achieve ambitious personal and professional goals.
Page created on 8/18/2014 8:38:14 PM
Last edited 1/6/2017 10:48:56 PM
The beliefs, viewpoints and opinions expressed in this hero submission on the website are those of the author and do not necessarily reflect the beliefs, viewpoints and opinions of The MY HERO Project and its staff.
Extra Info
Read more about fearless women. Getting the Real Story : Nellie Bly and Ida B. Wells (Women Who Dared) by Sue Davidson
Related Books