Emmanuel Ofosu Yeboah (French)
by Alyssa de Sycamore Jr High
traduction française par Cheik Darou Seck
Accepte les choses auxquelles le destin te lie, et aime les gens avec qui tu es uni par le sort,
mais fais le avec tout ton coeur.
Qu'est ce qui définit un héros vraiment? À mon avis, il existe des normes innombrables pour être un héros. Être un héros ne signifie pas nécessairement que la personne est un gros bonnet qui vous tire d'affaire. Un héros peut être une personne que la communauté admire beaucoup, quelqu'un qui montre de la compassion pour la vie et qui a toujours foi en eux, et qui les aide à atteindre leur objectif. Le héros que j'ai découvert s'appelle Emmanuel Ofosu Yeboah, c'est un héros de la foi et de courage. Emmanuel a lutté toute sa vie pour trouver une chose à laquelle il était bon, quelque chose qu'il pouvait faire sans être raillé ou discriminé. Il n'est pas le héros de bande dessinée quotidienne qui sauve tout le monde, mais tout de même, il est une personne très honorable.
Emmanuel Ofosu Yeboah est né au Ghana, en Afrique sans le tibia droit, l'os qui se trouve à l'intérieur et qui est généralement le plus grand des deux os du membre inférieur entre le genou et la cheville, et qui l'a laissé paralysé. Dans un pays où l'estropié est considéré comme maudit, Emmanuel a été rejeté. Son père abandonna la famille en raison de la déformation de son fils. On conseilla à sa mère de le tuer ou bien de le jeter dans la forêt pour qu'il y meure.
Emmanuel gagnait environ 2,00 $ par jour en cirant des chaussures pour faire vivre sa famille et lui-même. Quand il a entendu parler d'un programme de subvention de la Fondation de Challenge des Athlètes (CAF) par le biais d'un missionnaire de sa ville, il écrivit une lettre à l'Amérique demandant un vélo pour rouler à travers le pays. Il ne savait pas combien cette lettre allait changer sa vie. Il reçut un vélo à travers le programme CAF. Pris en charge par des sponsors, il sauta avec impatience sur le vélo et commença le rude tour du pays pour se libérer de la discrimination dont il était victime en raison de son handicap. Même si il a fait l'objet de scepticisme, le programme CAF lui demanda de venir à San Diego pour ses 56-kilometres à vélo annuel en Novembre 2002. Peu de temps après en Avril 2003, Emmanuel fut équipé d'une prothèse de la jambe. L'année suivante, dans la même épreuve, il améliora sa performance de trois heures de temps. Récemment, il reçut le Prix Arthur Ashe du Courage aux ESPY Awards annuels en Juillet de 2005.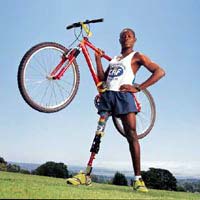 Emmanuel montre beaucoup des qualités louables d'un héros. Ses qualités sont principalement liées à celles du «héros de l'intérieur" de la catégorie d'héroïsme de TA Barron. Je pense qu'il est plus lié à cette catégorie de «héros de l'intérieur » parce qu'il a fait preuve de courage pour n'avoir pas accepté le sort auquel il était condamné. Il avait foi en lui-même qu'il pouvait être au dessus de la haine que les gens montraient à son égard. Surtout, il s'est adapté à la prothèse de jambe qu'on lui a faite, même si au début c'était frustrant et maladroit. Voilà pourquoi je crois que Emmanuel Ofosu Yeboah correspond à la description d'un «héros de l'intérieur».
En lisant mon histoire, j'espère, vous en êtes venus à vous rendre compte qu'il y a différents types de héros et chacun d'eux est défini avec une qualité spéciale qui lui est propre. Emmanuel n'est pas le héros de tous les jours, mais c'est ce qui le rend unique. Il a eu le courage de surmonter son handicap, et il l'a fait avec toute la force qu'il avait en lui. Emmanuel est un exemple pour moi, et il m'a aidé à réaliser que je peux surmonter tout si j'y mets ma volonté, même lorsque les chances pour le faire sont faibles. Surtout, il m'a fait croire qu'il ne faut jamais abandonner.
Page created on 6/28/2015 12:00:00 AM
Last edited 6/28/2015 12:00:00 AM
The beliefs, viewpoints and opinions expressed in this hero submission on the website are those of the author and do not necessarily reflect the beliefs, viewpoints and opinions of The MY HERO Project and its staff.
Related Links