Paul Farmer
by
Natalie

from

USA

My hero is Dr. Paul Farmer. He is a medical anthropologist and physician who has dedicated most of his life in treating some of the poorest, undeveloped countries in the world with medical help. He started out teaching at Harvard University and still teaches there occasionally.

Dr. Farmer goes mostly to Haiti and does work at a hospital called Zanmi Lasante. At the hospital, he helps the old, young, and middle aged with simple things, such as shots, to medical emergencies like heart attacks.

Paul Farmer, his wife Didi Bertrand, also an anthropologist, and their five year old daughter live in Paris and Haiti. During periods of time when Dr. Farmer is spending a month or two in Haiti, they will all go together. But sometimes just Dr. Farmer goes. Sometimes, he will see his family only twice in several months. I think it is great that he is so dedicated, but to see your family so little, is that a sacrifice you would make?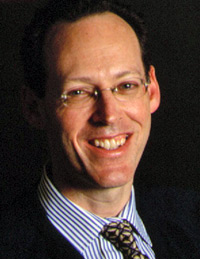 In 1983, when Dr. Farmer was still a student, he began working with villages in Haiti's Central Plateau. The following year he began Medical School at Harvard. Two years after that, he started helping out with Zanmi Lasante, serving as its Medical Director from 1991 to the present. The hospital started out as a one building clinic to a multiservice health complex, a primary school, an infirmary, a surgery wing, a training program for health outreach workers, a 104-bed hospital, a women's clinic, and a pediatric care facility. It has also originated the treatment of multidrug resistant, tuberculosis and HIV in Haiti.
I think Dr. Farmer is a hero because he has sacrificed his entire life to helping the people of Haiti. I know that I could never imagine how grateful I would be, if I was in a horrible condition and someone came to help me get out of it. Dr. Farmer has done this for thousands of people. He has dedicated his life to these people. He rarely sees his family, another huge sacrifice. He has seen people die, but that doesn't discourage him. If he stopped now, what would people in Haiti think of him? As someone who just walks right out of there, not caring. He doesn't have a choice anymore, he has to keep doing this, whether he likes it or not. Just think, could you dedicate your life to other people?
Page created on 5/28/2005 12:00:00 AM
Last edited 2/22/2022 7:31:40 PM
The beliefs, viewpoints and opinions expressed in this hero submission on the website are those of the author and do not necessarily reflect the beliefs, viewpoints and opinions of The MY HERO Project and its staff.
Extra Info
Knott, Rachel. Brigham and Women's Hospital. 17 Mar. 2005. Brigham and Women's Hospital. 13 May 2005 <http://www.brighamandwomens.org/socialmedicine/aboutfarmer.asp>.

Young, Ellen L. Paul Farmer. 2004. Hanover. Dartmouth College. 25 May 2005 <http://www.dartmouth.edu/~vox/0405/1025/images/farmer.jpg>.

Slavin, J. P. UNICEF in Haiti: Notes from the Field. 2002. Partners in Health. 25 May 2005 <www.pih.org/inthenews/ 020428UNICEFalert/>.