Fauzia Minallah
by
Joanne Tawfilis

from

The Art Miles Mural Project

Fauzia creates sparks of happiness in so many people's lives! Joanne Tawfilis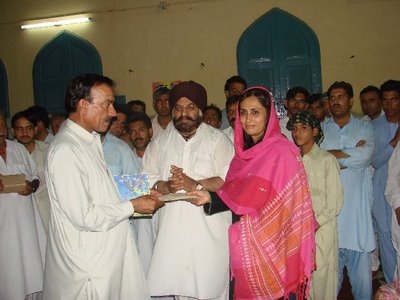 It's always with an intake of air and a huge amount of anticipation that I open Fauzia's email. The magic of technology never fails to deliver a special tingling in my heart when her beautiful photos unravel in a matter of seconds on my computer screen. What often appears are faces of the wide eyed children or mourning mothers and women victims of these conflicts that have daunted her for years now. I recall how terribly upset she was years ago when describing how her beloved Pakistan had been constructing monuments in the form of missiles as public art instead of joyful objects of peace and love that children and youth could appreciate and grasp. And somewhere in her photograph mix, I see the saris and the arms and hands holding either a child or an elder close to someone's heart. I always seem to feel Fauzia's desperate efforts to touch and reach out to those less fortunate than her — people whose main concern is food, water, shelter. There seems to be little room for smiling and fun for these children. The joy that is present, when she gets involved and breathes art and beauty into their lives, represents a spark of happiness, and then she manages somehow to add food or medicine or a comforting hand seeping warmth and care to each of them.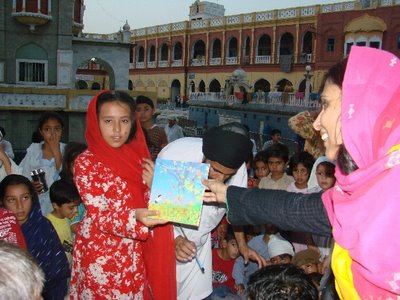 Fauzia is our bravest Art Miles Angel. She seems defiant in the face of danger and exercises a level of ARTIVISM that no one I know can compare to. She has consistently given so very much of herself through incredible sacrifices that are nothing short of amazing. Her family, somehow intertwined in the mix, works like the veins of the human body, breathing life's blood through the many alleyways of suffering and humility, like people piling sandbags along a flooded river bank, or the medical equipment screen that shows the constant blip of heartbeats. It is Fauzia that does not allow the sandbags to let the river overcome and drown people. It is Fauzia who keeps the blip on the heart monitor screen moving along, despite the threat of so many invasive systems and interruptions that plague people living amidst these conditions, that seem to so many of us, like a dream or a story so far away that it doesn't weigh on our daily consciousness. Fauzia is one of the real champions that works in support of the Decade for a Culture of Peace. Together, with all else she does, she continues to utilize the murals as part of a peace, unity and healing method, and to keep us close to her heart. Like us, we do what we have to without fanfare and more often than not, without recognition, publicity or compensation, thriving only on the fact that we "do something". And that is what binds us together---this commitment to walk the talk, despite the nay sayers and the lack of financial support. We know our reward comes in those little sparks of happiness, and it is those sparks that ignite our engines!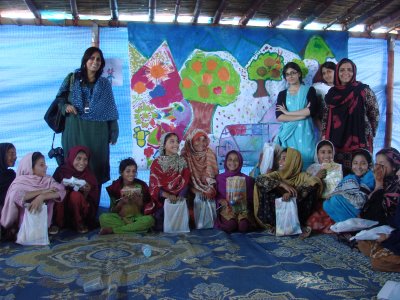 But her efforts are with me always. I know her least concern should be creating MURALS. She herself is a living MURAL. But I think of those really dedicated amongst our team, she truly and passionately understands the power of the murals and that's why she facilitates their creation wherever she goes. I have watched her over the years pulling children from the streets to paint and when there was no paint, to sew. I have seen her provide food to hungry little sisters and look for art supplies for them to use to give them cheer, only to find their widowed father yank them away to a life of servitude. I have seen her art portray the faces of the trapped children onto the mortar and bricks of walls, sharing their message of isolation and desertion. And yet, from her emotional loving spirit comes her dream of peace for children that she has written, illustrated and published into magical story books. And yet, there seems to be no reprieve for her. Her anguish about injustice shows up in cartoons about corrupted government, and the suffering of the lawyers, and her daring public protests in the face of reprisal by men in uniforms. I have witnessed her encouragement and inspiration to convince youth to stand up, stand out and move forward in search of truth and to take the hearts they wear on their sleeves and move forward with passion to embrace what are their basic human rights.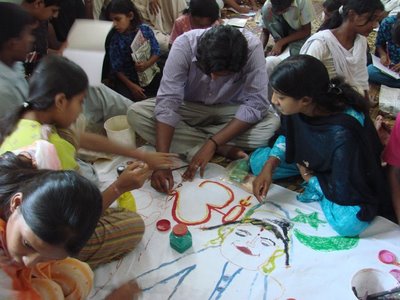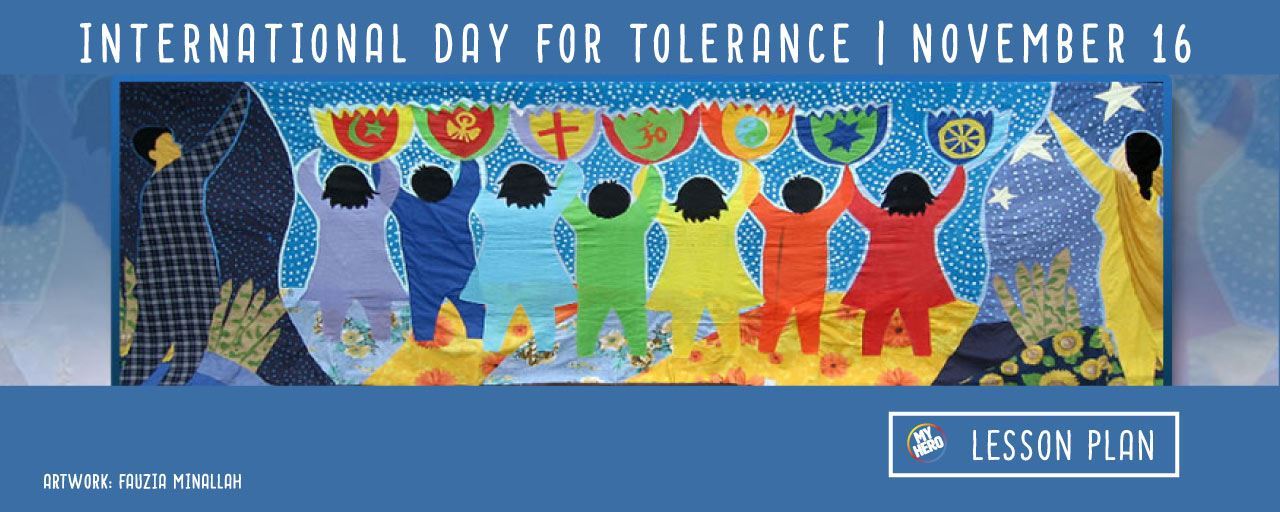 International Day for Tolerance lesson planFauzia MinallahI am not sure how she does it all and, at the same time, to look at her beauty, she seems ageless/tireless and willing to continue to take on the next battle.
For me, Fauzia is our dearest of Art Miles Angels and I hope and pray that her spirit and energy will not burn out, but remain that ray of light that gives us all HOPE for a better life and future for our children.
Page created on 12/10/2014 4:32:40 PM
Last edited 5/10/2022 2:20:42 PM
The beliefs, viewpoints and opinions expressed in this hero submission on the website are those of the author and do not necessarily reflect the beliefs, viewpoints and opinions of The MY HERO Project and its staff.
Extra Info