George Washington Carver
by
a student from Mrs. H's class
George Washington Carver was a very intelligent and successful scientist, or botanist, as he called himself. Carver's mother was a slave, and she was stolen, or kidnapped, by "Nightriders", a group of people who stole slaves and either used them for themselves, or sold them.
A family who lived near him and his mother took him in. Their name was Carver. He lived with them for about 10 years. Nobody knew the boy's real birthday, but he figured he was about 10 when he left home to go to a school for colored children. The school was about 10 miles up the road in a town named Neosho. He walked the entire way, with $1 in his pocket. When he got there, he did odd jobs for people trying to raise money. When he went to school all the boys and girls laughed at him, and the teacher didn't seem to like him that much either. He slept in a barn every night until the owner of the barn found him. The owners of the barn were named John and Lucy Martin. They decided to take him in and pay him, as long as he did work for them. After a while the Martins decided to move to California, so they had no choice but to leave George behind.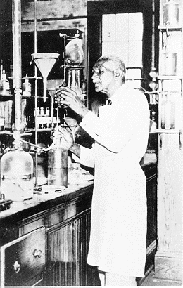 The Martins made arrangements for George to live with someone he had met at church. He called her Aunt Mariah. She was very loving and really cared about George. He decided to move to Fort Scott, Kan., where he could get a better education and go to school with all children, white and black. He lived behind a hotel, with the hotel's permission, of course. He had his own business, a laundry service. He went to school at "Fort School". As time wore on, he packed up and moved to Kansas City. There he worked as a helper to construction workers. When he was old enough, he applied to Highland University, and was accepted. When he got there, the president of the college turned him down because he was black. So he went to Simpson University and then Iowa State. He taught there for a while and then made one of the biggest decisions of his life. He started to teach at Tuskegee Institute. As it turns out, he taught there for the rest of his life.
He taught science, mostly botany. That is where he discovered most of his uses for the peanut. Carver was in his late 70s when he died at Tuskegee Institute in Tuskegee, Ala. His death was a national event, and everyone mourned.
Page created on 12/13/2003 4:07:00 PM
Last edited 12/13/2003 4:07:00 PM
The beliefs, viewpoints and opinions expressed in this hero submission on the website are those of the author and do not necessarily reflect the beliefs, viewpoints and opinions of The MY HERO Project and its staff.