Anyone who has heard the story of Gladys Aylward knows how inspirational she is. She has done the unthinkable by showing her bravery and courage while taking a life-changing journey to a town in China called Yangcheng. She lived a respectable and healthy life. She put her all in everything she did, including managing an inn, becoming a foot inspector and peacemaker, and leading 100 orphans out of China to safety during the beginning of the Second Sino-Japanese War. She lived a well-spent and productive life.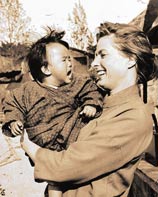 From the beginning, she put her whole life towards becoming a missionary. She was born February 24, 1902 in Edmonton, London. She was rejected to become a missionary numerous times because she was not as equipped as other missonaries to serve, because of a minor health issue. So she saved up all her money that she got from working as a maid and bought a ticket on the Trans-Siberian Railway, a more dangerous but cheaper way to go. When she got to China she settled in the town of Yangcheng and found a small inn where the owner, Jeannie Lawson, needed assistance. At the inn they housed traveling merchants and gave them what they wanted - a hot meal and Bible stories. Eventually, she took over the inn and named it the Inn of the Eight Happinesses because of an old Chinese philosophy that there are seven happinesses.
Gladys Aylward also could speak Chinese fluently. The Chinese elected her as foot inspector (a job nobody wanted because they had to go around and check to see if people bound their female children's feet - it was traditional for women to do this to their children because they all wanted them to have small feet in order to be attractive to men). While she did this job she also became a peacemaker, stopping numerous fights at jails and street ways.
When the Second Sino-Japanese War started, many babies were left behind by escaping parents. Gladys took these children in and called them her own. By the time Lin (a man she fell in love with and was a general in the army) forced her to leave, she had taken in 50 children all under the age of 13. Lin told her that in the province next to them there were trucks leaving and taking children to safety, but they had to be there within 3 weeks or trucks would leave without them. She had no choice but to take the children to safety to have a chance to survive through the war, so it was decided - she and the fifty children were going.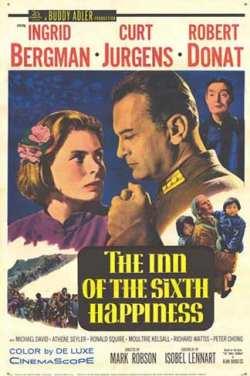 Just as Gladys was packing the few belongings that she and the children owned (including food for those hard weeks ahead) she found another 50 orphans on the inn's porch. They were from a neighboring town. So now she had to lead 100 children through the countryside by herself. A man released from a jail where she had stopped a fight came to help her. His name was Lee. They started their adventure through the countryside. As they started their trip, Lee went ahead as a scout just in case the worst happened - Japanese soldiers were on the trails. And, of course the worst happened, and so they had to take all the kids on an alternate route through the mountains. In the end they all made it there safely and on time too, except for Lee who died (he gave his life to distract Japanese officials). In town she coincidentally ran into Dr. Robinson, the man who refused her as a missionary in London so many years before.
A book, The Small Women, and also a movie, "The Inn of the Sixth Happiness" were made about her amazing life. She also opened a children's home in Taiwan, which she continued to run until her death on January 3, 1970.
I personally cannot even start to relate my life to Gladys Aylward's. I am inspired by her and I am motivated to be more like her in her actions and her words. She did the unimaginable and took a hundred children over the mountains of China. She is my hero because of her attitude toward what she did. She could have saved up her money to buy a coat or shoes, but she decided to put her money toward something worthwhile and put her life on the line for the sake of the children and for what she believed in. This is true heroism, putting your life on the line for someone else. This inspires me.
Gladys Aylward is a true hero. She has inspired people through her actions and words. She has done the unthinkable by showing her bravery and courage during a life-changing journey to a town in China called Yangcheng. The kids that benefited from her bravery will remember her forever.
Page created on 11/13/2009 12:00:00 AM
Last edited 1/9/2017 4:33:09 PM