GIRL CHILD NETWORK WORLDWIDE
Mobilizing girls to fulfill their potential.
In today's world of instant connection, internet and cell phones, the Girl Child Network (GCN) of Zimbabwe really stands out. Started by Hazviperi Betty Makoni 11 years ago, GCN serves girls in mostly rural areas of Zimbabwe and they connect the old fashioned way - at the well, at the mill, walking for water and with paper newsletters. The Girl Child Network is made up of girls and women who battle those who abuse them, take advantage of them and hurt them physically and psychologically.
On their web-site they say: "We don't call ourselves victims - we have come to know our rights. We have learned to stop the abuse and we're now reaching for our dreams. We include many supporters in our network, including men and boys who agree we should not have to face violence. We also include people who feel the pain when one of us is assaulted or trafficked."
In 1998, Betty Makoni, a young teacher, and 10 high school girls formed a club in their school to fight against the terrible sexual abuse pervading their country, Zimbabwe. This epidemic was made worse by the widespread belief that raping a virgin would cure men of HIV and AIDS. According to UNICEF this virgin myth, put forward by traditional healers, is responsible for the rape of thousands of girls. Through GIRL CHILD NETWORK, Betty and her team have helped to rescue about 35,000 girls from abuse and given them protection, a place to recover and a chance for a better future, leaving the shame and terror behind them.
A survivor of rape by a local man at the age of six, Betty told me that her mother would not report it because of the pervasive veil of silence and shame, due to so many perpetrators being family members, teachers, even officials. But that silence leads to deadly consequences. In Betty's case, her mother was killed by her father. In that moment Betty said, "I told myself no girl or woman will suffer the same again." Motherless, Betty was helped by the nuns of St. Dominique's, near Harari who helped her to work in the marketplace and showed her how to clean. She laughingly told me, "To this day when I visit people at their houses, I'll start cleaning."
Betty and the Girl Child Network empowered girls to break their silence, to help each other and to move on to lives where they know what is right and wrong and are not afraid to share their stories. The message and the hope of these girls flew across Zimbabwe in that first year. So many girls, teachers and schools were contacting Betty for help that she resigned her teaching job to devote all her time to the organization. With financial help from her husband, an engineer, she took over an old squatter house for an office and asked one of her older girls to be her administrator. Women, girls and even some men and boys started marching through Zimbabwe, covering 170 km. in 17 days. All along the way they came across girls, in mostly rural areas, crying and telling their stories of abuse, till finally they numbered 2,000. They brought their own food, slept in fields and faced many that were not so happy about their old ways being exposed. There were so many girls with stories to tell along the way, they started a bus campaign to rescue them and bring them back to their headquarters. Proceedings were started in court and rapists started getting jailed. With so many girls to look after, Betty did not know how she could go on and then an angel appeared in the form of the Global Fund for Women, who sent aid. From there the Firelight Foundation gave her the money to create the first girls empowerment village in Rusape, eastern Zimbabwe, where 70 girls live at a time with help from medical doctors, lawyers and police. There they have the shelter and the support to address the spiritual, emotional, social, political and economic realities of life. This grassroots, community-based organization also includes mentors, education and training as well as advocacy for the girls in their communities.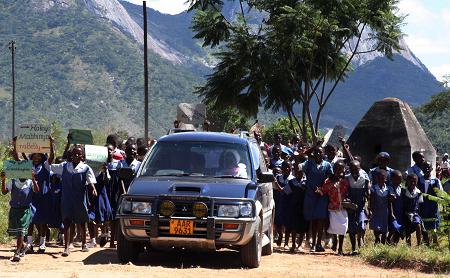 The human rights work that Betty Makoni started 11 years ago has exploded into many Girls Empowerment Clubs and Girls Empowerment Villages, serving girls all over Zimbabwe and now expanding to England and other countries. They are TRANSFORMING VICTIMS TO SURVIVORS. Girls mentor each other and they check in on each other. Every girl registered at a club is now visible and accounted for. Girl to girl info spreads quickly, even without the use of electronics. Betty adds, "We also started RAY OF HOPE for WOMEN to aid the mothers and older women who are escaping from the old patriarchal ways of thinking to tell their own stories and join their daughters on their journey of healing."
Betty Makoni and the Girls Child Network are up for CNN's Hero of the Year award. When I asked her what this means to her, she told me, "I was at the grassroots level with nothing. I never imagined this could happen. On behalf of the poor girls in Zimbabwe, CNN has now given them a voice - and I am grateful for that."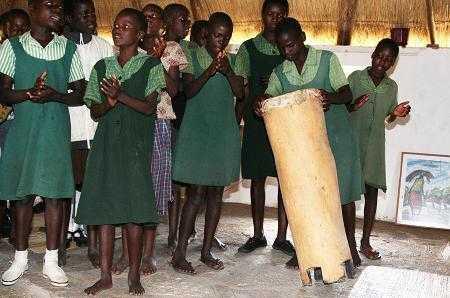 Betty and her family were forced to move to England when it became too dangerous to live in Zimbabwe. Through her work she has made enemies in powerful places and shone the light of shame on many men and communities. She lives with her "four boys", her husband and 3 sons, ages 8 - 13. When I was speaking on the phone with Betty in England, her 13-year-old son Tinopiwanashe asked to speak to me. He told me, "My mother is hardworking and very caring. She does a very good thing - there are a lot of young girls being abused and what she does is helping a lot."

Betty dreams of the day she can return to her homeland and be with the girls she helps so much. I wondered if this work keeps her painful memories alive or helps with the healing. Betty said, "It helps with the healing. Each time I help a girl and get a rapist in jail, the little girl in me tells me how good this is - that somebody is punished for doing wrong. It's like that little girl in me is speaking to me."
What brings this amazing woman joy? "To see a little girl say, 'Mrs. Makoni, I am fine today because of you.' One day I had a dream where girls were singing and dancing and chasing after the bus. Then I realized dreams DO come true. If you want something you must go and get it. I really wanted to see one day that I would stand up for girls around the world and say, 'it is happening and it must stop happening.'"
Betty Makoni has met many inspiring people on this journey and has many heroes but she has one special hero. Betty told me, "My only wish is to meet Oprah Winfrey to talk about the work we do. Her story and my story are the same. The school she has in South Africa is very similar to what we are doing. Our approach is the same but we have never met. She is my hero."
What gives someone who has seen so many tragic things, hope? Mrs. Makoni pauses for a moment to reflect and then tells me, "What gives me hope is that girls are reaching their potential. They are testifying every day that it is possible to break this cycle of abuse and silence. We can't live in a country with women who are all victims. Each time I stop this work I see more things happening and must continue. Girls are smiling, even girls who are HIV positive and we stand up for them - for all of them."
Betty takes her first name, Hazviperi, which means "something that does not come to an end" from her father's sister who died at age 7. " In my village everyone remembers the tragedy of that little girl but she died smiling. So when I was born I was named after her so her legacy would continue."
And what a legacy it is.
Page created on 1/7/2012 5:47:05 PM
Last edited 10/6/2020 3:49:08 AM
Related Links
FIRELIGHT FOUNDATION
- The mission of the Firelight Foundation is to support and advocate for the needs and rights of children who are orphaned or affected by HIV/AIDS in Sub-Saharan Africa. Firelight strives to increase the resources available to grassroots organizations that are strengthening the capacity of families and communities to care for children made vulnerable by HIV/AIDS.
GLOBAL FUND FOR WOMEN
- The Global Fund for Women is an international network of women and men committed to a world of equality and social justice. We advocate for and defend women's human rights by making grants to support women's groups around the world.
STEPHEN LEWIS FOUNDATION
- The Stephen Lewis Foundation supports community-based organizations working to turn the tide of HIV/AIDS in Africa. Since 2003, we have funded more than 300 projects in 15 countries. These grassroots groups are the lifeline for their communities: they provide counselling and education about HIV prevention, care and treatment; distribute food, medication and other necessities; reach the sick and vulnerable through home-based health care; help orphans and vulnerable children access education and work through their grief; and support grandmothers caring for their orphaned grandchildren.
Extra Info
TAPESTRIES OF HOPE
Tapestries of Hope is a feature-length documentary and social entrepreneurship effort to bring awareness to the story of globally renowned human rights activist Betty Makoni and the Girl Child Network (GCN) in Zimbabwe, Africa.
When My Hero reached Betty on the phone in England for this interview, she spoke about Tapestries of Hope and the courage of the American Director, Michealene Risley. "She came to Zimbabwe at great risk to herself and her crew and was thrown in jail… but she will get our story out in this movie, ensuring that our girls are never forgotten."
When reached in California, Michealene had this to say about Betty:
"Betty Makoni is a fearless activist for rape and abuse. Her efforts have never faltered, no matter how difficult, and at great personal risk...she is an example for all humanity."