While taking a break from helping judge El Salvador's first national film festival, for which I received a Fulbright last September, I went to Barra de Santiago, a small fishing village close to the border with Guatemala. While taking photographs at dawn (see pics) I saw Wendy, the caretaker's fifteen year old daughter, wearing her school uniform, backpack on, carrying an oar, and climbing into a canoe. When I asked her where she was going, she told me she was rowing her way to school, and picking up some schoolmates on the way there. Canoe-pooling, if you will, and rowing against a strong tide. I was instantly hooked, and asked if I could follow her there, and visit her school, upon which she issued an enthusiastic invitation. What I found when I got there was beyond anything I could have imagined.
Hector Morales, El Zapote's hero Director, took over 4 years ago. In that time he has done the following:
1) Introduced hydroponic gardening all done by the kids themselves in order for the school to feed itself. Leftover produce is sold by the kids to raise money for their other projects. In addition, 80% of the kids took hydroponics home, so that their families now also feed themselves, and barter what they don't need with fishermen, allowing both parties to balance out their diets.
2) The kids and their parents, with the help of community members, have built two tilapia ponds and one shrimp pond. What they don't eat has already been pre-sold to fish markets in the area.
3) Given that there is no artisanship in their village of 500, and because Hector felt the kids needed an activity which they would enjoy, instill pride, and help them make some money for themselves and their families, he brought a teacher in, from an area in El Salvador which weaves for a living, who taught the kids how to make hammocks. This program has been so successful that the kids are having to catch up with the orders. Each kid gets $25.00 for their hammock; the rest goes for the materials involved. Hector introduced them to branding, by having the kids choose the colors which would identify the hammocks as having been made in El Zapote. They are now sold to tourists at airport gift shops, and orders have started to come in from abroad.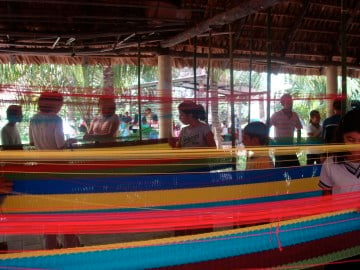 4) Hector made a deal with local turtle egg fishermen in which they keep 70% of their crop and give the other 30% to the school. This helps conserve the species, and makes the kids responsible for taking care of the eggs, and then releasing the turtles before they imprint. This project is part of his biology class, and he has integrated ecology, environmentalism and self-sustainability into the entire curriculum
5) Every Friday, the whole school participates in a total community clean-up operation, ending with recycling and mulching.
6) Some of the recycled material is used to make puppets for a puppet show on environmental awareness, which the kindergartners perform throughout the county.
7) Before Hector, education at El Zapote would end at 8th grade for 95% of the students. The closest high school was a 2 1/2 hour bus ride away (each way). Now a ninth grade schoolroom has been built for the upcoming school year, and one will be added every year until the 12th grade is finished. Every eighth grader has been inscribed other than three whose families are moving.
After returning from my visit to El Zapote, I told Carlos Corado, the head of the Audio-Visual unit at U.C.A., Central America's Jesuit, Liberation Theology University, where the screening and judging of the Festival was being held, about the amazing things I had seen and experienced. He immediately assigned one of his crews to me, and told me to go and film a segment for his "Miradas" program, with one caveat: the crew was used to "talking heads" reportages, and he wanted me to teach them how to do a documentary instead. For me this was the ideal combination: to spread the word about Hector and what he had been able to accomplish, setting an example for others to follow, and to teach while doing so. Four days later we came to scout (2 days), then followed up with a two day shoot, and two day edit.
Since my original visit, the High School has opened its doors. Every available seat was filled. The parents have requested night school, so they can get the education which had never been available to them. Hector has committed himself to do so in July. He also managed to get sewing machines donated and a teacher to make sure the kids add other skills to weaving, which will allow them to make the money they will need to attend University.
The tilapia pools are finished and full, feeding the entire school at lunchtime, with plenty left over for the local fish markets to purchase.
After noticing on his daily morning walk that he was no longer seeing the "Golden" Iguanas, which had been ubiquitous in the area until recently, Hector called a parents meeting and requested three pair to be brought to school. He integrated their breeding, hatching and offspring care into his biology curriculum, just as he had done with the sea turtles. In April, El Zapote school released three hundred Iguanas Doradas into the wilderness. Hector's goal next year is 600.
To make all of this possible, Hector successfully solicited and obtained the collaboration of the government, community, private capital through the participation of vacation homeowners, and the Ministry of Education: the ideal formula for success in the Developing World.
Page created on 8/2/2014 10:11:18 AM
Last edited 1/5/2017 4:33:56 PM
Extra Info
Audio Visuales U.C.A., through its weekly T.V. program "Miradas," has been El Salvador's only investigative journalism source, exploring both ills and successes, in areas as varied as drug and alcohol addiction, domestic violence, gang activity, rehabilitation programs, the court system, environmental disasters and reclamation projects, native crafts, artists and musicians, and much more...Under a new opposition government, it is now beginning to explore themes previously taboo. Its first such documentary is "Colima," an exploration of the 14,000 people who disappeared during El Salvador's Civil War, none of whom have been, thus far, accounted for.