"CHILDREN TELL HONEST AND IMPORTANT STORIES, YET THEY OFTEN GO UNHEARD."
Holly Carter
Holly Carter has led a fascinating life… She's been a New York Times journalist, the Executive Director of the Global Film Initiative and a Henry Luce Scholar in Korea. She produced PBS's Media Matters, the award winning documentary Margaret Sanger, and co-founded the Full Frame Documentary Film Festival.
Mom, mentor, wife, storyteller, photographer, fundraiser… each chapter of Holly Carter's life, each stop along the way, professional and private, has led her to the creation of BYkids.org. BYkids is a non-profit organization that puts master American filmmakers with young apprentices from around the world. They mentor the children in creating short documentaries about their lives. These documentaries carry the universal values of courage, perseverance and dignity, and illuminate critical global issues from a perspective rarely represented in mainstream media. By giving kids the tools to tell their stories, BYkids gives voice to youth from diverse cultures and encourages international understanding and engagement. A Story Selection Committee (including UNICEF, journalists and non-profit leaders) creates a list of potential stories to choose from. For millions of Americans who see these films at festivals, schools, on television, DVD or online, this will be a place to discover a new inspired world through film.

Even while still in school, it seems Holly's experiences were custom designed for a future date with BYkids. Giving youth a venue with which to tell their stories was something Holly learned at her high school. She was lucky enough to have teachers who "believed kids had a voice and encouraged genuine discussion." The lesson would be reinforced at Colorado College. Holly explains, "Students were encouraged to take risks and ask hard questions of themselves and their professors. I learned to love exploration and pushing limits both intellectually and physically. I learned that trying new things and pushing outside one's comfort zone can be the most challenging and the most rewarding way to go through life." Her own comfort zone would be tested upon graduation when she was faced with the choice between a job as a river guide for Outward Bound in Australia or as an intern at the New York Times. Choosing The New York Times gave Holly an inside look at how mainstream media can influence change, something that beats at the very heart of her current project. Then for a bird's eye view of her own world and culture, Holly spent time Photographing in Korea as a Henry Luce Scholar. This passion for photography would soon morph into film when Holly started the Full Frame Documentary Film Festival and led the Global Film Initiative; projects that would make clear to her the popularity and effectiveness of film as a mind-opening medium. "I saw how hungry we are for films that take us beyond our borders."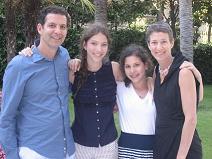 Perhaps the strongest voices urging Holly to launch BYkids.org were children themselves. "Spearheading George Soros' after-school initiative for 40,000 NYC public school kids exposed me to the disarming honesty and resilience of children with incredible stories to tell. And that children who go unheard are forgotten."
But perhaps her most enduring lessons came from home. "My own children taught me that kids always tell the raw truth and see through politics and ego and bologna. My husband, who is now fine, went through chemotherapy for Hodgkin's (a cancer of the lymph system). I learned to cherish every day. If there is something you want to do, get on with it." And get on with it, she did.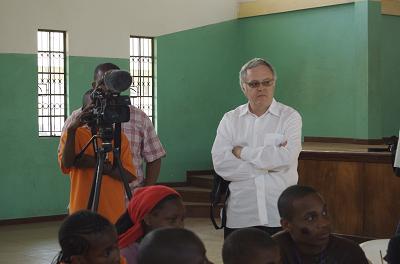 BYkids' first film was, "HOME IS WHERE YOU FIND IT", a 27-minute documentary film that reveals the courage of a boy whose faith and ingenuity have enabled him to pull together a home and a sense of family. Two renowned filmmakers, Chris Zalla (2007 Sundance Grand Jury Prize winner) and Neal Baer (Executive Producer of Law & Order: SVU), went to Maputo, Mozambique in August 2007, to help a child who had lost both parents to AIDS make a film about his life. With Chris and Neal, 16-year-old Alcides Soares learned the art of filmmaking and was able to tell his story as a boy living alone in the world. Alcides' life reflects that of an entire generation of Mozambican children -- over 500,000 of them having lost their parents to AIDS.
Among the most rewarding aspects of the experience for Holly has been not just the incredible relationship that has developed between Dr. Neal Baer and Alcides but how this documentary journey has changed both lives, how each became a hero to the other and the importance of mentoring in general. "Mentoring has a transformational quality. Neal Baer set off with Chris Zalla to Mozambique having narrowed the field of potential filmmakers down to 10 from 80. That group was culled from the orphans that participate in the program at Reencontro, the agency in Maputo that offers basic services to kids orphaned by AIDS. The group Venice Arts had given each of the kids still cameras to tell their own stories and Alcides struck them as having the qualities of a film director – able to tell people what to do with a smile on his face. The next day they set to work helping Alcides tell his story. The results are an inspirational and intimate film and life-long relationships. Alcides lived with Neal and his family for a month in California to learn English and record the narration of his film… his first trip out of Mozambique. When Alcides was invited back as a guest of Human Rights Watch International Film Festival, Neal and Chris joined him in New York and then in Silver Springs, Maryland, (just outside Washington D.C.) for Silver Docs. "The mentoring has changed everyone," says Holly, "Mentoring has been generally lost in our culture and how rich to see it blossom between young and old talent. It can take on a life of its own and has meant so much to everyone in the orbit. It is heroic!"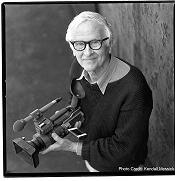 When asked who she considered her hero, you can almost see Holly's wheels turn… the writers, photographers and artists who've inspired her… her mother, a true intellect who taught Holly to think for herself… her favorite boss from the Times, who taught her compassion, patience and journalism… "I would have to say my hero is Albert Maysles. At 82 he is still making documentary films that define us as humans and as Americans. He inspires me because he is genuinely curious about everyone. He knows everyone has a story and takes the time to connect. At the end of the day it doesn't matter how important or rich you are – if you don't connect with people, you are bankrupt. Albert has also taught me that finding a partner you love and will protect at all cost is what romance is all about."
Albert Maysles is also a big fan of Holly Carter's…"BYkids is one of the most exciting projects to come my way in a long time. The idea of giving youth around the world the tools to tell their own stories with the expert help of filmmakers is brilliant and will go a long way in opening the eyes of Americans to the voices of kids and to the richness of the world. I am thrilled to be part of this team. With Holly's guidance, contacts, energy and vision, this is sure to be a widespread success."
And what would Holly Carter say to the young people of the world if she had their attention for 5 minutes?
"You are strong, you are smart, you have your future in front of you. You each have something to say and something to teach. If you go through life wanting to learn and to teach reciprocally, you will find happiness. Learn to live in your own skin and own your voice. Know that using that voice is the most powerful tool you have. Find a way to express that voice and let no one quash your creativity. Your voice may find itself in writing, in song, in poetry, or if BYkids is really lucky, in film. We all have a story to tell. What is yours?"
Page created on 11/30/2009 1:03:30 PM
Last edited 7/26/2022 12:07:59 PM
Related Links
BYkids.org
- BYkids empowers kids to tell their stories. It provides funding and support to young filmmakers from all cultures, in an attempt to educate the American public and inspire a new generation of compassionate and informed citizens.
Maysles Institute
- The work of the Maysles Institute extends the Maysles Brothers principle that the lives and opinions of people not only deserve, but demand our attention. We strive to re-integrate the production, presentation and pedagogy of documentary film and video as a means of engaging individuals and communities in creative self-expression, communicating ideas, and advocating needs. Our two programs, Maysles Cinema and the Summer Film Program for Youth provide a bridge for mutually transformative exchange between film student and professional, observer and selector.
Venice Arts
- Venice Arts' mission is to ignite youths imagination, mentor their creativity, and expand their sense of possibility through high quality, accessible mediabased arts education programs. Venice Arts also serves as a catalyst for people of all ages, living in lowincome or underrepresented communities, to create and share personal and community stories through photography, film, and multimedia.
African Millenium Foundation
- Empowering The Powerless. African Millennium Foundation (AMF) is a strategic non-profit and non-governmental organization committed to the social and economic empowerment of the people of Africa, especially women. AMF seeks to target poverty, hunger and disease at its very root by providing African women and children with the necessary tools for achieving self-sufficiency.
Extra Info
MORE ABOUT NEAL BAER AND CHRIS ZALLA from BYkids.org
Dr. Neal Baer, Film Mentor
"What better way to share my love of storytelling than by helping young people who are aching to share their lives?
"Storytelling is our basic way of communicating our dreams, our hopes and our fears. Yet many stories go unheard, stories that could move us, stories that could motivate us to take action, because the poor and the disenfranchised too often do not have the technology to tell their personal tales. BYkids gives these youth a voice, by giving them a camera and a mentor. Now, through the work of BYkids, the world will get to see and hear their moving stories. What better way to share my love of storytelling than by helping young people who are aching to share their lives?"
Executive producer of Emmy nominated Law & Order: Special Victims Unit. Neal was executive producer of the NBC series ER and was nominated for five Emmys. Neal was also a practicing pediatrician and teacher before his career in television.
Chris Zalla, Film Mentor
"It's not often in life you get to share your gifts in order to empower others. Success has no better reward."
Chris worked with Neal Baer (Executive Producer of Law & Order: SVU) and Alcides in Mozambique to help make the first BYkids film.
Chris is a writer-director whose first film, Padre Nuestro, won the Dramatic Grand Jury Prize at the 2007 Sundance Film Festival. He wrote a feature film set in a Bolivian Prison, entitled Marching Powder, for Brad Pitt's Plan B Entertainment.
Chris received an MFA with Honors in directing from Columbia University's Graduate Film Division, where the faculty awarded him a full Departmental Research Assistant fellowship for merit as a top student. He also served as a teaching assistant at Columbia, where he instructed undergraduates in weekly classes in film history, theory, and craft. Chris was born in Kisumu, Kenya and spent much of his youth overseas. He has also worked as a rough carpenter and spent nine summer seasons as a commercial salmon fisherman in Alaska's Bering Sea. He is fluent in Spanish and currently lives in Brooklyn, New York.