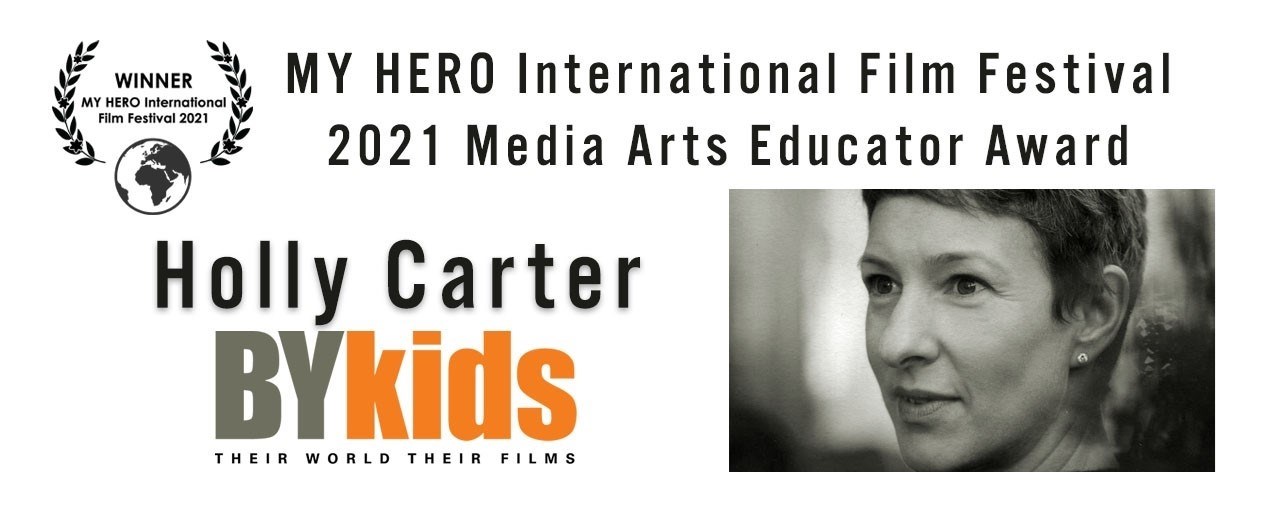 2021 IFFMY HEROHolly Carter, founder and Executive Director of BYkids, has been awarded the Global Media Educator Award in 2021 by The MY HERO Project as part of their 17th Annual International Film Festival. Jeanne Meyers, director and co-founder of the MY HERO Project, stated: "If we care about the power of media to transform and educate and inspire, then her role in doing that one story at a time is profound."
Holly Ornstein Carter grew up in Greenwich, CT where she attended Greenwich High School before graduating from Colorado College. After graduation, Carter began her career as a writer and editor at The New York Times where she was nominated for a Pulitzer Prize. For the last 30 years, Carter has worked as a journalist, editor, documentary filmmaker, fundraiser, non-profit leader, adventurer and risk-taker. Today, Carter lives in Manhattan with her husband and has two daughters.
BYkids is a non-profit organization that mentors teens to create short documentaries to tell their stories through film and share the realities of global inequality and injustice on the world stage. Carter founded BYkids in 2007 as a way "to teach empathy and globalism to Americans through film." The short films, made by kids around the world, are broadcast on public television and are distributed to half the schools in America through Discovery Education.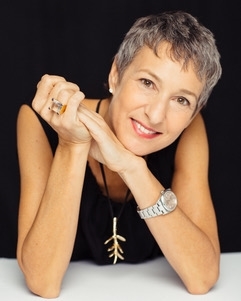 Holly CarterCourtesy of BYkidsLooking back at her time with the New York Times, Carter admits, "The writing program was not as glamorous as it sounds," recalling having to sort mail for eight hours a day and be snubbed by her Ivy league peers. Undaunted, her break came when she bravely agreed to take on a story on Birdwatching, then not such a popular pastime. Being a perfectionist, though, the article took three months to research and write but Carter was rewarded for her efforts as it was published on the front page, securing Carter's future as a multi prize-winning journalist. She was part of the team nominated for a Pulitzer Prize for the coverage of the 1987 stock market crash and during her three-year stint, she received numerous awards, including a Publisher's Award.
Carter also became an accomplished photographer and in 1990 received a Henry Luce Scholarship and spent three years in Korea—one year working as a photographer at a Korean news magazine and two years working as a freelance journalist.
Carter's photography has since appeared in solo shows and in several international publications. In 1999, she received an honorary Doctorate of Law degree from her alma mater, The Colorado College, and went on to serve on the Board of Trustees.
Before founding BYkids, Carter gleaned a wealth of experience in the world of documentary and filmmaking. Early on, she co-produced a documentary on Margaret Sanger, about the life and times of the pioneering birth control advocate. It was nationally broadcast on PBS in 1998 and Margaret Sanger won the Creative Excellence Award from the U.S. International Film and Video Festival and the Golden Apple Award from the National Educational Media Network.
Carter has also run the Global Film Initiative, a foundation bringing feature films from the developing world to major cultural institutions across the country to promote cross-cultural understanding, served as a consultant for The After-School Corporation, produced the PBS series Media and co-founded the Full Frame documentary film festival, now one of the largest documentary film festivals in the world - a film festival "not for people making deals, but for bringing together activists and filmmakers."
So, Why BYkids?[i]
"Adults let their egos and politics get in the way. As a mom, I saw how authentic kids are in how they see the world. There's no filter, which is incredibly refreshing. Kids have a barometer for seeing through baloney, they literally are authentic reporters because they report back exactly what they see, they don't care what your politics are, they don't care what your ego is. One day, sitting with my kids, after a dinner party with a bunch of Pulitzer Prize winners, I had a revelation moment that, if we were able to give kids the ability to tell their truth, we could really start to do some serious repair to the world, because we live in a world that's very divided. We live in a world that's very fearful. And the fear comes from a lack of knowledge. And if we could break those walls...through documentary film -- to be alone with someone in the dark for that 27 minutes that we allow someone to inhabit somebody else's world is just long enough to invest care, and that then when the lights come up, those two people are friends no matter how different they may seem."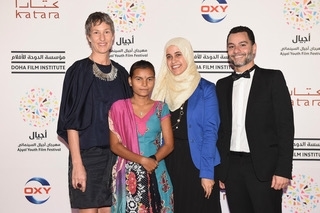 Ajyal FIlm FestivalCourtesy of BYkids"Using young people as reporters was a relatively innovative thing that I didn't see being used in the media. Also, because of foreign news bureaus closing, I was getting nervous for our democracy. My own kids and their kids were not going to have the information they needed to make good global decisions. I felt that one good story could make global change possible by showing people that one person CAN make a difference," explained Carter.
And so BYkids was born. Today, BYkids provides handpicked adolescents around the world with the training and video cameras to make short documentaries about their lives. Renowned filmmakers, like the late Albert Maysles and Law & Order: SVU Executive Producer Neal Baer, mentor these young people in the art of filmmaking.
Each year, a committee, comprised of UNICEF and a group of nationally recognized journalists, filmmakers, teens and non-profit leaders chooses five stories that carry the universal values of courage, perseverance and dignity. By exposing young Americans to stories from BYkids, Carter hopes to awaken their global citizenry and to activate their ability to tell their own stories.
"Learn to live in your own skin and own your voice. Using that voice is the most powerful tool you have."
Said Carter: "The core of it is that we were all kids at some point and that that connection, that commonality is something really important. We may not be the same religion or culture or gender, but we can remember the innocence and the authenticity that we all had when we were kids, and that that power is something worth excavating and amplifying. And that, to me, is the success of ByKids; that we're reaching 246 million viewers through PBS, through PBS Learning Media, through Discovery Education, that this idea that a kid's voice could be the thing that sparks people to new knowledge and opening and maybe even an engagement with the world in a new and different way is really exciting. And it's been proven, beyond a shadow of a doubt, to be exceedingly effective."
Watch a Film Interview with Holly HERE
"We Create Understanding Through Storytelling"
Four BYkids Films are finalists in this year's MY HERO International Film Festival with 'Faith's World' winning The People's Choice Award as well as coming joint first in the Overcoming Obstacles category and with 'Against the Current' winning the Trailer category.
To find out more about the finalists, please go to our BYKids Story.
BYkids 2021 International Film Festival Finalists
Each film takes approximately six to seven months to complete, with a professional filmmaking mentor being allocated to each individual for a month. Carter explains: "We usually send the mentor to work with the kid for about a month, so they begin by figuring out together what the chapters to tell their story visually will be. The mentor brings it back and oversees the editing process with close collaboration with the kid. The kid is the cinematographer, the director, the narrator, so they work on creating whatever interstitial narration needs to happen and they record their own voice.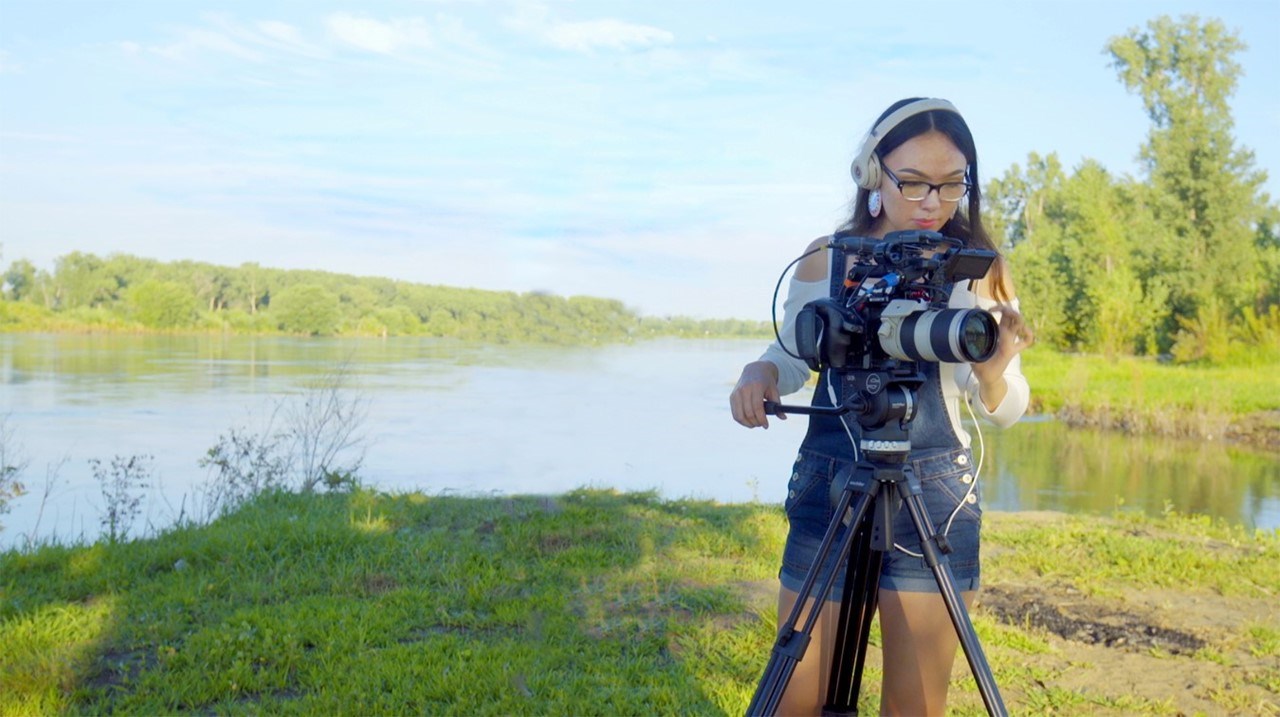 Against the CurrentCourtesy of BYkidsHolly's Heroes
"My mom was my hero, because she said you're a rock star and you can do anything. Albert Maysles was an incredible mentor to me. He had such compassion for human beings and he understood that everyone has a story, and it was on you to take enough time to listen. My sixth-grade teacher Mr Van Halen was pretty awesome in figuring out that I shouldn't be a school teacher but might want to go for maximum impact. And there were musicians and artists and people who've given their life to express themselves in the service of a greater good. I have a long list of people that I wouldn't mind having dinner with, dead or alive! But those are the main ones."
MY HERO International Film Festival
About MY HERO International Film Festival
The MY HERO International Film Festival brings together professional and youth filmmakers who honor local and global heroes working for positive change in the world. Thanks to generous sponsors, prizes are awarded to elementary, middle school, high school, college and professionals in a variety of categories including documentary, narrative, music video, animation, experimental, and more.
To view the 2021 award-winning films, go to Winners

For more details about MY HERO's International Film Festival, please visit myhero.com/FilmFestival
[i] Much of this section is taken from an interview with Holly Carter by MY HERO Staff, Xenia Shin