by
Cynthia Kersey

from

unstoppablefoundation.org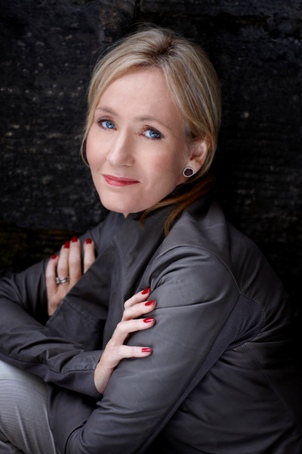 "You'll never make any money out of children's books, Jo." As inaccurate predictions about popular culture go, this one rivals the infamous "guitar groups are out" line a record executive laid on the then-unknown Beatles. Because "Jo" was the English writer Joanne Kathleen Rowling- J. K. Rowling to millions of devoted readers, author of the mega-best-selling Harry Potter books.
The story sums up the mountains she had to climb-poverty, broken relationships, and the persistent doubts of others-to follow her passion and make a living in the only career she'd ever wanted: writing.
Of course, no one could have known the degree of unwavering belief and absolute determination J. K. would need to follow her bliss through rejection and depression. Those qualities enabled her to persevere through the tough times, even though circumstances conspired to drag her down. In fact, J. K.'s passion became her unquenchable hope for a better future.

A Love of Writing Since Day One
J. K. recalls writing down stories as early as age five or six. Her first one was about a rabbit that came down with the measles. "Ever since, I wanted to be a writer, although I rarely told anyone so. I was afraid they'd tell me I didn't have a hope," she says.
At 26, J. K. moved to Portugal, where she taught English. She loved it, in part because her schedule finally gave her time to write a story she couldn't get out of her head. During a rail trip in England, she had a vision of a train transporting a boy to a boarding school for wizards. "I had been writing almost continuously since the age of six but I had never been so excited about an idea before." To her enormous frustration, she didn't have a working pen and was too shy to borrow one from a fellow passenger, so she had to rely on her vivid imagination for 4 days. When she got home, she started to write Philosopher's Stone.
Sadly, on the heels of this revelation, J. K.'s mother, Anne, died suddenly at age 45. Rowling's response shows how embracing pain and grief can infuse one's work with greater richness. She channeled her sadness into the Harry Potter and the Philosopher's Stone (its British title) chapter "The Mirror of Erised." The Mirror of Erised reflects what you most wish to see, and Harry sees his dead mother smiling and crying at the same time.

From a Dark Place, a Brilliant Tale
Shortly after her mother's death, J. K married a journalist named Jorge. A few months after the birth of their daughter, Jessica, the marriage ended. 1. KIeft with a 4-month-old child tucked under one arm and the ever-growing Harry Potter manuscript tucked under the other.
They lived with friends until she get an apartment and found a one- bedroom flat in the Scottish capital of Edinburgh, living on furniture lent by her sister and some friends. She declined offers to go out at night with friends and stayed home with Jessica, writing in her apartment. Without a typewriter or computer, she wrote and rewrote in longhand. Here she would complete Harry Potter and the Philosopher's Stone.
On just $103.50 a week, J. K. could barely make ends meet, and she sank into deep depression. But astonishingly, as she had done with her grief over her mother's death, J. K directed her despair into her work, easing her own pain and adding new levels of resonance and meaning to her writing. From this personal darkness came a new group of fictional characters: the Dementors, the prison guards of Azkaban, who possess the power to suck the happiness out of people. Despite the odds, J. K. was able to use her despair to fuel new ideas and provide new energy.
What J. K. needed was a warm, friendly place to write. She got it at a neighborhood cafe called Nicolson's. Waiters left her alone as she wrote while Jessica slept. Eager to finish the book and attempt to get it published, 1. K. wrote every available moment. "Sometimes I actually hated the book, even while I loved it."

The Story Works Its Magic
Finally, six years after she first had the inspiration, 1. K. finished Harry Potter and the Philosopher's Stone and sent the first three chapters to two agents. (With no money for copying, she actually typed the complete book twice!)
The first rejection came quickly in the form of a letter. 1. K. forced herself not to be discouraged. She believed in Harry Potter, both as a character and as a symbol for her own unbeatable spirit. So she waited for the second rejection, unaware that forces were working on her behalf She had sent her second manuscript to Christopher Little. The agent's assistant, about to go home for the day; was drawn to the manuscript lying in the rejection pile because of its unusual black plastic folder. A lover of children's literature, she took it home and fell in love with it. The next day, she gave it to Little and insisted that he read it.
Little quickly sent J. K. a letter asking for the balance of the manuscript on an exclusive basis. When she got the letter, she was overcome by joy. "It was far and away the best letter I had ever received in my life, and it was only two sentences long," she says.
She had an agent. Now she needed a publisher, and Little sent the manuscript to 12 of them. J. K. was forced to develop a thick skin as week after week, the rejections trickled in. Then publisher number 12, Barry Cunningham of Bloomsbury Publishing, made an offer, a relative pittance for which J. K. couldn't have been more grateful.

A Star Is Born from a Writer's Passion
Finally, in June 1997, Harry Potter and the Sorcerer's Stone was published. The initial print run was just 500 copies. Still, J. K. was so excited that she spent the whole day walking around Edinburgh with the book tucked under her arm. This was the culmination of her passion for storytelling, a love of writing fueled not by the desire to be rich, but by the drive to tell wonderful stories about unforgettable characters. If she had remained a low-profile author and a part-time teacher, she would have been very happy.
However, within three days of publication, the American rights to the book sold to Scholastic Books. This changed everything. The book was published in September 1998 and reached #16 on the New York Times bestseller list by December 1988. To date, it is estimated but unconfirmed that worldwide sales figures of the Harry Potter books is approximately 260 million copies and they have been translated into 62 languages.
Today, J. K. Rowling is said to be wealthier than the Queen of England and the toast of children's literature. I'm sure she can't help but reflect on her publishers' advice-"You'll never make any money out of children's books"-with a smile. Maybe someday she'll have that prediction engraved on a plaque to hang in her home, along with another piece of advice: Never, ever let go of your dream!
Page created on 4/22/2015 7:55:25 PM
Last edited 10/6/2018 7:11:57 PM