James Herman Banning
by
Russ from Spokane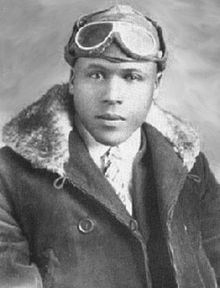 James Herman BanningPublic Domain US Air Force (https://www.hill.af.mil/News/Photos/igphoto/2000523879/) via Wikimedia Commons
James Herman Banning (1899 – 1933) was an African-American aviator when there weren't many African-American aviators. Mr. Banning's fancy for flying led him to become the first black person to get a license from the US Department of Commerce. He performed in air circuses and flew politicians during their campaigns, including Representative Oscar DePriest (IL), the first black person elected to Congress since the Civil War.
In 1932, along with co-pilot Thomas C. Allen (also black), Mr. Banning made the first trans-continental flight by a black pilot. The trip took 21 days and 17 stops, beginning in Los Angeles and ending on Long Island, NY. And they paid for it by raising money at each stop. That's right: in 1932, in the middle of the Great Depression and racial segregation, two black men raised money from donations to fly a salvaged Alexander Eaglerock OXX6 airplane, whose spare parts included some from a Nash automobile, across the country. The incentive to raise the money was high, because they usually raised just enough money for food, fuel, etc. to make it to the next stop.
Born in Oklahoma, his family moved to Iowa, where Mr. Banning attended Iowa St. College studying electrical engineering. After operating an auto repair shop in Ames, IA, from 1922 to 1929, Mr. Banning moved to Los Angeles, where he became the chief pilot at the Bessie Coleman Aero Club.
Why is this man important to me, you ask? Two black men? The Depression? Flying across country? Spare parts engine? Raising money as they went? Nuts! Successful! Their plan was absolutely nuts. They didn't even make sure they had enough money for the trip before they left. They knew they'd meet generous people, but they also knew they'd run into racism. They knew there would be mechanical problems. They knew they'd have long stops while raising more funds. They were being mocked even before they left – they were called "The Flying Hoboes." But they did it anyway. They were what we love so much – extreme underdogs who found a way to succeed. Life does not give us all the same opportunities, so when underdogs find a way to succeed anyway they create hope for others. They are trailblazers, and those trails should be followed.
Mr. Banning and Mr. Allen exemplified responsibility. They were thoughtful in their planning. They clearly did their best. They showed tremendous self-discipline. But most of all they persevered. But something tells me that through all the struggles – these two men had a lot fun.
Page created on 2/19/2013 1:30:30 AM
Last edited 10/16/2020 12:33:57 AM
The beliefs, viewpoints and opinions expressed in this hero submission on the website are those of the author and do not necessarily reflect the beliefs, viewpoints and opinions of The MY HERO Project and its staff.