My heroes are Jim and Jamie Dutcher, a pair of wolf conservationists. I came to know about the Dutchers when my middle school principal at Pegasus School, Jack Hall, knowing my love of wolves, gave me the documentary Living with Wolves. The documentary was based on the true story of how the Dutchers experienced life with a wolf pack. Jim and Jamie lived in the mountains of Idaho for six years with a wolf pack dubbed "The Sawtooth Pack", in hopes of showing people the true nature of wolves. Jamie, a former employee at an animal hospital for the national zoo in Washington DC, left her city life to live in the open spaces of Idaho with Jim. Jamie is currently Jim's wife and co-producer. Though they come from different lives, they share the same dream, to find a peaceful coexistence between wolves and humans.
Jim and Jamie have done a great deal towards wolf conservation, including establishing the Living with Wolves program. Not only does the program show the hidden life of wolves, but it also raises public awareness of the harsh reality of wolf slaughter. People are killing wolves for three main reasons: money, pest control, and even just for sport. According to the Dutchers, "the killing of wolves is an act of fear due to the bloodthirsty impression people have given wolves". In their documentaries Jim and Jamie show that wolves are not savage beasts, but loving and playful creatures that respect each other with order and passion.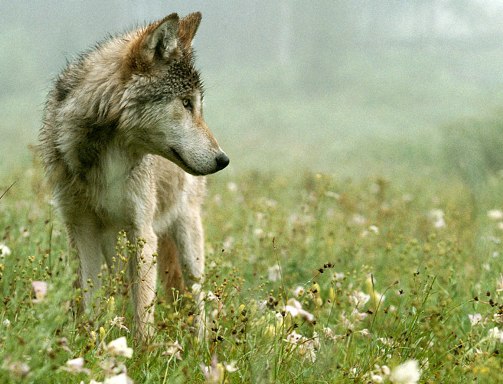 At this time, Jim and Jamie live in a cabin in Ketchum, Idaho, but they always take residence there. Jim grew up on the coast of Florida where he spent his free time adventuring underwater with a camera. There he grew a passion for cinematography. In the late 60s, Jim began to show people the places never before seen, such as inside beaver lodges and wolf burrows in his documentaries. On the other hand, Jamie grew up loving nature as well, exploring the forest near her home. When Jim wanted her to spend the next few years with him in Idaho she eagerly accepted.
Jim and Jamie both grew up in the 50s. Jim won the Wrangler award in 1991 for his documentary Cougar: Ghost of the Rockies. In 1995 he was appointed member of the wolf management committee where he served until 2001. Jamie won an Emmy award for sound mixing from the selected howls of the Sawtooth pack. The Dutchers, in all, have won three Emmy awards.
Jim and Jamie are my heroes because they are making the kind of changes that I want to make during my lifetime. The preservation of wolves is my life-long aspiration and I'm glad to see it already being fulfilled by others. I want to see myself in the Dutchers so that one day I can take on the role of a wolf conservationist. There are many wolf conservation programs but this is the most moving to me, because they were normal people (like me) who made a big difference.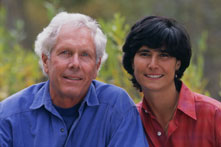 By teaching people the true nature of wolves Jim and Jamie are also inspiring future wolf conservationists (also like me) to help the wolves stay off the endangered species list and on to a protected wildlife list. I can't imagine someone who can't be moved by the horrible things people have done to wolves. If the wolf population decreases any more then nature's course will fall and the food chain will crumble, killing many animals in its wake. I want to follow the Dutchers' footsteps to help the wolves retain the population they once had.
Page created on 4/15/2012 12:00:00 AM
Last edited 7/29/2017 1:29:38 AM