Jane Goodall
by
Gloria from Eden Prairie
In 1960 Jane Goodall started out her career as a scientist observing chimpanzees. She observed the things that strict doctrines might have overlooked. Jane did something that most scientists wouldn't do. Instead of giving a number to the chimps she gave them each a name. Most scientists don't do this because they don't want to be attached. However Jane was willing to take that risk. She observed that each of them had different and unique personalities like humans. What she saw between them were hugs, kisses, pats, and even tickling. This showed that humans weren't the only ones that could show emotion.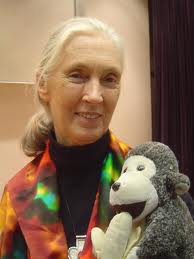 But these chimpanzees weren't always like that! At Gombe stream she found that there was an aggressive side to the chimps. She saw that they would hunt and eat smaller primates. She watched the chimps surround the smaller monkey; one then lunged out and killed the small monkey. After that, the pack shared the monkey. This was a big scientific challenge to previous concepts of the chimps' diet and behavior that scientists before her observed. Her studies challenged the long standing belief that humans were the only ones that could use tools and chimpanzees were vegetarians. This very important to the future of the chimps. What she did really changed everyone's views on the chimps' diet and behavior.
Jane Goodall has received many awards and honors for her humanitarian and environmental work. She was awarded many prizes for her help to make wildlife and rainforests better. Jane has always made time for animals; she is a hero to all who care about animals and the ecosystem. She is a hero because she showed the world that it is not only us that can use tools and use our minds. She didn't use violence though. She used peace, which is why she won the Gandhi-King Award for Nonviolence. Jane is also a member of the advisory board of BBC Wildlife magazine, As well as a patron of Population Matters. She helps with organizations to save chimps in areas were they are endangered.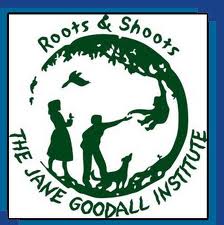 In 1977 Jane established the Jane Goodall Institute (JGI), which supports the research about Gombe. She didn't establish just that one institute - there are 19 around the world! This is a very big success and now has over 10000 groups in over 100 countries. After time because of the overflow of hand written notes, photos and data that piled up at her home. The JGI's center for primate studies was created at the University Of Minnesota. Right now all her original work has been digitized and analyzed then placed on an online data base in the U of M.
Jane is my hero because I too love animals and the environment. She also devotes virtually all of her time to the advocacy on behalf of the chimps and environment. Jane spends almost 300 days per year traveling. Now that is devotion! She has opened the eyes of the public and other scientists. Telling them to not be so brief with one species, but really take time to learn about them. She showed the world that there was more to chimps than expected. Never underestimate the power of a chimpanzee.
Page created on 6/2/2011 12:00:00 AM
Last edited 6/2/2011 12:00:00 AM
The beliefs, viewpoints and opinions expressed in this hero submission on the website are those of the author and do not necessarily reflect the beliefs, viewpoints and opinions of The MY HERO Project and its staff.