Master Julio Cesar Vasquez Batista was, and continues to be, an inspiration to many thousands of people around the world. He was born in the Dominican Republic, and it was there that he began his journey into taekwondo. By the time he moved to Canada, in his twenties, he had already received his first degree black belt. Once in Canada, Julio continued with his dream of becoming a Grand Master. He joined a club, and then he started to train, and train and train. Less than ten years later he started to compete and the medals started to roll in. Since then he has won fifteen gold medals, received the honor of a place in the World Taekwondo Hall of Fame, won the title of heavy weight champion five times, and was nominated for the Dominican Republic Athlete of the Year Award twice. Yet, although these accomplishments were amazing, there were even greater ones still to come.
His most amazing feat was creating his very own taekwondo academy called Vasquez Olympic Taekwondo. Since creating the school, three other locations have been opened and the school has won Reader's Choice Awards "Best Martial Arts Club" three years in a row. Later, in 2002, Master Vasquez hung up his gloves and dedicated his life to teaching everyone, from children to adults, the values of kindness, compassion, control, and respect, whilst learning how to defend themselves. His taekwondo academy made for the perfect environment to intertwine positive human qualities with the power and strength of taekwondo. While teaching, he could also train and he moved closer and closer to his dream every day. However, as with many things in life, nothing can stay perfect forever.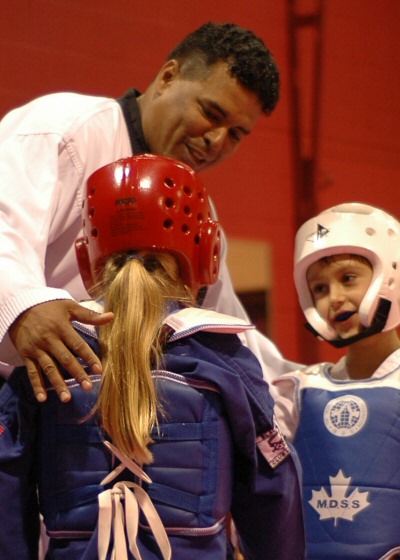 The devastating blow came in 2009 when Master Vasquez, then an eighth degree black belt and fully worthy of the title, was diagnosed with leukemia. By then Master Vasquez was married to Montse Sanzsole Vasquez, and had fathered Julia, Julianna, Julio, Jose, Julito, Emma, Julissa and Yuly. Even though he was sick, he still made every effort to support the taekwondo club. When he was watching the students, you could clearly see the affection he had for them. He cared enough about his students, that when he became too sick to help at the club, he had his brother take over. On December 5, 2011, at the Grand River Hospital, he joined his mother, Emma, in death. All of his family, including his father Doro; his mother and father-in-law, Josephine and Joseph Sanzsole; and his six brothers and two sisters, were there with him. He was fifty-one years old. His death was upsetting to not only his family, but to all his students.
When the funeral was held, many of his students, friends, and all of his family attended. Although he was laid to rest at Corbett Funeral Home, Cambridge, his legacy lives on in the hearts of all his friends, family, and students. His passion for what he loved was always evident, and there was no helping falling in love with his compassion, kindness, and positivity. You would never, ever hear him raise his voice, and he was an all around good influence. Master Vasquez was a role model to many, many people of all ages. Through all this, he loved his kids and his wife. Sir was a great man, and I have no doubt that everyone is glad that he passed away peacefully. Even though cancer took his life, it did not defeat him. He lived a fulfilling and inspirational life. He persevered through the pain of cancer, but that is not the only reason Master Vasquez is my hero.
Master Vasquez is my hero because of the valuable lessons that he taught to all of his students. He taught all of his students the values of humanity. Sir taught respect, control, happiness, peace, compassion, courtesy, and self-defence. He treated everyone equally despite their age, nationality, or skill level. If you were ever having a bad day, or needed someone to talk to, he was always there. He always pushed his students to embrace their full potential. He was an inspiration to so many. After his death Combat Canada, the World Taekwondo Federation, and Elite Phiysique all did articles on how humane he was, and how much he will be missed. That could not be more true. He was a role model to everyone, and a true hero. Master Vasquez was my teacher and coach. He never reached his goal of Grand Master, but that's alright, because in my heart, and in the hearts of those that knew him, he will always be a heroic Master of humanity and taekwondo. In the words of Combat Canada, "His passing is a final example of living with humility and dignity."
Page created on 8/12/2014 4:01:01 PM
Last edited 12/31/2020 6:00:44 AM
Extra Info
For more articles and documents on Master Vasquez please visit the following:
"Elite Physique Blog": http://elitephysique1.wordpress.com/2010/12/06/in-loving-memory-of-master-julio-vasquez/
"Remembering Master Julio Vasquez": http://www.wtfcanada.com/pdfs/Administrative/juliovasquez.pdf