Well, it's been two years since I wrote that article on Jean-Michel Cousteau, my Earthkeeper Hero, and my wish has finally come true. Recently, my Mom and Dad and I went to Catalina Island, to interview and snorkel with Jean-Michel Cousteau. When I first received news that we were going there to meet him, I thought he would be too busy to talk with a kid like me. Surely, the leader of The Ocean Futures Society and the son of Jacques Cousteau had more important things to do. I soon found out that kids are very important to him. Together with his partner and friend, Dr. Richard Murphy, he runs something like thirteen camps all over the world. They teach kids and their parents about the planet's oceans and their inhabitants. They do this by having fun! Snorkeling becomes a biology lesson, lunch and dinner a composting lesson, and the camp itself is a lesson about community. The bathroom itself is an experience! Quick factoids are posted on the walls saying things about trees and recycling toilet paper and such. After lunch I was guided over to the compost buckets. Paper napkins can be recycled but meat and dairy cannot. I was learning in under a minute how to compost. I felt pretty proud about the fact that my family and I already compost and recycle.

Before lunch, the entire My Hero team; my mom, dad, Wendy Milette, Bama, Jeanne and I went snorkeling in the small bay by the camp. We had heard there were leopard sharks! We walked backwards into the water (because we were wearing flippers) and started snorkeling. At first I was scared because everyone kept saying, did you see that? It was a shark! I then heard the Jaws theme song in my head… Even though the sharks are only 2 to 3 feet long! We saw seaweed, garibaldi (bright orange fish), blue algae, other fish and then it happened. My mom and I were swimming into shore when a leopard shark swam about a foot under us! We quickly swam into shore and stood up. We went and stood by my dad when another one swam around our feet! AHHHHH!!!!!! We then ran onto the shore, feeling nervous all over. I think that's enough snorkeling for one day, don't you?

After lunch I met up with Dr Murphy, or Murph, who was pulling on a pair of fins and a snorkeling mask, armed with a plastic bucket and bag. I asked him what he was doing. He was just about to dive into the ocean with the bag to collect bits of seaweed and some water for his biology lesson. What do these things have to do with his lesson you may wonder? Well, lots of things! One bit of seaweed, about a foot long was home to hundreds of little creatures, like brittle stars, tiny crabs and shrimp and more! After his little adventure in the sea, he brought his bag of goodies and bucket to a solar powered science lab for Jean-Michel and his lesson. Inside they hooked up a microscope to a TV. The seaweed turned out to be a small world inhabited by tiny creatures magnified before our eyes on the TV. It was so amazing. I learned that kids and adults alike should not collect shells from the beach. You may think, well its empty, so why can't I take it? It's just one shell! But, no. From the tiniest to the largest, every shell is a home for some sea-creature. That empty shell you hold in your hands is a home, or an apartment building or just a temporary shelter from danger. So put that home back on the beach please!

After our wild biology lesson, where Jean-Michel kidded Dr. Murphy about being a clam fanatic, it was time for me to interview Jean-Michel Cousteau. Our interview was by the ocean where children played with friends or parents in the cool water. We sat down on a picnic table in the shade. I was in complete awe the whole time I questioned him. He answered my questions with such ease and enthusiasm that it was almost like talking with an old friend. At the end of the interview I played "The Two Grenadiers" on my violin. It has part of the French National Anthem in it and he really liked it.

After the interview, Jean-Michel invited me to join him and a group of campers to snorkel in Emerald Bay. I accepted, of course! How awesome to snorkel with him, the son of the man who invented SCUBA. So the next day, Wendy Milette, our camerawoman, and I got fitted up in our wet suits and got our underwater cameras ready. I said bye to everyone and hopped into the van going down to the bay, and we caught a boat to Jean-Michel's camp. We got assigned to a boat and off we sped to Emerald Bay, the ocean glittering in the sunlight. When we arrived I looked down into the water and realized why it was called Emerald Bay… I could see the bottom as clearly as if it was drinking water. "Well everyone!" said Tom, our boatman. "You can either slide into the water, or do the famous back-flip into the water!" Oh, no. I was too much of a scaredy cat to do the back flip, but this might be the only time I get to do it! A woman said from the water, "Look! I'm such a scaredy cat, if I can do it, you can do it!"

Oh man! One, two, three! Splash! The water felt great! Look over there, it's Jean-Michel on the rocks. So Wendy and I swam over to the rocks. "Wendy, how do I dive?" She told me that I needed to swim fast and then kick with my flippers, folding my body as I go. So I took a deep breath and kicked my legs, folding my body in half like she told me. I got down about a foot when I floated back up. No! My suit was too buoyant because I had worn a full wet suit instead of a "spring suit" (the legs and arms are cut off) for fear of getting cold. Well, I thought, I guess I won't be able to dive today. So I swam along to where Jean-Michel was sitting and he pulled on his mask and dove deep. He swam to the very bottom, and when he came back up he had a lobster's old skin. He dropped the skin and dove again. This time he had a live purple sea urchin! He looked at me and said, "Ya know Slater, the French eat very peculiar things." With that he popped it in his mouth and ate it! I gaped at him. When he swam away, I turned to Wendy and asked if she had seen that. "He tricked you. He didn't really eat that!" she said. Whoa! You can't touch a sea urchin, let alone pop it in your mouth! I thought.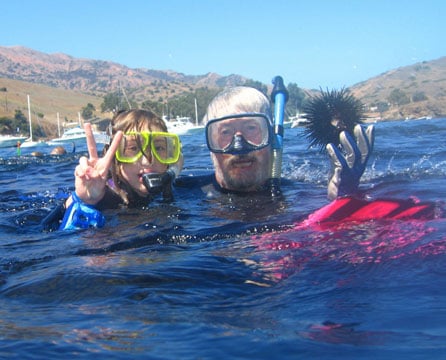 As we followed the massive group of snorkelers I felt like I was in a Discovery Channel episode. The strange light that shone in the water and the sand at the bottom were amazing. Whenever we swam over a clearing with just rocks and algae and sand I stared down and thought what a strange eerie beauty it had. But my awe turned into fear and claustrophobia when we went through the kelp forests. Fear that something hiding in the green forest would pull me down, and claustrophobia because in some places the space between the top of the water and the seaweed was 1 inch to 1 foot, making me swim fast when we came to the swaying kelp. But otherwise I loved it. My thoughts filled with curiosity whenever I came to a school of fish. I liked swimming through them, seeing them scatter. I was very jealous because someone had dived down into the kelp and rocks and brought up an octopus causing it to spray ink.
I swam over to Dr Murphy and asked him how to dive in a full wet suit. He said that doing it was very hard so he cheated by using weights to dive. He offered them to me and showed how to hold on to the weights and drop them when I ran out of air. Either he or Wendy would dive down to retrieve them. So he counted to three and he let go of the weights while I hung on. I felt like I was falling but slower. I went about 6 or 8 feet down and let go of the weights. I came up to breathe. I told Murph thank you while Wendy retrieved the weights.
We all swam back to the boats and took off our masks and fins and got in. I sat next to Jean-Michel. While we sped along back to the camp, I asked him what the huge boats in Emerald Bay were doing here. He said the boats were party fishing boats. He said that whenever he talked to them about how they over-fished and should throw some back so that they would have a chance to reproduce, they didn't listen. He then pretended to cry and said, "They don't like me." "Oh, Poor Jean-Michel!" I said in a baby voice, "Don't cry!" and I patted his back. We then laughed together. We got along really well. When the boats got back to the camp we rinsed our gear and dried ourselves off.
We then had lunch at the picnic tables in the shade. After I had finished eating, I bought myself a red Howland's Landing sweatshirt. And Wendy got a book from Murph he had written on the ocean. Before we left, I said goodbye to everyone and Murph, when Jean-Michel came over and said goodbye to me. He gave me a hug. I thought to myself that a kid would be awfully lucky to have Jean-Michel as a grandpa.
Wendy and I walked to the hot dock and waited and waited until Tom the boatman from that morning came and took us to Two Harbors. There my parents and Bama and Jeanne and Ken waited for us to arrive so we could all go kayaking and snorkeling. I remember feeling very happy that day. I had met my hero and gone snorkeling at Catalina Island. Now I was going to have an adventure with my family on the windy waves! THANK YOU MY HERO for this amazing adventure that I will always cherish. Especially because my Mom and Dad got to come too.