John Muir
by
David from Brookfield
"God has cared for these trees, saved them from drought, disease, avalanches, and a thousand tempests and floods. But he cannot save them from fools. "
"Everybody needs beauty as well as bread, places to play in and pray in where nature may heal and cheer and give strength to the body and soul." I haven't known the man who spoke these words for more than a few months, but, upon reading them, I felt truly captivated, and I then knew there was a real story of heroism.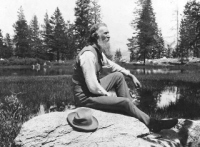 Naturalist, writer, inventor, and visionary, John Muir is the ideal description of a hero because he has contributed immensely to society, taken dutiful risks, had high morals, principles and intellectual qualities, and is recognized for extraordinary actions. John Muir put his soul and relentless effort into protecting the innocence of things. It shows in the thousands of square miles of conservation and preservation lands he pushed to create. He showed us that there is more to the world than superficial and materialistic things. Everything he learned he passed on to the public through his descriptive and powerful writings and articles. John Muir tried to stop the infringements of human greed from damaging all that is pure. He took the risk to fight for what he believed in, even when his family life began to crumble and his followers started leaving. Even though people began losing interest in the good of nature, Muir never let up. His selfless dedication would later change the way America looked at the environment. Muir is well recognized as the founder of the Sierra Club, a still prosperous organization developed to oversee environmental concerns. This very kind-hearted man is an icon today, symbolizing the ever important issue of environmental health, and he should be seen as an indisputable hero.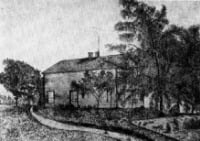 John Muir was born on April 21, 1838 in Dunbar, Scotland, during the rise of the Industrial Revolution, which probably contributed to his interest and concern with nature. He had a labor-filled and disciplined childhood under his very strict and overpowering father, who constantly worked the family. In 1849, when John was 11, he, his father and the elder children moved to a farm near Portage, Wisconsin, where John's childhood would take a turn for the better. It was at this point when John began his wilderness lifestyle. After graduating from the University of Wisconsin, John explored the United States and later moved to San Fransisco to study California and Yosemite. His interest in the environment began in Wisconsin, with its vast farmland and forests. Although he was pushed vigorously by his father to work on the farm from sunrise to sunset, the studious and nature-loving boy woke up several hours before dawn to read books from the latest environmentalists. In the rest of his free time, John would go on nature walks because he wanted to learn of mother nature's lessons. John and his father clashed often. If John made even the smallest mistake, his father would harshly beat him. Their values conflicted as well. John believed that animals were more than objects for human pleasure and that they have minds and souls of their own. His father didn't share this view. It was his informed and disciplined boyhood that would lead to the environmental revolution.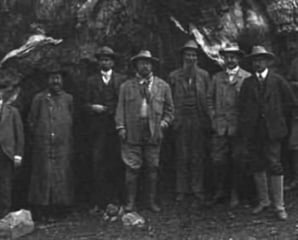 John Muir has been recognized for numerous accomplishments, but one of his greatest successes was with the creation of Yosemite National Park. He gained major support in the establishment of wildlife conservation areas from President Theodore Roosevelt. He is pictured with Roosevelt above. The President had a similar love and concern for everything living, yet not to the extent of Muir. John Muir was also the first president and founder of the Sierra Club, committed to preserving forests and other natural features of the Sierra Nevada. He has taught us a lot about the world, nature and why we are here. His legacy will continue as long as there is a thirst for nature.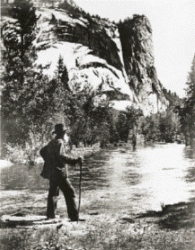 "A few minutes ago every tree was excited, bowing to the roaring storm, waving, swirling, tossing their branches in glorious enthusiasm like worship. But though to the outer ear these trees are now silent, their songs never cease." The mountains, valleys, forests and deserts were his home; not some brick wall structure that we call shelter. John Muir had made it his life's work to push past the boundaries of civilization in order to open the eyes of the common person, who needed to realize the importance of nature; not just its beauty, but the balance it brings the world. He believed that the disturbance of nature's economy encouraged wars, poverty, class struggles, droughts, fires, famine, and floods. John Muir, a true American hero.
Page created on 4/15/2008 1:18:33 PM
Last edited 4/15/2008 1:18:33 PM
The beliefs, viewpoints and opinions expressed in this hero submission on the website are those of the author and do not necessarily reflect the beliefs, viewpoints and opinions of The MY HERO Project and its staff.

Related Books