The former inmate, who lives on Chicago's South Side, helps those who've served time to find work and keep out of trouble.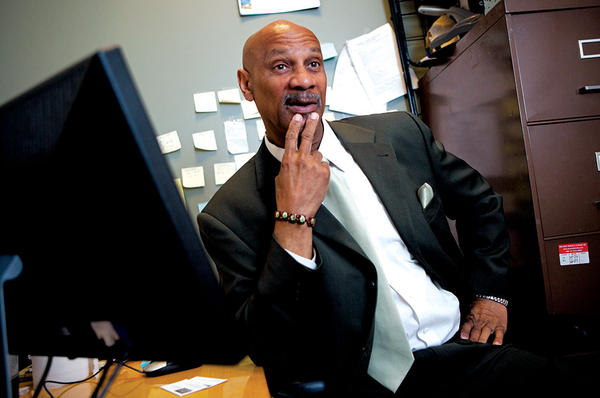 Melanie Stetson Freeman/Staff
CHICAGO - Outlaw's his name. Getting ex-felons on the job rolls is his game.

Contrary to what his name may suggest, Chicago's Johnny Outlaw doesn't wear a six-shooter or black cowboy hat. That's because he operates on the right side of the law. For more than 10 years, he has dedicated his life to providing legal aid and job-finding help in the city's most impoverished areas, driven by a core belief: Those who have served their time in prison deserve a second chance.

"The most discriminated [against] class of people in our society are these guys on release from state and federal prison," he says. "Whatever happened to paying your debt to society?"

Mr. Outlaw operates out of a tiny cramped office on the campus of Kennedy-King College, a city-run community college on Chicago's South Side, where he shifts between two phones that seem to never stop ringing. He is a one-man shop: On a recent Thursday, he mentions that he has fielded 43 phone calls so far that week, and 23 letters from inmates sit on his desk awaiting replies. He's already had 17 appointments that day with people seeking counseling, whether it's helping them learn how to expunge their criminal records or connecting them with employers who will take a chance on young men and women who have served their time and now want something better.

He works where he was born: in Englewood, a Chicago neighborhood that continues to make national headlines for its street violence, where 42 percent of the households are below the poverty level, and where unemployment is about double (21 percent) that of the city as a whole, according to the 2010 US Census.

Outlaw works as the director of reentry programs for Teamwork Englewood, a local organization that operates several programs designed to strengthen the community.

When he's not counseling people, he's speaking at legal clinics, colleges, and churches throughout the city and suburbs – anyplace that will have him. He also often slips on a bulletproof vest to accompany the Chicago Police during house visits to gangbangers or attends "call-ins," group meetings with repeat offenders on probation or parole, during which they are reminded of the risks of committing another crime.

The majority of his appearances outside his main job are on the weekends and unpaid, he says. His motivation is to network with local leaders and institutions to persuade them that ex-felons want to prove that they can be responsible members of society – and, more important, that they deserve the chance.

"I'm relentless," he says. "I see people in the community on public assistance, and it burns me they can't find jobs. I say it's up to me to show them the way to get jobs is to stay out of trouble and stay out of prison. And, believe me, it's a very hard job – it's a very difficult job – but this is what I do because people need help."

His work is not just a personal crusade, he says, but something that will strengthen the city. "After time and time and time not being employed, what are these guys going to do? They're going to go back and pick up the gun," he says. "I call it the great cycle of necessity: in and out [of prison], in and out."

He should know. Outlaw served more than 30 years of a 100-to-300-year murder sentence at the Dixon Correctional Center in Dixon, Ill. He's hesitant to talk about his past, but prisoner advocacy experts say his life in prison was remarkable.

Despite having only a high school education, he soon became the head of the prison law library, earned a political science degree, and subsequently started mentoring other inmates. He was one of 10 prisoners accepted into a paralegal certification program run by Illinois State University.

Besides his legal work, he established a restaurant within the prison for visitors, helping to hone his business skills and those of the people working under him. By the time of his release in February 2007, Outlaw commanded such respect from prison officials that they appointed him to the motor pool: He became a driver who was allowed to travel outside the prison. He always returned.

"By the time I met him, he was very serious and very accomplished. He was what you could call a 'very on-time' guy. He commanded respect, and the officers thought the world of him," says James Chapman, an attorney and executive director of the Illinois Institute for Community Law and Affairs, an organization that develops policies and programs dealing with prison conditions and issues facing prisoners upon release.

Outlaw's interest in recidivism started when he was appointed to the board of the Prison Action Committee, an organization founded by Mr. Chapman and made up of prisoners and ex-offenders who work to connect prisoners to the outside community to make reentry more seamless and effective. The group also organizes an after-school intervention program in the public schools. Ex-offenders tell their life stories in an effort to combat the glorification of prison life often prevalent in popular media.

While still behind bars, Outlaw helped write grant applications for the group and conducted paralegal work for others and himself. It took him 19 unsuccessful tries to get released on parole.

Outlaw cuts an imposing figure: He's more than six feet tall and dresses impeccably each day in a suit with a silk handkerchief peeking out of his top pocket. When he speaks, he is on point and commands authority, which is probably why 9 out of 10 people referred to him by outside agencies accept his help, he says.

Corrion Brown says that when he met Outlaw, he was struck by how sincere he was. "He wasn't just about business. Helping people was his business, and he liked doing it," Mr. Brown says.

Brown was charged with aggravated battery of a Chicago police officer in 2007 and was sentenced to 30 months of probation, which meant he was suddenly out of work. He applied for jobs in downtown Chicago and in his own neighborhood on the South Side, but nothing worked. The dry spell lasted nearly two years.

"When you get these job listings, the first thing they say is 'no criminal background.' That automatically X's you out," Brown says. "[Employers] just looked at that one thing, and based on stereotypes, they don't want to really hire you at all."

Through Outlaw's connections, Brown started working at a manual labor job at a pizza box factory in suburban Romeoville, Ill. The work went well, and Brown entered a training program to become an assistant manager. But what he really wanted to do was drive trucks.

Outlaw helped get him a job with a trucking company in Cedar Rapids, Iowa. Brown now drives 18-wheelers throughout the Midwest. He says he loves the work. He is saving up money by living with his mother (while helping to pay her bills).

But his long-term goal is to go back to school and learn a more specialized skill.

"I have different opportunities now," he says. "Whatever comes to mind, I can set out to do it as long as I keep focus."

Outlaw says inspiration for his work comes from his grandparents, who died when he was a teenager. They operated a 300-acre tree farm outside Cleveland, Miss., that remains in the family. "They made it in the South. They owned the land and sent my aunt and mother to college, which was unheard of in those days for a female black," he says. The opportunity allowed his mother to flourish in Chicago as a teacher and, later, a registered nurse, he says.

As for his last name, that originates in the South as well. Family genealogy efforts show it dates back to the 1800s. Contrary to what the name suggests, Outlaw says that his story shows people do have the power to inspire change within themselves and others. But it takes perseverance.

"[The Illinois Constitution] dictates you have a second chance in life. That's what this democracy is about," he says. "You have a second opportunity, and that's what this is all about. Take that second opportunity and run with it."
Page created on 9/2/2014 12:00:00 AM
Last edited 1/5/2017 5:02:01 PM
Extra Info
How to take action
Universal Giving helps people give to and volunteer for top-performing charitable organizations around the world. All the projects are vetted by Universal Giving; 100 percent of each donation goes directly to the listed cause.
Below are groups selected by Universal Giving that help ex-convicts or others who need job training:
•Let Kids Be Kids Inc. advocates for people who help those without a voice. Take action: Donate toward the telephone expenses of prisoners trying to reach loved ones.
•Build Change reduces deaths, injuries, and economic losses from houses that collapse in earthquakes. Take action: Train people to build earthquake-resistant houses.
•Develop Africa raises funds for educational and environment projects in Africa. Take action: Sponsor a day of training in basic computer skills.