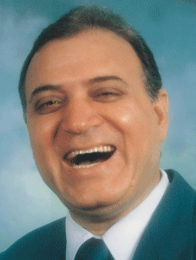 Dr. Madan Kataria, founder of the Laughter Club of India, has started a revolution of joy and laughter that is spreading around the world. This Allopathic Physician and ex-registrar at the Jaslok Hospital (Bombay) in Internal Medicine and Cardiology has thousands of people laughing their way to better health, more happiness and deeper friendships.
Dr. Kataria developed a new technique of Laughter Therapy based on yoga called LAUGHTER YOGA. Dr. Kataria explains, "In a nutshell, laughter yoga is a combination of self-induced laughter, yoga exercises, yoga breathing and stretching exercises. With a little bit of playfulness deliberate laughter turns into real laughter. Our body produces a similar response to what we get from spontaneous laughter." (See Extra Info for details.)
He said the "idea of a laughter club came to me like a divine light. In 1995, I was writing an article for my health magazine and remembered that [an article called] 'Laughter, The Best Medicine,' from Reader's Digest had always fascinated me."
During his research for the article, Dr. Kataria discovered a large amount of scientific literature on the benefits of laughter on the human mind and body: "I was very impressed by the American journalist Norman Cousins, whose book, Anatomy of an Illness, describes how he laughed his way out of an incurable disease of the spine - Ankylosing Spondylitis. Cousins said, 'What was significant about the laughter...was not just the fact that it provides internal exercise for a person...a form of jogging for the innards, but that it creates a mood in which the other positive emotions can be put to work, too.'"
So while Dr. Kataria was thinking and pacing the floor of his apartment one morning at 4:30 am, it hit him. "If laughter is so good, why not start a laughter club?" Several hours later he tried out the idea with the regulars at his local park who initially reacted with, "Doc, are you OK?", "Are you crazy?" He eventually motivated four of them to start laughing in a corner of the park. Others laughed at the concept and ridiculed the idea but were converted when the health benefits were explained. Attendance grew and the rest, as they say, is history. There are now hundreds and hundreds of Laughter Clubs all over the world, including India, USA, Canada, Sweden, Denmark, Italy, France, Malaysia and Dubai.
Since that fateful day in 1995, Dr. Kataria has been spreading his message to kids at school, prisoners in jail, homes for the elderly, everyday workers, and anyone that wants to feel better in general and have more fun in life.
Director Mira Nair (Vanity Fair, Monsoon Wedding) shot a documentary about the Laughter Clubs of India and some of the members had this to say:
"The thing with laughter is that I don't feel empty and I don't think of the past so much. I don't get nervous."
"In Indian Society there are so many restrictions..."
"They look after each other...if someone's absent - they call to see if everything is OK. They celebrate birthdays and tell each other their stories. They are connected."
According to Dr. Kataria's website, extensive research from all over the world has proven that laughter has a positive impact on various systems of the body. Laughter helps to remove the negative effects of chronic stress, which is linked to the six leading causes of death. Laughter helps to boost the immune system, which is the master key for maintaining good health.
MY HERO caught up with Dr. Kataria and this is what he had to say:
MY HERO: What is laughter yoga and how do you do it?
DR. KATARIA: LAUGHTER YOGA IS A NEW CONCEPT OF LAUGHING IN A GROUP WITHOUT TAKING HELP OF JOKES OR ANY OTHER COMEDY. WE BEGIN WITH WARM-UP EXERCISES LIKE CLAPPING, HO HO HA HA HA CHANTING, FOLLOWED BY A VARIETY OF STIMULATED LAUGHTER EXERCISES LIKE GREETING LAUGHTER, MILKSHAKE LAUGHTER, ONE METER LAUGHTER, LION LAUGHTER, ETC. WHEN WE LAUGH IN A GROUP IT TURNS INTO REAL LAUGHTER BY MAKING EYE CONTACT WITH OTHER GROUP MEMBERS.
SECOND PART OF LAUGHTER YOGA IS CALLED LAUGHTER MEDITATION WHERE WE SIT ON THE FLOOR IN SILENCE AND KEEP LOOKING AT EACH OTHER AND THEN WE START FAKING LAUGHTER FOR A FEW SECONDS UNTIL IT FLOWS SPONTANEOUSLY FROM DEEP WITHIN. STILL WITHOUT USING ANY TYPE OF HUMOROUS INTERVENTION. AFTER A WHILE WE LIE DOWN ON THE FLOOR AND ALLOW THE LAUGHTER TO FLOW LIKE A FOUNTAIN.
MY HERO: How can kids make use of your laughter yoga?
DR. KATARIA: WE ARE USING LAUGHTER EXERCISES WITH SCHOOL CHILDREN AS WE FOUND THAT CHILDREN OF TODAY ARE MUCH MORE SERIOUS AND LESS PLAYFUL THAN A FEW DECADES AGO. WE ARE USING PLAYFUL LAUGHTER TECHNIQUES WITH CHILDREN AND WE DO NOT USE MUCH PHILOSOPHICAL ASPECT. MOREOVER, TODAY CHILDREN ARE FACING MUCH MORE STRESS DURING THEIR STUDIES. LAUGHTER HELPS THEM TO REDUCE THEIR STRESS AND GET BACK TO THEIR PLAYFULNESS.
MY HERO: What influenced your direction at a young age?
DR. KATARIA: I WAS BORN AND BROUGHT UP IN THE COUNTRYSIDE WITH A FARMER FAMILY. I OBSERVED THAT PEOPLE IN THE COUNTRYSIDE LAUGH FOR SMALL THINGS AND WHEN I BECAME A DOCTOR I FOUND IT MUCH HARDER FOR EDUCATED AND INTELLECTUAL PEOPLE TO LAUGH. THEIR LAUGHTER COMES MORE FROM THEIR BRAIN BY MAKING EVALUATIONS AND JUDGMENT ABOUT WHAT'S FUNNY. WHILE INNOCENT HARDWORKING PEOPLE FROM THE VILLAGES LAUGH FROM THEIR HEART LIKE CHILDREN.
I COULD CLEARLY SEE THAT I LOST MY CAPACITY TO LAUGH WHEN I CAME TO MUMBAI AND I FOUND MYSELF LOST AMONG 14 MILLION PEOPLE. IT WAS ON THE 13TH OF MARCH 1995 WHEN I WAS WRITING AN ARTICLE FOR MY HEALTH MAGAZINE THAT I GOT THE INSPIRATION...IF LAUGHTER IS SO GOOD, WHY NOT START A LAUGHTER CLUB? I LAUGHED A LOT WHEN I WAS A KID AND LOST IT IN THE PROCESS OF GROWING UP AND THANKS TO THE LAUGHTER CLUBS I GOT IT BACK. I THINK IT WAS MY VILLAGE BACKGROUND WHICH INSPIRED ME TO TURN TO LAUGHTER.
MY HERO: What kind of reactions do you get from other medical doctors to your Laughter/Yoga therapy?
DR. KATARIA: INITIALLY SOME OF THE MEDICAL DOCTORS WERE SKEPTICAL. BUT AS THE LAUGHTER MOVEMENT GREW, IT BENEFITED MANY PEOPLE [WITH] DEPRESSION, ANXIETY, INSOMNIA AND A VARIETY OF OTHER ILLNESSES, THEN MANY DOCTORS CAME TO THE LAUGHTER CLUBS AND EXPERIENCED LAUGHTER YOGA. NOW WE HAVE MANY DOCTORS IN OUR LAUGHTER CLUBS. MOREOVER THEY RECOMMEND THEIR PATIENTS TO JOIN THE LAUGHTER CLUBS.
MY HERO: In your experience who finds it the hardest to laugh?
DR. KATARIA: MORE LEARNED AND INTELLECTUAL PEOPLE LIKE PSYCHOLOGISTS, DOCTORS, SCIENTISTS, JOURNALISTS, [AND] CEO'S OF COMPANIES FIND IT VERY HARD TO LAUGH. IN SHORT ALL MIND-CENTERED AND INTELLECTUALLY INCLINED PEOPLE LAUGH VERY LITTLE.
MY HERO: Who is your hero and why?
DR. KATARIA: MY HERO IS MAHATMA GANDHI. HE CHANGED THE LIVES OF MILLIONS OF PEOPLE WITHOUT ANY SELF-INTEREST. HE BELIEVED IN SIMPLE LIVING AND HARD WORK. BEFORE INDEPENDENCE, THE WEAKNESS OF INDIA WAS THAT THEY COULD NOT FIGHT WITH BRITISH FORCES AND HE CONVERTED THE WEAKNESS INTO A POWERFUL WEAPON THROUGH NON-VIOLENCE. HE ENROLLED MILLIONS OF PEOPLE INTO HIS PHILOSOPHY WHICH HE PRACTISED AND BELIEVED IN AND HE ACHIEVED IT.
Extra Info
HOW THE LAUGHTER CLUB OF INDIA BEGAN:
At first Dr. Kataria had someone stand in the middle of the circle of attendees and tell jokes. Then everyone would laugh together at the jokes but after a few weeks they ran out of good jokes and some of the jokes became dirty or hurtful so jokes were banned. The club members would learn to laugh without them. But how? Most people were shy or inhibited and found it hard to laugh for no reason, so he had to come up another way. After much thought he put the following plan into action.
"Start with a large group, the bigger the better because people start to look at each other laughing and it becomes contagious. Each member would raise his hands up towards the sky while laughing which is an easier posture for laughing and makes one feel less inhibited. Each laughing session starts with a deep breathing exercise. Members stretch their hands upwards and take a deep breath, hold it for some time and gradually exhale. This breathing exercise is similar to 'Pranayam' in Yoga, which helps in increasing the vital capacity of the lungs and helps in producing laughter. After deep breathing everybody starts chanting Ho-Ho, Ha-Ha-Ha. Slowly increasing the speed of Ho-Ho, Ha-Ha-Ha they suddenly burst into hearty laughter by stretching their hands up and looking at each other's faces. Each kind of laughter lasts for about 20-30 seconds. This Ho-Ho, Ha-Ha-Ha exercise is akin to a yogic exercise called 'Kaphalbhati' where there is a rhythmic movement of the diaphragm and abdominal muscles. It helps to facilitate the lungs in order to initiate laughter. When a large number of people gather in a group and chant Ho-Ho, Ha-Ha-Ha, it charges the whole atmosphere with laughter. Since everyone can easily participate in this exercise, each one feels a sense of achievement."