Fred Korematsu
by
Barbara Field
"If you have the feeling that something is wrong, don't be afraid to speak up." - Fred Korematsu
Fred Korematsu is an ordinary man who defied the order to go to the Japanese-American internment camps during W.W. II because he believed it wasn't right. His case changed legal history and resulted in an apology by our government for wrongdoings, as well as reparations to 120,000 living Japanese-Americans.
I'm honored that Fred is my uncle by marriage, and I believe one person can make a huge difference.
Fred grew up in Oakland, Calif., and worked in his family's nursery. He ate hamburgers and lived a typical American life. He worked as a welder in the shipyard until he lost his job for no reason. Rumors about "Japs" splashed the headlines in the newspapers. War was brewing. Some restaurants refused to serve Japanese-Americans. In 1942, the U.S. government sent those of Japanese descent to internment camps in the Western desert. Fred didn't want to go because he was an American. We were fighting the Japanese, Germans and Italians, but no German-Americans or Italian-Americans were rounded up.
Fred's family feared his resistance would shame them, but Fred was a true citizen who loved his country. He was being targeted because of the color of his skin and the shape of his eyes. Soon arrested, Fred was sent to Tanforan Race Track where families lived in horse stalls that smelled like manure. He was then sent to Topaz, a camp in the Utah desert. Barbed-wire fences surrounded the innocent prisoners, and guards were perched on watchtowers, armed with machine guns.
After four years in the camps, the Japanese-Americans carried their shame with their silence as they returned home quietly. Homes, farms, businesses and possessions were lost. Fred journeyed to Salt Lake City where he repaired water tanks at an ironworks plant and then worked in Detroit in 1944. He had begun a legal case protesting the internment that progressed all the way to the Supreme Court, but he lost. Fred married and had two children. Like many Japanese-Americans, he didn't discuss the camps over the years. Yet he believed "it may take time to prove you're right, but you have to stick to it."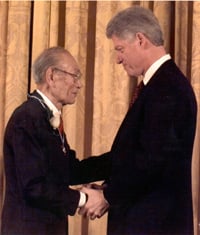 In 1988, almost half a century after the orders were issued, justice prevailed. Government officials had claimed that the internment was due to "military necessity," but evidence revealed that the order was based on racial prejudice. The U.S. government admitted that the Japanese-Americans had posed no danger of spying or risk to security. In 1998, President Clinton honored Fred Korematsu with the Presidential Medal of Freedom, the highest civilian honor any American can ever hope to receive. After serving his family, his church, many civic organizations and his community, Fred was finally rewarded for his courage and perseverance. President Clinton said Fred was a man of quiet bravery who wanted only to be treated like every other American.
Page created on 4/1/2005 11:56:03 AM
Last edited 1/21/2020 7:23:30 AM
The beliefs, viewpoints and opinions expressed in this hero submission on the website are those of the author and do not necessarily reflect the beliefs, viewpoints and opinions of The MY HERO Project and its staff.