CONTACT: Wendy Milette FOR IMMEDIATE RELEASE
LAGUNA BEACH RESIDENTS CELEBRATE THE OCEAN AND ITS PROTECTORS
LAGUNA BEACH, CA – 06/15/17 - Ocean heroes took center stage last week, as The MY HERO Project hosted the 10th Annual Laguna Hero Fest. The event took place on World Oceans Day, June 8, 2017. Laguna Beach residents were out in force to celebrate those working to protect their abundant ocean resources.
The event took place at [seven-degrees], starting with an afternoon of ocean-themed activities for kids, including a skit performed by Ocean Warrior students from Top of the World Elementary School. By the early evening, the venue was packed with people of all ages who had come to celebrate their neighbors whose work keeps the beach community thriving.
"I am inspired by the contributions of young activists at this year's Hero Fest," said Wendy Milette, Hero Fest Director.
"Teryl Campbell's 5th Grade students Chase & Sean delivered motivating Ocean-themed Ted Talks. Protecting and preserving wilderness is an ongoing effort for activists of all ages."
The 2017 Community Hero Award went to Laguna Beach Mayor Toni Iseman. Iseman worked to bring about the Laguna Beach Weekend Trolley. The free shuttle runs weekend days and evenings throughout the summer months. It's enjoyed by thousands of visitors and residents, allowing them to leave their personal cars parked, which cuts down on traffic and pollution.
MY HERO recognized Greg and Barbara MacGillivray, Laguna Beach residents whose work protects the world's oceans. Their One World One Ocean campaign is an ongoing commitment to building ocean awareness. Greg's documentary films The Living Sea (1995) and Dolphins (2000) have blazed a trail for conservationists.
Each year, the MacGillivrays sponsor the Sylvia Earle Ocean Conservation Award in the MY HERO International Film Festival, which comes with a $500 prize for a filmmaker who feature heroes working to protect the sea. The award is named for Dr. Sylvia Earle, a research scientist and explorer.
The 2017 winner was announced at the Hero Fest: Bazaruto Ocean Guardians,
which was filmed in Mozmbique by Finn White-Thomson.
"That is a real grassroots endeavor which is raising awareness locally about the importance of saving the ocean in a community that is dealing with probable poaching from large international boats as well as mindless local fishing to sustain local communities," said Barbara MacGillivray. "To see the children all working on picking up after the fishermen and learning about the importance of their life-giving ocean was wonderful to watch despite being such an uphill battle."
Musician Stu Pearlman and friends entertained with a jazz performance as guests enjoyed an Artist Showcase featuring exhibits by Sage Hill High School, The Laguna Beach Boys and Girls Club Artists, and the winning photographs of the Laguna Bluebelt 6th Annual Photo Contest. The vibrant works of Patsee Ober were on display as she received her Ocean Hero award, as were paintings by the late artist Robert Young. His wife and daughter accepted the honor on his behalf in one of the most moving tributes of the evening.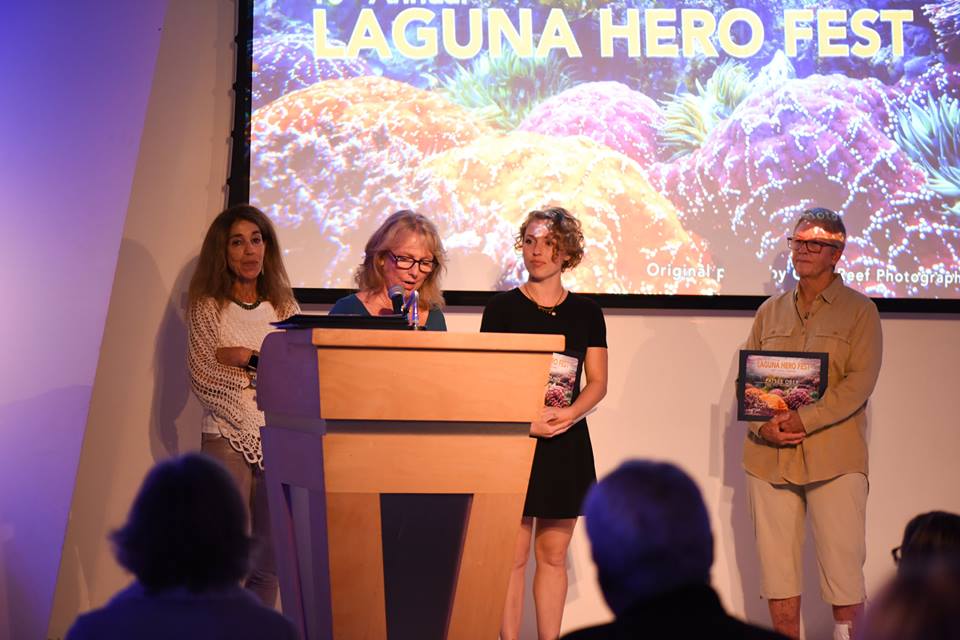 Special thanks went to the Laguna Beach Lifeguards, who were applauded for their efforts to keep local beaches safe. The Laguna Bluebelt Coalition was also honored for its efforts to reestablish and protect Laguna's marine life environments.
MY HERO recognized the Pacific Marine Mammal Center as well as Massen Greene Foundation, for its commitment to environmental education and preservation.
Other honorees included Ron Chilcote, of Laguna Greenbelt, photographer Tom Lamb, La Vida Laguna, and Laguna Poet John Gardiner, who shared some of his work with the audience.
MY HERO dedicated the 2017 Laguna Hero Fest to the late Stu Saffer, a Laguna Beach hero, civic leader, and creator of Stu News Laguna. Event sponsors included the lodging establishments and The City of Laguna Beach, [seven-degrees], Stu News, and Kx93 FM.
The Laguna Hero Fest is a pilot program that can be adapted for most cities and towns. For information about bringing a Hero Fest to your neighborhood, please check out the Step by Step Guide.
Page created on 6/16/2017 12:00:00 AM
Last edited 7/18/2017 12:50:51 AM