Lady Bird Johnson
by
Claudia from Austin
"Where flowers bloom, so does hope."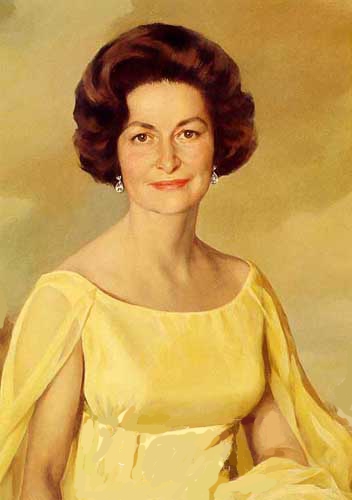 Official White House Portrait of Claudia "Lady Bird" Johnson. painted by Elizabeth Shoumatoff. White House collection.
Many people think a hero is a famous celebrity or a fictitious character on TV. My hero was an important person throughout my life and to so many others. My hero was a First Lady of the United States. She was a wonderful woman and made a lot of changes in the world. Her name is Claudia Alta Taylor. She is also known as Lady Bird Johnson, and she's my great-grandmother.
On December 22, 1912, Claudia was born on a cold day in Karnack, Texas. Her mom died three months before Claudia's 6th birthday. She went to live with her aunt so that her dad could get some money working at his store. Her aunt told her many times how her mom died so that she could keep the memory of her alive. Claudia attended the University of Alabama for summer classes and got homesick, and so she went to St. Mary's college, which was closer to home. Claudia had 2 children and their names are Lynda Johnson and Lucy Johnson. A tragic death happened in 1973. Her beloved husband, former President Lyndon B. Johnson, died after 7 heart attacks at the age of 67.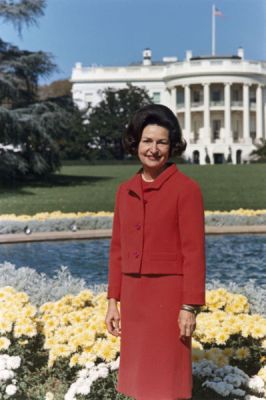 Robert Knudsen, White House Press Office (WHPO) [Public domain]
I have so much respect for my great-grandmother because of all the wonderful things she has done. One thing that my hero has inspired me to do is to be kind to other people. My great-grandmother was so kind to me and my great-grandfather. One other thing that my hero has inspired me to do is to be kind to nature. One of her favorite things to do was to look at wildflowers everyday and plant flowers. One time at school, when studying our presidents and other famous people, my friends at school were amazed that the famous person I chose to study was actually my great-grandmother. They couldn't believe that I could actually have her come to my presentation! Why I chose my great-grandmother as my hero is because she did a lot of good things in the world.
As you can see, Lady Bird Johnson was full of life and she had a goal to make the world full of life, too. To reach that goal, she started out by planting beautiful flowers, a small act that sent a huge message. I hope that I and others will follow the path she took. Lady Bird Johnson was an amazing woman and a hero to me.
Page created on 1/30/2008 12:00:00 AM
Last edited 12/21/2019 7:07:00 PM
The beliefs, viewpoints and opinions expressed in this hero submission on the website are those of the author and do not necessarily reflect the beliefs, viewpoints and opinions of The MY HERO Project and its staff.