Lisa Ford
by
Claire from Canada
Lisa Ford is my hero because of her courage and determination. She survived for two years with cancer. She was the spokesperson for a special type of beads called Bravery Beads. Different kinds for different treatments. I think she had almost one hundred of them, if not more. That is why she is my hero, and I hope that she will always be remembered and loved by everyone.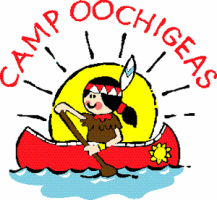 Lisa was born in 1987. She was athletic and smart and loved life. Her absolute favourite colour was orange. Everything she had was orange. She was loved by everyone and had many friends. In the spring of 2000, she was diagnosed with cancer. The doctors told her that the cancer she had was the best kind to get at her age and that there was a very high chance of her surviving. When she started chemotherapy, she lost a lot of hair and became bald. I remember one day when they came up to our house to swim in the summer of 2001 and Lisa said, "I think my hair, when the cancer is gone, will grow back red." But her hair never did come back and the cancer never left.

Lisa's favourite place was her home, but mostly Camp Ooch (Camp Oochigeas), a cancer camp for kids 18 and younger with cancer. It was just like a normal camp, canoeing, kyaking, biking, and campfires, except you could get your medication or any other treatment you needed from the nurses who worked there who were also counselors. Lisa had so much fun there and did so much for that camp. Lisa's parents, Nancy and Ken, and her two sisters, Megan and Kerri, volunteer at the camp and help at the Starlight Foundation. I miss Lisa so much, everyone does.
I chose Lisa for my hero for these reasons and because she was strong, friendly, and determined. I think that she is an excellent role model for tons of her friends and family. She never gave up hope and showed it throughout her entire life, even when she didn't have cancer.
Lisa died May 2nd, 2002, in her hospital bed. She had had enough and just took off the breathing mask and peacefully passed away. Lisa was an amazing person and and she is now an amazing Orange Angel. Lisa will always be in our memories and will inspire us to be the best we can be.
Page created on 8/27/2011 12:00:00 AM
Last edited 1/4/2017 8:44:28 PM
The beliefs, viewpoints and opinions expressed in this hero submission on the website are those of the author and do not necessarily reflect the beliefs, viewpoints and opinions of The MY HERO Project and its staff.
Related Links
Camp Oochigeas
- provides an active, outdoor experience for children with cancer. Also offers chemotherapy treatment onsite.
Starlight Foundation
- "helps seriously ill children and their families cope with their pain, fear and isolation through entertainment, education and family activities."