CONTACT: JEANNE MEYERS FOR IMMEDIATE RELEASE
Co-founder/Director
The MY HERO Project
FORMER CHILD SOLDIER MOHAMED SIDIBAY INSPIRES STUDENTS ON HIS HIGH SCHOOL SPEAKING TOUR
FEBRUARY 28, 2017, LOS ANGELES, CA
- MY HERO Ambassador Mohamed Sidibay will be living out of a suitcase this spring as he shares
his harrowing story with students around the world. Sidibay's speaking tour, which launched this month, will take him throughout the United States, Europe and Latin America, to inspire students with his journey from child soldier in Sierra Leone to human rights activist, teacher and law student in Washington D.C.
The first stop on his tour was Taft High School in Los Angeles, where the audience sat spellbound as Sidibay told tales of being forced into a life as a child soldier, after his parents were murdered before his eyes. He talked about being orphaned and homeless and of his trip to the United States, where he worked
to gain an education, which helped transform his life.
"Mohamed Sidibay's visit to our school was inspirational and motivating for my students," said Taft High teacher Tammy O'Neill. "They have continued to talk about his story. He is strong survivor with an impactful message about the power of education that will never be erased from their minds."
Sidibay also spoke of love, tolerance and the

importance

of having the courage to stand up and say "no" to injustice. He talked about his work as Youth Leader for the 100 Million for 100 Million Campaign, as
Youth Commissioner for the United Nations Education Commission on Financing Global Education, and as a Global Educator for The MY HERO Project, Sidibay
shared resources and his ideas on ways students can get involved.
"
It's nice to say someone is 'inspiring,' but it's profound to see that in action,"
said Jerrilyn Jacobs, Media Arts teacher
at Taft High School. "
Like a stone in a pond, Mohamed's wisdom, support and encouragement will ripple through our lives for a long time to come.
His emphasis on the transformative power of education was powerful."
During his talk, Sidibay gave a
short video presentation before opening up to questions from students.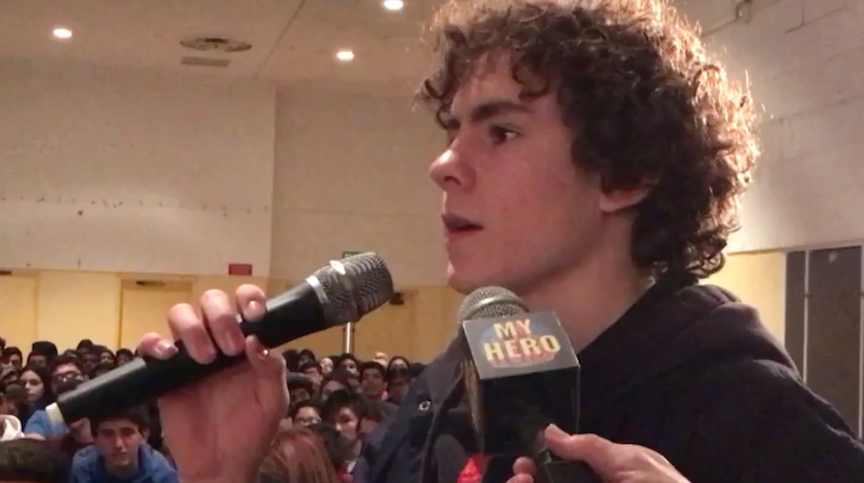 Taft High student Harrison asked, "When you came to America, did you have a role model or a hero you looked up to?"
Sidibay referred to the first book he read after coming to the United States, "The Freedom Writers' Diary," a collection of stories written by the at risk students of Long Beach, California, teacher Erin Gruwell. He said Gruwell has been his hero and a mentor.
One young
girl asked, "I wanted to know how you got over your parents and your family passing away?"
"I don't think that is something anyone can ever truly get over," answered Sidibay. "But our past and present is what makes us who we are. Without our past, we are not complete. Without our present, we do not exist. I am who I am today because of my past."
Another student asked, "Have you visited your home country? Would you go back?"
Sidibay said that he had returned to Sierra Leone twice, to mentor other former child soldiers and to help the organization that brought him to the United States. He said the reason he is studying law is so he can return to Sierra Leone and help strengthen the institutions in that country.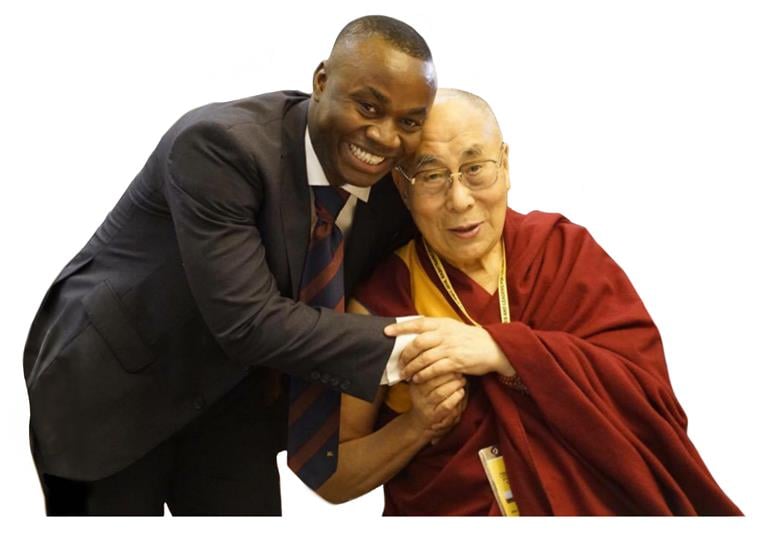 Sidibay has worked closely with MY HERO over the years and has served as Master of Ceremonies for The MY HERO International Film Festival in 2016 and the 2014 International Day of Peace Celebration in Santa Monica. He has written about his journey for The MY HERO website.
"Mohamed Sidibayy is a leading voice for children's rights, for human rights, for peace," said Jeanne Meyers, Co-founder and director of The MY HERO Project. "I am so grateful to him for his guidance and friendship over the years. Yesterday, I was able to see him speak to hundreds of high school students, thanks to Taft High's Media Arts Educator, Jerrilyn Jacobs. She invited Mohamed Sidibay to come and share his journey from child soldier to peace activist with her students. Mohamed Sidibay's one hour long talk reached over 300 students and I am certain it will have a long lasting impact on all of those teens and teachers who were listening. His talk had a profound effect on me. I continue to find hope and inspiration and vision from his insights on the importance and power of education from his most remarkable journey."
March 3, 2017 @2 pm
(Please stop in at the main office
for directions to the Media Arts Center (MAC).)
March 10th
If you are interested in having Mohamed Sidibay come to your school or organization, please contact him directly at [email protected].
Page created on 3/8/2017 3:16:39 PM
Last edited 7/7/2017 11:34:29 PM