Born on the Fourth of July of 1984 in Irvine, California, Mark Daily only occupied our earth for twenty three years before his untimely death, on January 15, 2007, in a Mosul bombing, along with three other soldiers, leaving behind a loving family. In spite of this, Mark's influence exceeds that which many can dream of duplicating before they turn forty. At least it should. Mark Daily's life ended in 2007, during which time, his family received condolences from all over the nation, from President Bush to Gov. Schwarzenegger to thousands of bereaved, ordinary Americans. Many Americans were struck by what an exceptional human being he was. Today, three years later, perhaps Americans may not think as much of this courageous individual as they should. But, when I think of Second Lieutenant Mark Daily, I inevitably am prompted to assess what America means to me. He has inspired me so completely that he is one of my personal heroes.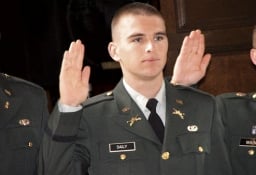 Mark Daily's courage is what I truly admire about him. It is rare, this day and age, to come across talented, intelligent people who are qualified to be just about anything they set their mind to, and they choose to be soldiers. They make the ultimate sacrifice of themselves to a cause they believe in, choosing to risk their lives in dangerous areas, outside of their comfort zones, or environments where they could possibly have been safer. It is a testament to Daily's bravery and selflessness that he chose to be a soldier not for money, college benefits, legal protection, political advancement, or out of boredom, but for the sheer wish to protect the defenseless people of Iraq. It seems so hard for many to comprehend, joining the Army out of idealism. After two World Wars, and one disastrous war in the 60s, seeking to carry out your democratic ideals into the military seems a thing of the past. And, yet, there was Mark Daily, an enthusiastic youth with his whole life ahead of him who, rather than sit on the sidelines like countless others, to dismiss the Iraq war as a "mistake" and criticize the government for its inept handling, chose to join the war effort with the purest of intentions, seeking only to obtain a better understanding, and to prove that the United States Army was a force for good.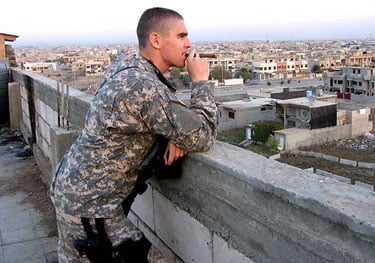 And then, there was that simple MySpace essay, "Why I Joined," written by 2 LT Daily on 29 Oct. 2006, the day before his deployment to Iraq. So much has been written about the war in Iraq and the soldiers that have deployed there. But nothing so clearly resonates with me, as it does countless Americans, as that simple essay, which apparently only took him twenty minutes to write. "One thing is certain, as disagreeable or as confusing as my decision to enter the fray may be, consider what peace vigils against genocide have accomplished lately" he speculated, "Consider that there are 19-year-old soldiers from the Midwest who have never touched a college campus or a protest who have done more to uphold the universal legitimacy of representative government and individual rights by placing themselves between Iraqi voting lines and homicidal religious fanatics. Oftentimes it is less about how clean your actions are and more about how pure your intentions are." The clarity of Daily's vision and the fearlessness with which he articulated it is one that is without shame and pretension. It is a clarity that thousands of politicians across the country dream of having, but lack. It is impossible to underestimate the power of Daily's statement. "So that is why I joined." he continued. "In the time it took you to read this explanation, innocent people your age have suffered under the crushing misery of tyranny." Daily's message is hauntingly powerful, and I was nearly brought to tears when first reading it, but was held back from crying by the sheer awe I experienced. I realized then how wrong so many were to scoff at those who join the military out of idealism. I realized then what a unique and wonderful individual we had lost.
Mark Daily is a testament of tolerance and dignity. He seemed to value all walks of life equally, in the tradition of King, Gandhi, and Chavez. He passionately defended Native American rights, challenged the beliefs of Neo-Nazis online (even successfully converting one), became a vegetarian and Green Peace member, and expressed disgust with the treatment of Iraqi prisoners. A voracious reader, Daily was not one to close himself to new ideas, and he read Chomsky, Hitchens, Ambrose, and McCain with equal zeal. Overseas in Iraq, Daily befriended the Kurdish citizens of Mosul who welcomed him with open arms. Daily interacted with them warmly and without any conditions. He respected the people of Iraq, enjoying cigars with them, having intellectual conversations with them, and requesting gifts for Iraqi children in his letters home. His writings reflect a sense of awe at the Kurdish people's simple faith, and it seems that he found his tremendous faith in the United States Army's, and humanity's, capacity for good reaffirmed.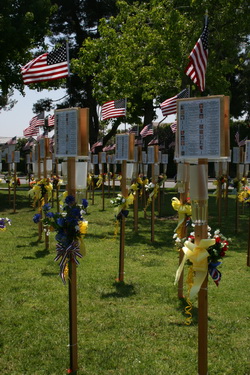 Mark Daily is one of many hundreds of young people who were killed in war. His story is among the stories of many, each one equally unique and special. But, Mark Daily is an example of the perfect role model for young people. He was not ignorant, but he had a sense of purpose that he sought to carry out. He rarely sought out to engage in a fight, but he was ready when the necessity of fighting was presented. He was a proponent of peace, but understood the ethics of war. Mark Daily was the one I thought of when I went through measures to join the military myself. Mark Daily is and always will be an American that I can admire, as he will be with countless other Americans.
Page created on 6/9/2010 12:00:00 AM
Last edited 6/9/2010 12:00:00 AM
Bibliography
Hardesty, Greg. "Irvine soldier killed." Orange County Regis..
Malkin, Michelle . "The immortal words of 2LT Mark Daily ." [Online] Available http://michellemalkin.com/2007/01/19/the-immortal-words-of-2lt-mark-daily/.
Watanabe , Teresa . "A higher calling than duty." Los Angeles Times .
Malkin, Michelle. ""I genuinely believe the United States Army is a force of good in this world"." [Online] Available http://michellemalkin.com/2007/02/18/i-genuinely-believe-the-united-states-army-is-a-force-of-good-i.