Mother Teresa
by
Amanda from San Diego
"The good you do today will be forgotten tomorrow. Be good anyway. People need help but will attack you if you help them. Help them anyway. In the final analysis, it is between you and God. It was never between you and them anyway" (Kent Keith). From the poem "Anyway" Mother Teresa took this message and placed it on one of her children homes in Calcutta. At the age of twelve, she felt a strong calling to become a nun. Later in her teenage years, she was especially inspired by reports of work being done in India by Yugoslav Jesuit missionaries serving in Bengal India. Although others intentions on earth were to pursue a career and gain enough money to live, Mother Teresa illustrated the acts of selflessness and humility throughout her lifetime. To be selfless and humble in all that person does puts the responsibility of putting others before them and to never be proud or arrogant. Mother Teresa is a great example of all acts of love therefore, she is inspirational to all.
Mother Teresa was selfless for the way she did everything for others and always put herself last. This woman believed money is not enough. "Money can be gotten, but people need your hearts to love them" (Mother Teresa). So, spread your love everywhere you go. "In 1946 she was riding on a train when she experienced a calling from God to serve among the poorest of the poor." (World religions Reference) Mother Teresa could have lived a normal life but she chose a bigger, more challenging road. By helping the homeless, hungry, and more all she wanted was to cater to their needs and not her own. Mother Teresa had a beautiful heart that never failed to touch the lives of others. She influenced many people which were drawn to her peaceful ways. Mother Teresa was a fighter and never wanted to give up. Even when she became ill, her love for others was still so strong. "…She donated all of her prize money to the poor of Calcutta. (world Religions Reference). Even with all the prizes she won, she decided to use all of it to the poor. It takes someone with great will to do that. She surrounded her whole life dedicated to making a difference in others. Mother Teresa didn't have to help others, but in the end her selflessness gained her the gift of love and true happiness. Her main goal was to bring peace and she used her awards to benefit the poor and the suffering.
Mother Teresa was exceedingly humble; no matter how famous she got for her work, she continued to do it only for others. She was inspired by young people who really made a difference to raise money for the poor. "…The people she worked with at St. Mary's would later recall little about her, stressing that she seemed ordinary, quiet, and humble." (World Religions Reference). Mother Teresa rarely drew attention to herself. She thought about the children and their future. She could have flaunted her awards and everything but she chose not to. Mother Teresa is a great example of being humble. Anything she had, she was willing to share and that is what makes an overall good person. "The humble and soft-spoken nun had become, in effect, the chief executive officer of a large and growing organization in India, one that was destined to become international in scope. Mother Teresa did her best to work in a positive way spreading peace. She taught us to be faithful in small things because it is them that your strength lies. She is overall a true hero in the world. All her sacrifices and hard work made her into the great inspiration she is today because recognized what was happening in the world and took action. She taught people how to love in the greatest way.
Because of Mother Teresa's benevolence ways and abundant care for others, she constructed the way for a better peaceful world serving others. She hoped for the world to experience the love she became so familiar with. She felt strongly about taking care of those who were homeless and suffering. Even in her hard times of being ill, she still strived to help others and continued to do the work she had left on earth. Mother Teresa's lived a life of humility that got her to where she never imagined she would end up. "I was to leave the convent and work with the poor, living among them. It was an order. I knew where I belonged but I did not know how to get there." She strongly believed in this and lived by it. It is recognizable that she is an inspirational leader and hero to this World. She made a difference and created a more peaceful environment. Throughout her life, she tried to teach others the love she knew so well. From her mouth came quotes such as "God admires us not for what we do but for how much love we put into what we do. Together let us build a chain of love around the world." She knew ultimately that the final judgement was between her and her relationship with God. Because of her beautiful heart, that is what defines her as a hero.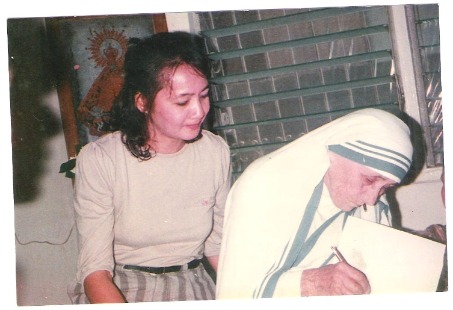 Page created on 4/29/2011 12:00:00 AM
Last edited 4/29/2011 12:00:00 AM
The beliefs, viewpoints and opinions expressed in this hero submission on the website are those of the author and do not necessarily reflect the beliefs, viewpoints and opinions of The MY HERO Project and its staff.
Extra Info
WORK CITED
Mother Teresa. "Humanitarians and Reformers. New York: Macmillan Reference USA, 1999. Macmillan profiles. Gale opposing Viewpoints in Context. web. 31 Mar. 2011.
"Mother Teresa." World Religions Reference Library. Ed. Julie L. Carnegie, et al. Vol. 4: Biographies. Detroit: UXL, 2007. 351-358. Gale Virtual Reference Library. Web. 31 MArc. 2011
"Teresa, Mother (1910-1997)." UXL Biographies. Online ed. Detroit:UXL, 2003. Student Resource Center - Gold. Gale. DEL NORTE HIGH SCHOOL. 1 Apr. 2011
Teresa, Mother." World Book Discover. World Book, 2011. web. 1 Apr. 2011