MY HERO honors Human Rights activist Malala Yousafzai with 2012 MEDIA AWARD
Contact: Jeanne Meyers- FOR IMMEDIATE RELEASE
Co-founder and Director
The MY HERO Project
[email protected]
MY HERO HONORS HUMAN RIGHTS ACTIVIST MALALA YOUSAFZAI WITH 2012 MEDIA AWARD

LAGUNA BEACH, CA – 1/14/13 – The MY HERO International Film Festival is proud to present its prestigious media award to a music video honoring Pakistani teenager Malala Yousafzai, who was shot last October by members of the Taliban when she refused to stop her public advocacy for female education. "A Song for Malala" is performed by the Pihcintu Chorus, an all-female multinational choir based in Portland, Maine.

Yousafza was only 11 years old when she began exposing the harsh realities of life under Taliban rule. She would write notes and slip them to a reporter in her hometown of Mingora. In her reports, Yousafzai described the clash between militant forces and members of her community. She also described human rights abuses, including a ban on education for girls and the destruction of more than 150 schools. In 2008, she wrote:

"I had a terrible dream yesterday with military helicopters and the Taliban- I was afraid going to school because the Taliban had issued an edict banning all girls from attending schools. Only 11 students attended the class out of 27."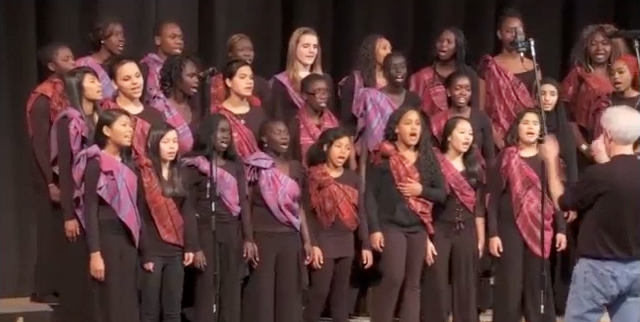 The following year, Yousafzai began to make television appearances in support of the education of girls and in 2011 South African activist Desmond Tutu announced her nomination for the International Children's Peace Prize. This amplified the focus on the issue of women's rights but also enraged the Taliban. Yousafzai became a target and was ordered to stop her advocacy. When she refused, a Taliban gunman approached her school bus, called out her name to identify her, and shot her in the head.

Malala is currently undergoing treatment by specialists in Great Britain, where doctors hope she will make a full recovery. World leaders have openly condemned the Taliban's violent actions and, in Pakistan, citizens have launched demonstrations in support of Yousafzai and her efforts.

"It is our privilege to dedicate the 2012 MY HERO International Film Festival to this courageous young activist, who shares with the many heroes we recognize, a vision of a more free and peaceful world, and the will to achieve it," said MY HERO spokesperson David Kelly.

The MY HERO Project congratulates the Pihcintu Chorus for "A Song for Malala" and is proud to join people around the globe who support Malala Yousafzai's activism and honor her for her courage.
Page created on 1/14/2013 9:21:06 PM
Last edited 7/7/2017 10:47:36 PM